WPT on FSN Venice Grand Prix Part III: Sexton Falls, Palumbo Wins & a Hometown Hottie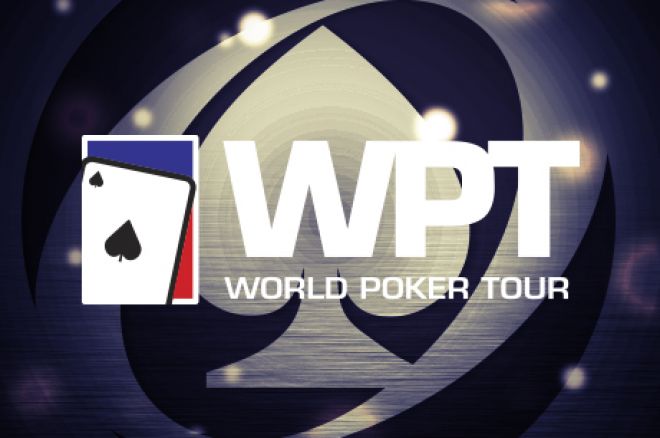 On Sunday night, the World Poker Tour Season XI continued with a new episode — the conclusion of the Venice Grand Prix — on Fox Sports Network. Just three players remained in the €3,300 buy-in Main Event, which attracted 173 entries and took place from March 25-30, 2013 at the Casino di Venezia.
In my recap of Part I, I highlighted Phil Hellmuth's theatrical entrance before he took over for Mike Sexton in the booth; the infamous Final Table Fashion Report; and the elimination on Erion Islamay. In Part II, we saw both Xia Lin and Ray Begni hit the rail.
Here's how the final table stacked up at the top of the broadcast, which began at15,000/30,000/5,000:
WPT Season XI Venice Grand Prix Final Table

| Seat | Player | Chips |
| --- | --- | --- |
| 1 | --empty-- | -- |
| 2 | Rocco Palumbo | 2,200,000 (73 BBs) |
| 3 | Mike Sexton | 930,000 (31 BBs) |
| 4 | --empty-- | -- |
| 5 | Marcello Montagner | 2,075,000 (69 BBs) |
| 6 | --empty-- | -- |
Where Them Bikinis At?: After recapping countless episodes of the WPT on FSN, I have come to love the Royal Flush Girls. I even heard my girl, Tugba, is in the running for Maxim's Hometown Hottie. Anyway, the RFGs were shown in Venice, but much to my dismay, it wasn't in the bikinis I'd become accustomed to. Instead, they were bundled up in some cold-weather gear as they ate gelato and rode in gondolas. How they maintain those bodies eating gelato I'll never know!
Get to Know Rocco Palumbo: "I really love playing poker because it's really a skill game in the long run. Everybody sees me as a tight guy, and I do tricky things sometimes," 24-year-old Rocco Palumbo said in an interview. The former accountant was looking for his first WPT title, which would give him the second part to poker's Triple Crown after he won Event #44 $1,000 No-Limit Hold'em at the 2012 World Series of Poker for $464,464. As the chip leader, there was a good chance the Italian would make it happen.
Ones to Watch: If you've been on the poker circuit, you've likely crossed paths with the femme fatale Xuan Liu. Liu, who emigrated from China to Toronto when she was five, was the featured member of this week's Ones to Watch. Have a look:
Sexton Falls: The Venice Grand Prix marked the second time Sexton had made a WPT final table, and he'd already bested his sixth-place finish in the Bay 101 Shooting Star from a few years back. Unfortunately for the Poker Hall of Famer, his bid at a WPT title fell short.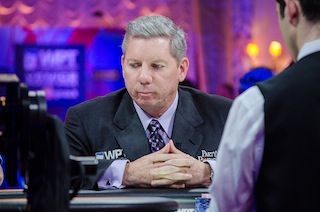 It happened after he'd dwindled a bit and then opened for 60,000 on the button with the
. Marcello Montagner called from the small blind holding the
, Palumbo came along from the big with the
, and it was three-way action to the
flop. Montagner, who flopped middle pair, checked and Palumbo did the same. Sexton then bet 150,000 and only Montagner called.
"At this point Mike is now going to be all in no matter what comes off," Hellmuth said from the booth. While Sexton's short stack dictated that the "Poker Brat" was right, it was heartbreaking to know what was coming after the
turned and Montagner checked his two pair. As predicted, Sexton moved all in for his last 430,000. Montagner snap-called.
"You got me," a resigned Sexton said as he slapped his cards on the table. "Need a miracle," he added as he looked directly in the camera. The river failed to deliver that miracle, and Sexton was gone. Always composed, Sexton shook hands with the remaining two players before exiting in third place for €54,200.
"Well, it's always frustrating when you go out in whatever position whether it's Day 1, Day 2, Day 3 or the final table if you don't win," Sexton said in his post-elimination interview. "So, you know, only one guy can win the tournament. It just wasn't in the cards for me today I guess. Maybe I could have played them a little better, who knows, but it just wasn't my day to win."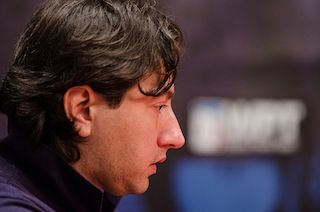 Sexton then immediately made his way back to the booth and tapped out Hellmuth.
Big Mistake: Palumbo made quite a misstep in heads-up play, and it happened on a board reading
and 530,000 in the pot. Montagner, who held the
, bet 100,000 out of turn, which meant Palumbo, who had a straight with the
, just needed to check for the bet to stand. That'd have given him a chance to check-raise with the straight, but instead he opted to bet out 400,000. Because the action changed, Montagner was able to take back his bet and then sent his cards to the muck. Just like that, Palumbo missed out on at least 100,000.
The Final Hand: Palumbo raised to 80,000 holding the
only to have Montagner three-bet to 170,000 from the big blind with the
. Palumbo called and the flop came down
. "Buckle up folks, we're going to see some fireworks here," Sexton said from the booth.
Download PartyPoker and Get $50 FREE!
Sure enough, Montagner led out for 180,000 with his open-ended straight draw and Palumbo, who flopped top and bottom pair, popped it to 480,000. Montagner took his time before making the call and then the dealer burned and turned the
. Montagner moved all in for his last 825,000, and Palumbo snap-called. According to the PokerNews Odds Calculator, Montagner had a 22.73% chance of hitting one of his 10 outs, but the
river was not one of them.
Palumbo slapped his hands together in celebration and immediately made his way over to the rail to celebrate with his friends. With that, Palumbo added his name to the WPT Champions Cup and notched the second leg of poker's Triple Crown (a WPT, WSOP and European Poker Tour tite).
"I am very happy anyway," Montagner said after the hand. "Second place in a WPT I think is really important. The only thing is that I never win, always second. We'll see next time, I hope."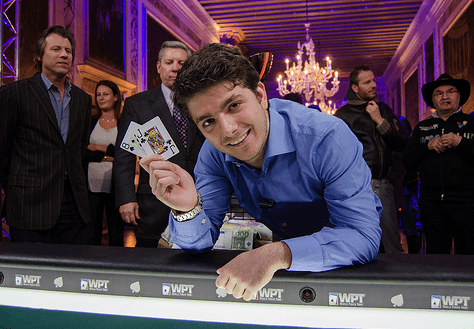 Tune in Next Week: The first part of the Seminole Hard Rock Showdown is set to air on Sunday, Aug. 11 on FSN, so be sure to check your local listings. If by chance you miss it, check back next week for the latest recap of all the action here on PokerNews.
Who will be the next player to add his name to this prestigious list of champions?
Past WPT Venice Champions
| Season | Player | Entrants | Earnings |
| --- | --- | --- | --- |
| 8* | Sven-Ragnar Arstrom | 397 | $532,388 |
| 9* | Alessio Isaia | 523 | €380,000 |
| 10* | Edoardo Alescio | 213 | €194,000 |
| 10 | Rinat Bogdanov | 155 | €229,800 |
| 11 | Rocco Palumbo | 173 | €180,097 |
*Titled WPT Venice as opposed to Venice Grand Prix.
*Pictures courtesy of World Poker Tour.
Get all the latest PokerNews updates on your social media outlets. Follow us on Twitter and find us on both Facebook and Google+!