WPT on FSN $25,000 Championship Part I: Ivey Loves Coca-Cola, a Heated POY Race & More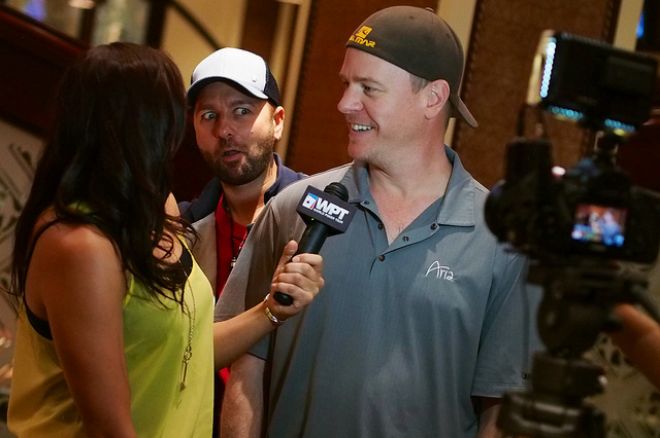 New episodes of the World Poker Tour (WPT) Season XI are coming to an end as the third-to-last episode — Part I of the season-ending $25,000 WPT Championship — aired on Fox Sports Network this past Sunday night. The tournament, which originally took place at the Bellagio back in May, attracted 146 entries and created a prize pool of $3,540,500.
The Season XI POY Race: Heading into the last tournament of the season, the Player of the Year Race for Season XI was as hotly contested as in any previous season. Entering with the lead was WPT Grand Prix de Paris champ Matt Salsberg. Among those looking to overtake the Hollywood writer were Paul Klann (1,859 POY points), Ravi Raghavan (1,600 POY points), Ben Hamnett (1,500 POY points), and Antonio Esfandiari (1,500 POY points).
"I definitely have some sweats," Salsberg said. "Anybody that won a tournament, if they win this one they'll overtake the lead, unless I go pretty deep myself."
On Day 2, Salsberg played a big pot against World Series of Poker bracelet winner Dominik Nitsche. Salsberg got his stack in preflop holding the
and was in great shape to double against Nitsche's
. Neither the
flop nor
turn hurt Salsberg, but the
river did as Nitsche spiked a third three for a full house.
"Thanks for the $25K river," Salsberg said before promptly exercising his single re-entry option and buying back in for $25,000.
The Race to Re-Enter: Dan O'Brien was another player to bust on Day 2, and he did so with approximately a half hour remaining before registration closed. He wanted to re-enter, but unfortunately he didn't have the $25,000. As is common on the poker circuit, he began to panhandle to his fellow players.
The WPT slapped up a fundraising graphic, which immediately got off to a good start when Jason Mercier said he had $10,000 for his friend. "It's not easy finding $25,000," O'Brien said with a smile, "but easier here than most places." Before long O'Brien had enough for a second bullet, which coincided with Phil Hellmuth and Phil Ivey entering on their first.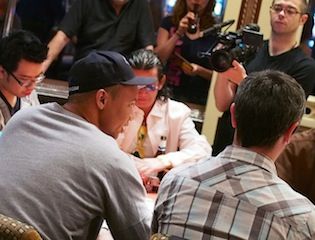 Coke or Pepsi: Phil Ivey hasn't shelled for very many companies in his career, but one soda company got some free exposure as the nine-time WSOP bracelet winner donned a grey sweatshirt bearing their logo. It was one of the major cola companies, but was it Coke or Pepsi? If you watched the episode you know that Ivey appears to be a Coca-Cola man. Unfortunately for the beverage giant, their free publicity was limited as Ivey was eliminated shortly after taking his seat.
What a Thrill for the Poker Brat: "I've been busted by more players than anybody in history," Phil Hellmuth said on Day 3 when he found himself all in preflop holding the
against the
of Will "The Thrill" Failla.
It was a flip, and according to the PokerNews Odds Calculator, Hellmuth had a 52.24% chance of surviving the hand while Failla would come from behind 47.41% of the time. The
flop was disaster for Hellmuth as his odds of survival dropped to 12.93% as Failla paired his ace and became an 86.97% favorite. The
turn left Hellmuth in need of an eight on the river to stay alive, but the 4.55% shot did not come through as the useless
peeled off.
"Oh, how do these friggin' donkeys do it all the time?" an animated Failla said doing his best impression of Hellmuth. "They just want to keep giving me their chips, and giving me their chips, and they just keep getting there."
Soon thereafter, defending champ Marvin Rettenmaier was sent to the rail, as was the aforementioned Salsberg, who no longer had control over his POY fate.
The Bubble Boy: On Day 4, Korean pro Hyon Kim was had the distinction of becoming the bubble boy when he got his stack all in preflop holding the
only to be up against the
of Dan Shak. The board ran out an humdrum
and Kim left empty handed while everyone else was in the money.
A Short Day 5: Just eight players returned to action on Day 5, each looking for a coveted spot at the TV final table of six. That meant two people would leave disappointed, and it didn't take long to find out whom they'd be. The first to go was Rocco Palumbo, who earned $101,935 for his eighth-place finish.
With one elimination to go, four former WPT champions were still in contention including Jonathan Roy, the only player left that could overtake Salsberg to become the POY.
On a flop of
, Erick Lindgren bet holding the
only to have Daniel Negreanu, who held the
, raise all in. Chip leader Chino Rheem got out of the way and Lindgren called to put his good friend at risk. The
turn failed to help "Kid Poker," as did the
, and he took his leave as the final table bubble boy in seventh place for $137,085.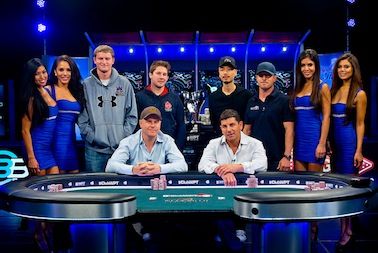 Season XI WPT $25,000 Championship Final Table

| Seat | Player | Chip Count |
| --- | --- | --- |
| 1 | Jonathan Roy | 1,975,000 (49 BBs) |
| 2 | David Peters | 1,070,000 (26 BBs) |
| 3 | Erick Lindgren | 3,410,000 (85 BBs) |
| 4 | Brandon Steven | 1,285,000 (32 BBs) |
| 5 | Matt Hyman | 1,485,000 (37 BBs) |
| 6 | Chino Rheem | 5,380,000 (134 BBs) |
Final Table Fashion Report: All season I've been grading the outfits of all final table participants, because according to WPT commentator Mike Sexton, those who make a TV final table should dress up for the occasion. So how did this week's batch do?
Erick Lindgren: Not quite white, and not quite blue, Lindgren's long-sleeve button-up looked nice and on the expensive side. No pocket and patches let the simplicity shine, and it looked good. Unfortunately, Lindgren topped it off with a baseball cap. I know middle-aged men are self conscious about their hair, but I wasn't a fan of the hat. Grade: B-
Brandon Steven: A rich businessman who is consistently going deep in tournament, Steven is always dressed in a nice long-sleeve button-up with the cuffs flipped up. It might have been a Robert Graham shirt, and believe me when I say they aren't cheap. Grade: B+
Matt Hyman: A black polo advertising something and a black hat pulled down low. It was as if Hyman wanted to hide his face from the camera. Not an effective way to make an impression. Wasted opportunity in my opinion. That said, did you know Matt is the twin brother of Zach Hyman, who is the husband of the WPT's Kimberly Lansing. Grade: D
Chino Rheem: Every time I see Chino he is wearing a t-shirt. He's so skinny that they tend to hang off him, but it's what I've become accustomed to. With that said, I was pleasantly pleased to see him in a black long-sleeve shirt with a back Aria hat. It was simple, but black is always good. Unlike Hyman, the hat sat on his head in such a way as to show his face, plus he got to pimp a property that no doubt treats him well. Grade: B
Jonathan Roy: Hoodies tend to be bland, unless of course something makes them stand out. I thought the Canadian's did that as the black hoodie with red stripes on the cuffs and red lining in the hoodie wasn't something you see everyday. Toss in a red Playground Poker Club patch, which promotes one of Canada's most popular poker properties, and Roy looked like a legitimate ambassador. His puffed up hair looked good too. Grade: B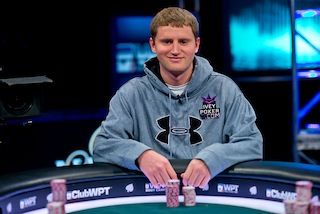 David Peters: I'm pretty sure David Peters was wearing the same Oakley grey and black hoodie when he bubble the final table in the same event back in Season IX. Consistency inspires familiarity, so I have to give him a little credit. Plus, he spiced it up a bit with a Team Ivey patch. His getup could have been better, but then again it could have been worse. Grade: B-
Peters the First to Go: With the blinds at 20,000/40,000/5,000, Roy opened for 80,000 under the gun with the
only to have Peters, who was next to act on the short stack, three-bet to 165,000 with the
. The rest of the players folded, Roy called, and the flop came down
. Roy checked top pair and then raised to a million after Peters bet 140,000. Peters called off for 700,000 with his pair and flush draw and was a coin flip for his tournament life. The
turn didn't change a thing, and neither did the
river. Peters slid his stack over to Roy and then took his leave in sixth place for $173,993.
The Pool Shoot: Whenever the WPT is at the Bellagio, the Royal Flush Girls do a bikini shoot at the pool. They say a picture is worth a thousand words so here you go: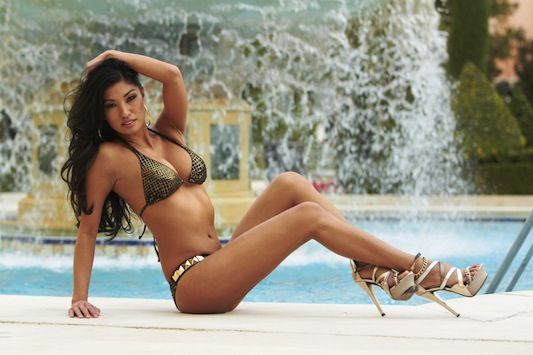 Last Hand of the Broadcast: The last hand of any WPT broadcast tends to be a good one, and this week's was no exception. It began when Roy opened for 100,000 under the gun and Steven three-bet all in for 520,000. Action folded back to the Canadian and he opted to gamble and made the call.
Roy:

Steven:
"You got this, right?" Steven asked. Indeed Roy did as the
flop delivered him an ace and the lead. Steven grimaced a bit and watched helplessly as both the
turn and
failed to help him. Steven, who is a part owner of the hockey team the Wichita Thunder, was sent to the rail in fifth place for $223,203.
Tune in Next Week: Part II of the $25,000 Championship is set to air on Sunday, September 29 on FSN, so be sure to check your local listings. If by chance you miss it, check back next week for the latest recap of all the action here on PokerNews.
Who will be the next player to add his name to this prestigious list of champions?
Former WPT $25,000 World Championship Winners
| Season | Player | Earnings |
| --- | --- | --- |
| 1 | Alan Goehring | $1,011,886 |
| 2 | Martin De Knijff | $2,728,356 |
| 3 | Tuan Le | $2,856,150 |
| 4 | Joe Bartholdi | $3,760,165 |
| 5 | Carlos Mortensen | $3,970,415 |
| 6 | David Chiu | $3,389,140 |
| 7 | Yevgeniy Timoshenko | $2,143,655 |
| 8 | David Williams | $1,530,537 |
| 9 | Scott Seiver | $1,618,344 |
| 10 | Marvin Rettenmaier | $1,196,858 |
| 11 | ??? | $1,150,297 |
*Pictures courtesy of World Poker Tour.
Get all the latest PokerNews updates on your social media outlets. Follow us on Twitter and find us on both Facebook and Google+!