Top 10 Stories of 2016, #2: Once-In-a-Lifetime Heater for Fedor Holz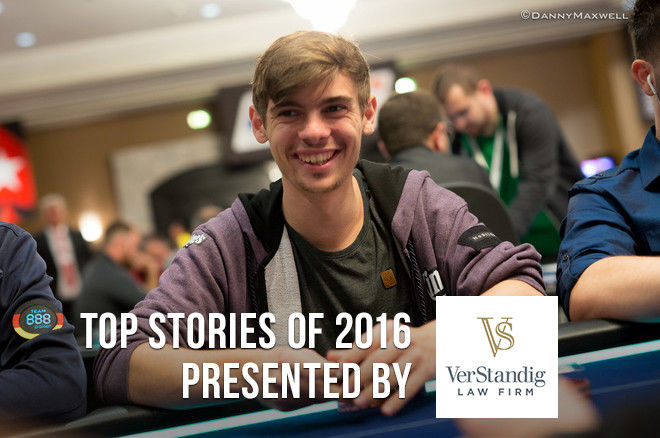 This year's Top Stories are brought to you by the VerStandig Law Firm, LLC. Combining a keen understanding of the gaming world and an equally keen understanding of the law, Mac VerStandig and his colleagues are devoted to fighting on behalf of the poker community and its members.
It had already been the run of a lifetime for Fedor Holz.
It was early July of this year. Not long before he had punctuated 2015 with a victory in the $100,000 World Poker Tour Alpha8 Las Vegas, earning a first prize of $1,589,219 after besting a star-studded 45-entry field.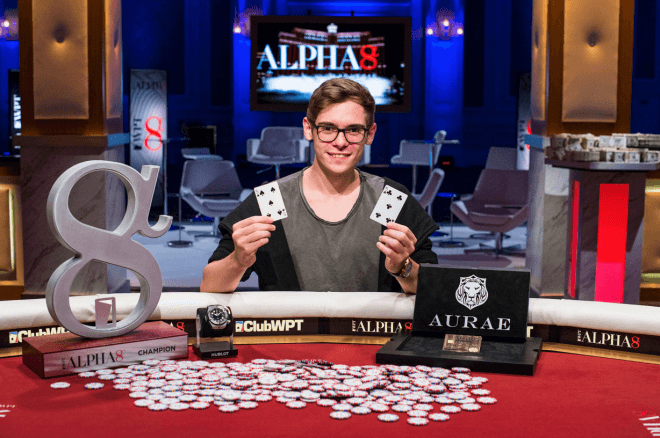 It was the first live seven-figure score of the talented young German pro's career, following the $1.3 million he'd won as "CrownUpGuy" on PokerStars when winning the 2014 World Championship of Online Poker the year before.
Then came 2016, and within the first days of the year, he'd add another even bigger cash by winning the $200,000 Triton Super High Roller in the Philippines, earning an incredible $3,463,500.
Following his being selected in the first round by the L.A. Sunset in the inaugural Global Poker League draft — and delivering a short, humble speech of appreciation — several more deep runs for Holz soon followed.
Those included two more high roller final tables at the European Poker Tour Grand Final (totaling about half a million), a runner-up finish in the $300,000 Super High Roller Bowl (good for $3.5 million) and two more high roller wins in June at the ARIA Resort & Casino (worth more than $1 million).
Speaking strictly of the Super High Roller Bowl runner-up and ARIA wins, Holz described the run to PokerNews as "just insane," calling it "a once-in-a-lifetime heater."
But if the heater was only going to happen once, well, it was going to continue for a while longer.
It was time for the $111,111 High Roller for One Drop at the 2016 World Series of Poker, an event that drew 183 total entries with a first prize of $4,981,775. Holz was second in chips among the 88 survivors of Day 1, then in the middle of the pack in sixth of the 13 who made it to the end of Day 2.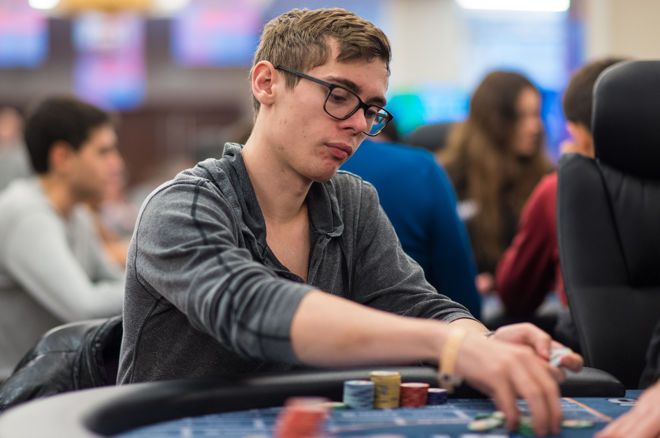 On the final day, Holz was still in contention with six players left. Then came a whirlwind, three-hand sequence that epitomized Holz's year:
First, Holz knocked out 2015 WSOP Main Event champion Joe McKeehen in sixth in a multi-way pot in which both players had flopped flushes, but Holz had the ace-high one and McKeehen's was king-high.
On the next hand Brian Green shoved with , Holz called with , and when the board brought a couple of aces, Green was out in fifth.
On the one after that, Holz open-shoved with , Jack Salter called with and Holz flopped a king and ended with a flush to stop Salter in fourth.
Holz was out in front, and though he'd lose the chip lead to Dan Smith while heads up, he'd get it back and win another all in to claim his first WSOP bracelet and nearly $5 million more.
Following that win Holz began talking about scaling back his schedule. Even before the tournament was over, he told PokerNews he'd likely never play a full schedule at the WSOP again. Afterward he began talking about "retiring" from poker, or at least from playing full-time.
More huge scores were soon coming for Holz, however, including two more for seven figures.
At EPT Barcelona in August, Holz won the $50,000 Super High Roller for €1,300,000. Then just two weeks later he'd chop the $102,000 buy in WCOOP Super High Roller, finishing second and taking away another $1,067,639.40.
By the end of October, Holz had amassed an incredible $16,484,153 in live tournament cashes in 2016 alone according to The Hendon Mob — topping this year's money list and approaching twice the total that last year's top earner Brian Rast took away (just over $8.6 million). He's now over $20 million lifetime, good for a spot inside the overall top 10 on the all-time money list.
Here's a non-comprehensive look at Holz's year, including only six-figure cashes and above:
| Date | Tournament | Place | Prize |
| --- | --- | --- | --- |
| Jan. | $200,000 WPT National Triton Super High Roller | 1st | $3,463,500 |
| Apr. | EPT12 Grand Final €10,300 High Roller | 4th | $190,123* |
| May | EPT12 Grand Final €50,000 Super High Roller | 5th | $310,892* |
| | $50,000 ARIA Super High Roller | 7th | $122,400 |
| | $300,000 Super High Roller Bowl | 2nd | $3,500,000 |
| June | $50,000 ARIA Super High Roller | 1st | $637,392 |
| | $25,000 ARIA High Roller | 1st | $393,120 |
| | $25,000 ARIA High Roller | 1st | $276,012 |
| July | $50,000 ARIA High Roller | 3rd | $407,310 |
| | WSOP $111,111 High Roller for One Drop | 1st | $4,981,775 |
| Aug. | EPT13 Barcelona €50,000 Super High Roller | 1st | $1,473,127* |
| Sept. | WCOOP $102,000 Super High Roller (PokerStars) | 2nd | $1,067,639.40 |
| Oct. | $100,000 ARIA Super High Roller | 4th | $299,880 |
*prize converted to USD equivalent
Earlier this month, Klay Thompson of the Golden State Warriors scored a blistering 60 points in the first three quarters of a game, then sat the fourth. Holz's 2016 has gone similarly, as he's largely taken a seat on the poker tournament bench over these last couple of months, preferring instead to pursue other immediate goals:
Holz's heater catapulted him to the top of the Global Poker Index overall rankings where he's been ranked No. 1 since early June, currently riding the longest streak at the top of anyone since the GPI began in 2011.
Holz also held the top spot in the GPI Player of the Year race from June until late December when David Peters overtook him at the finish line after his third-place showing in the EPT Prague Main Event.
Any other year, Peters would likely be earning even more notice for his stellar 12 months of successes, marked by a string of high roller scores, a Sunday Million title and more than $7.2 million in live cashes.
But it's Holz who earned the headlines for much of 2016, at least as far as tournament poker was concerned.
The VerStandig Law Firm, LLC represents poker professionals, sports bettors and advantage players across the United States. The firm assists clients in connection with legal issues including personal LLC formation and operation, tax planning that focuses on gaming deductions and exemptions, casino disputes, and personal matters spanning from divorce to criminal dust-ups.