Top 10 Stories of 2016, #6: Prop Bets Grab Headlines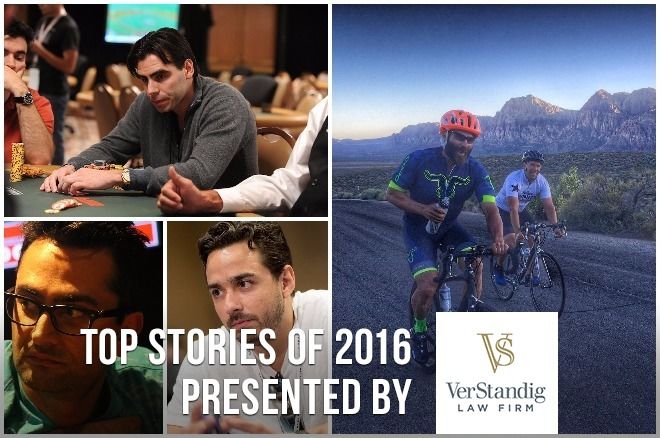 This year's Top Stories are brought to you by the VerStandig Law Firm, LLC. Combining a keen understanding of the gaming world and an equally keen understanding of the law, Mac VerStandig and his colleagues are devoted to fighting on behalf of the poker community and its members.
Anyone who has spent more than five minutes immersed in the poker world knows that poker players are action junkies. While the top levels of the game may be filled with people whose mental mastery, aversion to tilt and game theory optimal approaches make them seem like robots to many, deep down, plenty of poker players still live for the adrenaline rush of a good sweat.
Sometimes, action at the poker tables just isn't enough. Everyone knows that in full-table poker, it's correct to fold the majority of hands almost regardless of the game. So, what happens when a bunch of action junkies are seated together and mostly folding hands?
Often, the answer is that they discuss and come up with all manners of prop bets to keep themselves in action.
Prop betting in poker has a rich history.
Indeed, some players like Ted Forrest and Huck Seed are as famous for some of the wild prop bets they've booked as they are for their poker exploits. In one of the most well-known prop bets in poker history, "Johnny World" Hennigan accepted an offer to live in the middle of Iowa for six weeks and famously lasted only a couple of days. He was driven mad without being in action, making that prop perhaps the ultimate reflection of many a poker player's mindset.
The year 2016 seemed to be a particularly rich one for prop bets. A number of prop bets had the poker world buzzing this year, and the fun started almost from the first day the books closed on 2015.
Esfandiari Lunges His Way to Infamy
Antonio Esfandiari is a well-known proponent of prop betting, so much so that he's gotten his own reality TV show, I Bet You, centered around his prop bets with poker buddy Phil Laak.
At the 2016 PokerStars Caribbean Adventure, Esfandiari engaged in a prop bet that will live on in infamy forever. High roller Bill Perkins bet "The Magician" that he couldn't lunge everywhere he went for 48 hours. Those that have been to the PCA know that Esfandiari, who was staying in a tower that's a solid 15-minute walk from the main tournament area, was committing to a serious amount of lunging.
Though early photos of Esfandiari's antics show him smiling and lunging his way across the colorful Atlantis Resort carpet, things had grown dire for the popular pro by the time he had made it to the later stages of the bet.
Legs aching, Esfandiari was struggling to merely move across the tournament room and was enlisting the help of friends and family in order to acquire food and drink.
Needing to relieve himself with the clock winding down on Day 2 of the tournament and the bet, Esfandiari faced a choice. His legs were completely done in by muscle exhaustion and he felt he could not make it to the bathroom and back. In a moment he would later regret, he chose to urinate in a container under the cover of the poker table during a break in the event.
Tournament officials disqualified Esfandiari upon being made aware of the situation. Esfandiari had around 100,000 at the time, which was worth 50 big blinds, so it was a tough blow equity-wise. Esfandiari lunged his way to a nearby couch and laid down to wait out the remaining hours of the bet. He apologized in the aftermath, saying he "couldn't explain the pain" in his legs.
"I am embarrassed of the actions I took to win that bet," he said. "On paper I won, but in life I lost. No matter how much one loves a prop bet there is a limit to how far you should go, and in this case I failed."
To pay his penance, Esfandiari donated the $50,000 he won from the bet to charity.
Busquet vs. Alvarado
Perhaps the most talked-about prop bet of the year was the mixed martial arts match between Olivier Busquet and JC Alvarado. That bet actually originated from 2015 when the two agreed to meet in a cage in six months with a pile of money on the line; Alvarado laid $150,000 to Busquet's $120,000 after accepting an open challenge issued by Busquet on Twitter.
Busquet had the size advantage; he would have to meet a prefight weight of 187.5 pounds while Alvarado was slated to compete at just 165 pounds. Alvarado ostensibly believed his experience edge would make up for that, as he had trained off and on in Brazilian jiu-jitsu for a few years.
The fight was drawing closer by the time the PCA, which both Busquet and Alvarado attended, rolled around. Both had been training hard, and while Busquet declined comment on the upcoming scrap, Alvarado did offer some thoughts to PokerNews.
"I think my edge is in the fact that I understand the game a lot better than he does, so I know how to train," Alvarado said. "Something that happens when you don't know the game is you can't visualize situations that can occur during the fight and visualize your way out of those situations. I'm thinking about it all the time...There's just no way he'll learn proper technique in six months; it's really impossible. He'll have to power through my ground game."
Bettors disagreed, siding with Busquet enough to move the betting line from Alvarado being a favorite to essentially a coin flip. Action on the fight abounded between fellow poker players to the point where it may have surpassed the actual dollars on the line between the two combatants.
What actually happened when the two stepped into the cage was a mauling, courtesy of the meaty fists of the larger man. Busquet appeared to have the advantage both on the feet, where he landed some hard shots that staggered Alvarado at times, and on the mat, where he shrugged off Alvarado's submission holds and pummeled him with vicious ground strikes.
The match was scheduled for four rounds, but after three rounds of punishment, Alvarado's corner threw in the towel to give Busquet the TKO victory.
Bike Treks
Physical tests of strength and endurance are perhaps the most tried and true form of prop betting and the age-old bicycle was the exercise tool of choice for 2016 prop bets.
Things all started with a relatively innocuous "bet" between Sam Abernathy and Dan Bilzerian that was really just a freeroll for the former. Abernathy was to bike from Las Vegas to Los Angeles within a 72-hour time frame.
Abernathy completed the trek for $10,000, and that gave rise to a much higher stakes bet.
March 13, 2016
Ever-willing to push his high-stakes peers to their limits, Bill Perkins again drove the action. He challenged Bilzerian to make that same journey, starting from the famous "Welcome to Las Vegas" sign and heading to L.A., only this time, Bilzerian would have just 48 hours to pull it off.
Bilzerian saddled up March 29 after five weeks of training and, with the cover of a police escort, got to pedaling. Just 33 hours later, Bilzerian arrived in L.A. to win the bet.
March 30, 2016
Except, whether he actually did win the bet depended upon whom you asked. Bilzerian made extensive use of a "drafting van" that traveled directly in front of him on the trip. The van helped Bilzerian move faster and more efficiently and many people betting the side that Bilzerian would fail the bet contested the outcome.
Despite the minor furor around the drafting van, Bilzerian did reportedly collect on the prop.
That led to yet another Vegas-to-L.A. bike bet, perhaps the most difficult one of all. Bilzerian had initially offered the bet to Abernathy, then did the bet himself, and now moved back into the former role. He jumped in on a bet on Brian Rast 6-1 with Perkins that Rast couldn't complete the bet, only he had to do it with no drafting van, less time to train and no recumbent bikes, which allow the user to sit back in a more comfortable posture and make long distance trips easier.
Rast detailed his April journey in a pair of blogs on his personal site starting here. The two-time Poker Players Championship winner — Rast took it down for the second time just this past summer — defied the odds and made it to L.A. despite a number of challenges that cropped up, included injuries, mechanical failures and strong winds. He called it "without a doubt the single hardest thing" he had ever accomplished.
And, while prop bets are all about money on the surface, maybe that's what some of these are really all about. Poker players, like everyone else, love to see what they can do when they're challenged and the pressure is on. And as along as that's true, there will still be plenty more prop bets to look forward to in the future.
The VerStandig Law Firm, LLC represents poker professionals, sports bettors and advantage players across the United States. The firm assists clients in connection with legal issues including personal LLC formation and operation, tax planning that focuses on gaming deductions and exemptions, casino disputes, and personal matters spanning from divorce to criminal dust-ups.