Top 10 Stories of 2016, #10: Big One For One Drop Open to Recs Only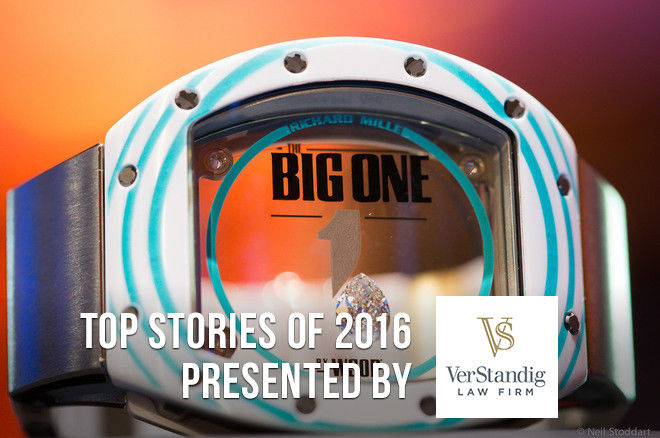 This year's Top Stories are brought to you by the VerStandig Law Firm, LLC. Combining a keen understanding of the gaming world and an equally keen understanding of the law, Mac VerStandig and his colleagues are devoted to fighting on behalf of the poker community and its members.
The One Drop, an initiative started by Guy Laliberté, founder of Cirque Du Soleil, focuses on supporting access to clean water worldwide.
Origins of the Big One for One Drop
Announced during the 2011 World Series of Poker, The Big One for One Drop was introduced to the poker world, became the largest buy-in at $1 million and the most significant charity initiative in poker history.
The first platinum bracelet was awarded on July 3, 2012, at the 2012 World Series of Poker to Antonio "The Magician" Esfandiari.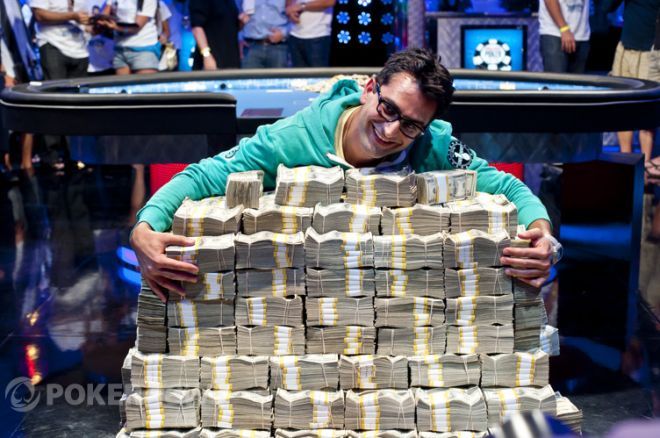 After three days of play, Magic Antonio topped a star-studded field of 48 players to win the top prize of $18,346,673, the biggest award in poker tournament history. Sam Trickett also walked away with an eight-digit payday of $10,112,001 for finishing in second place in the tournament.
Two years later, Daniel Colman bested a field of 40 players in the 2014 WSOP Big One for One Drop to take home the top prize of $15,306,668 with Daniel Negreanu snagging the runner-up prize of $8,288,001.
It was one of many big wins for Colman who also managed three other seven-digit paydays throughout the year. Colman, however, might be better known for the backlash he received from many (and praise from some) when he declined interviews requested by the media stating he didn't wish to promote the game of poker.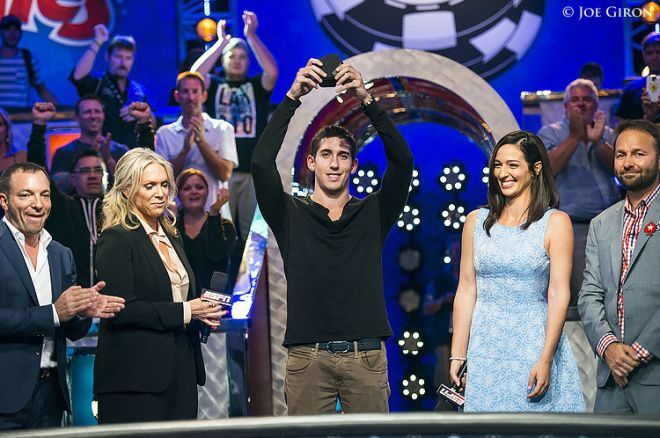 One Drop tournaments have been a mainstay at the WSOP since 2012, with the "Big One" being dropped from the name with many smaller buy in tournaments being offered through poker's biggest tournament festival. Feder "CrownUpGuy" Holz was the most recent winner of tournaments branded in this fashion when he navigated his way to the top of the 183-player field in the $111,111 High Roller for One Drop on July 11 to collect the $4,981,775 top prize.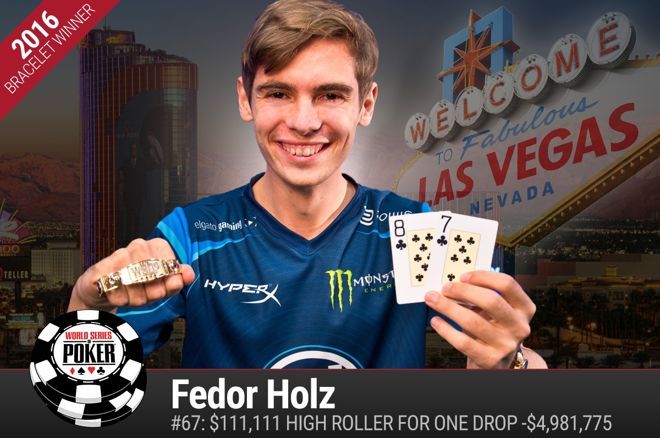 Shortly after his win, Holz announced his "retirement" from poker. This didn't mean he left the game entirely, he just cut back on his long and arduous schedule to focus on fewer events.
Players continue to be encouraged to donate to the One Drop Foundation after cashing in other tournaments in the series as well.
2016 Big One for One Drop Open to Recs Only, Elton Tsang Wins €11 Million Top Prize
In July, it was announced that The Big One for One Drop was coming back as a part of a five-day high-stakes cash game and tournament festival for affluent recreational poker players.
The Monte-Carlo One Drop Extravaganza was held at the Casino de Monte-Carlo in Monaco from Oct. 13-17, 2016, headlined by The Big One for One Drop Invitational, a €1,000,000 buy in, three-day, invitation-only tournament for businessmen, philanthropic and celebrity recreational players.
While professional poker players were more than welcome to attend (and just not play) the latest Big One for One Drop, Laliberté explained to PokerNews the reasons why entry to the latest event was invitation-only.
"The truth is that when we reflected back on the first $2 million One Drop events and talked to potential players for this one, we realized we had to do something different," Laliberté said. "The first One Drop was about a 50-50 ratio of pros to recreational players. The second one had even more professionals, with some of the business people and recreational players staking pros because they thought it would give them a better chance. We wanted to change that dynamic, and after talking with several of the more recreational players, we found they were less interested in playing in a more pro heavy and difficult field.
"Our priority is, of course, to raise as much money as we can for One Drop. That's the number one goal, but we also want to create a fun and comfortable poker environment for recreational players where they are not under the threat of being bled out by the pros."
Our priority is, of course, to raise as much money as we can for One Drop.
This isn't to say that Laliberté isn't enthusiastic about the support the One Drop foundation has received from professional poker players.
"We're very happy about [the turnout for $111,111 High Roller] and that a lot of pros have shown support for One Drop. We don't think anyone is really upset or feeling disrespected. Clearly not since they are still supporting One Drop and this event. The professional poker playing community has always been a great community. I know a lot of the pros personally and I know they understand our charitable objective and they support that."
Hong Kong's Elton Tsang etched his name into history by winning the three-day 2016 Monte-Carlo One Drop Extravaganza €1,000,000-buy in Big One For One Drop on Oct. 14 for €11,111,111 or the third biggest prize in poker tournament history.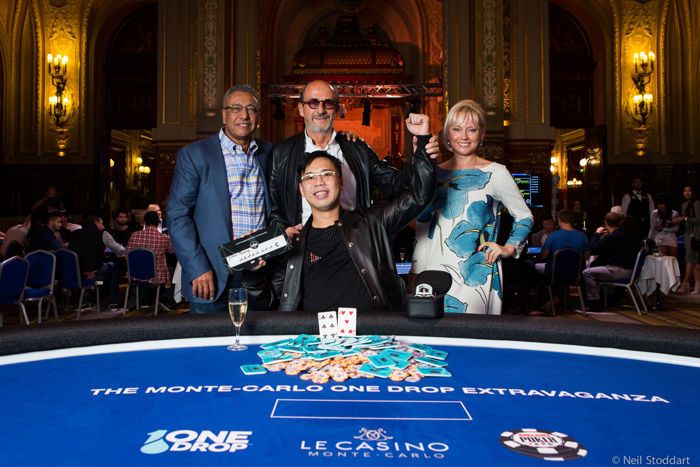 Final Table Results
| Place | Player | Based | Prize |
| --- | --- | --- | --- |
| 1 | Elton Tsang | Hong Kong | €11,111,111 |
| 2 | Anatoly Gurtovoy | Russia | €5,427,781 |
| 3 | Rick Salomon | United States | €3,000,000 |
| 4 | James Bord | United Kingdom | €2,100,000 |
| 5 | Cary Katz | United States | €1,750,000 |
| 6 | Andrew Pantling | Canada | €1,500,000 |
While not as many players joined the field in the latest Big One for One Drop, it did attract a field of 28 entrants which included two reentries to pony up the massive €1 million cost of entry. Laliberté was one of the two to reenter after he was the first player eliminated in the field after getting it short on a failed bluff against Russia's Anatoly Gurtovoy before losing the rest of his chips to Bob Safai a short while later with ace-ten not getting there against ace-king.
Many big-name professional poker players were on hand to watch the event and/or participate in the lucrative side cash games including Vanessa Selbst, David Einhorn, Daniel Negreanu, Andrew Robl, Scott Seiver, Mustapha Kanit and Jean-Robert Bellande.
American investor and entrepreneur Alfred de Carolis had the honor of leading the field after the first day of play. However, he was unable to parlay this into finishing in the money. He was the last player eliminated on Day 2 when his pocket queens were no match for the pocket kings held by Pamela Anderson's ex-husband, Rick Salomon.
Meanwhile, Matchbook CEO Andrew Pantling, who started Day 2 seventh in chips and was the other player besides Laliberté to reenter, finished the day with the chip lead.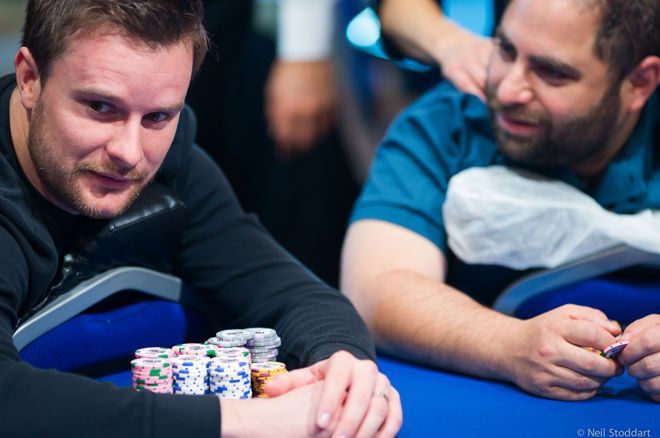 Early on Day 3, Pantling's chip lead evaporated. Two-thirds of his stack went into the hands of Tsang who after the hand took over the chip lead with 47 million in chips, an amount no other player would reach in the tournament.
Out of the eight players heading into the final day of play, two would not walk away with at least the minimum payout of €1.5 million. The first to go was professional sports bettor Haralabos Voulgaris in eighth place followed by American entrepreneur and businessman Brandon Steven eliminated on the bubble in seventh place.
Pantling, who found himself short on chips, was the next player eliminated in sixth place to collect €1,500,000. Cary Katz, who launched Poker Central in late 2015, was eliminated 20 hands later to finish in fifth place for €1,750,000.
Following his elimination, Tsang maintained his huge lead with the other three remaining players bunched together with short stacks of 15-25 big blinds.
I was pretty confident but I mean, you still need cards to hit and stuff, right?
Two short stacks collided with Gurtovoy and United Kingdom's James Bord getting it all in with top pair on an ace-high board. Gurtovoy had the better kicker and Bord exited the tournament in fourth place to collect €2,100,000.
Salomon at this point found himself the lone remaining short-stack and for awhile his shoves were uncalled. However, Gurtovoy eventually eliminated Salomon in third place for €3,000,000 when he called Saloman's queen-jack shove with ace-queen and his hand held.
Tsang with almost 94 million in chips entered heads-up play with more than a two-to-one chip advantage against Gurtovoy who held over 46 million. Tsang put pressure on his opponent and eventually got Gurtovoy down to six big blinds. The Russian managed to earn one double up but shortly afterward his tournament was over. The heads-up duo got it all in on the turn of a
-board with Gurtovoy holding
for a wheel. However, he was drawing thin to a chop. Tsang outmatched him with
. After the river was a blank, Tsang's fans, including his coach Mustapaha Kanit celebrated and a round of applause rang out.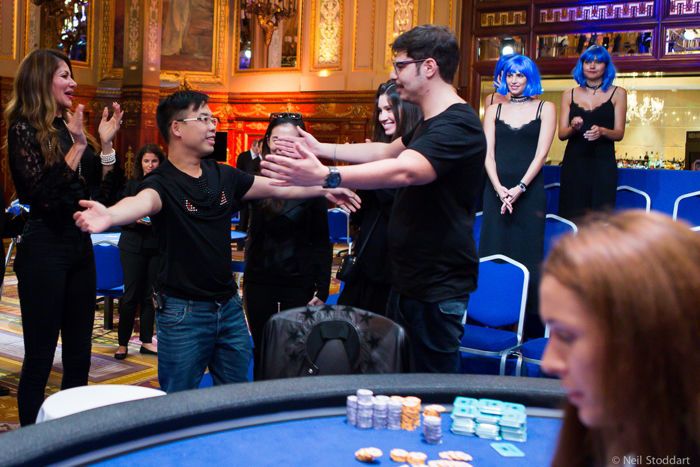 Gurtovoy collected the healthy runner-up prize of €5,427,781 while Tsang won the title, trophy and the €11,111,111 top prize.
"I was pretty confident but I mean, you still need cards to hit and stuff, right?" Tsang said. "In tournaments, you can't just rely on pure skill, so I was pretty happy with the cards...I made some good plays and everything seemed to turn out my way, so I was very happy."
The VerStandig Law Firm, LLC represents poker professionals, sports bettors and advantage players across the United States. The firm assists clients in connection with legal issues including personal LLC formation and operation, tax planning that focuses on gaming deductions and exemptions, casino disputes, and personal matters spanning from divorce to criminal dust-ups.