Top Ten Biggest Winners at the WSOP Main Event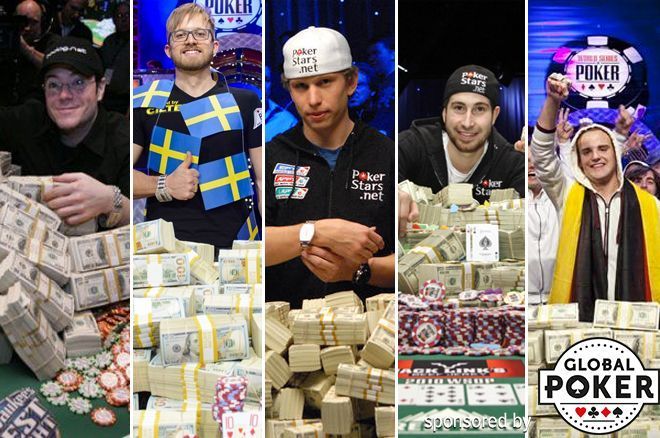 While the "World Series of Poker" officially dates back to 1970 at Binions Horseshoe Casino, there wasn't an official freezeout Main Event until the following year, a winner-take-all format from 1971-1977. In 1971, a group of six pros competed for $5,000 each, and in 1972, the buy-in was raised to $10,000. Half the buy-in was covered by Benny Binion that year, but only eight played. At that time, certain players didn't want the stigma that the champion title brought with it.
In 1973, the third Main Event took place during the fourth WSOP, and it drew 13 players. Each player put up $10,000, which has continued as the buy-in every year since. With inflation considered, the $10K buy-in in 1973 would be worth about $58,000 today, and Walter "Puggy" Pearson shipped the entire $130,000 prize pool, equivalent to about $754,000 today.
In an interview with historian Mary Ellen Glass that year, Binion said, "We got awful good coverage on it this year," referring to the WSOP's increased publicity. "This year we had thirteen [players in the Main Event]... I look to have better than twenty next year. It's even liable to get up to be fifty. Might get up to be more than that; it will eventually."
"It's even liable to get up to be fifty. Might get up to be more than that; it will eventually."
Binion's read was spot-on: it would eventually draw many, many more than fifty, but who could have imagined the scope of the series and the Main Event today, where the winner is expected to earn somewhere in the neighborhood of $8 million due to the massive fields the event draws?
A look at the growth of the Main Event over the decades of rich history will reveal the top ten who collected the largest Main Event first-place prizes ever. Starting from 1978, payout structures began to change, with more places being paid out and the winner getting a smaller yet sizable chunk of the prize pool, an ever-changing percentage. As predicted by Binion, the number of Main Event entries did exceed 50. It did so in 1979 when 54 players participated and Hal Fowler won.
The field gradually increased over the next decade, maxing out at 178 players in 1989 when Phil Hellmuth, Jr. won it for $755,000. In the 1990s, the entries continued to increase, with the first-place prize being reaching $1,000,000 for the first time in 1991, and staying at that amount from 1991-1999.
The biggest gains in Main Event entries and prize pool took place in the 2000s, when it went from 512 entries and a $1.5 million first place in 2000 (won by Chris Ferguson) to 6,494 in 2009 when Joe Cada won $8,547,042. For an in-depth look at the history of the World Series of Poker Main Event by decade, refer to the following PokerNews articles:
The Birth of the Modern WSOP Era
The last year with three-digit entries would be 2003, when 839 players participated in one of the most important Main Events in history. ESPN amped up their coverage that year to present seven one-hour weekly episodes, and it was won by downhome Tennessee boy and recreational player Chris Moneymaker — and what timing it was.
Regular people at home could turn the channel to ESPN and watch a bunch of characters playing big pots with millions of dollars on the line, hole cards up, only to see the satellite-winner accountant play his way, hand by hand, to a $2.5 million payday. And if you were to miss it, there were re-runs.
Moneymaker's abundantly televised victory over top pros Sam Farha and Dan Harrington (second and third, respectively) contributed to the rampant spread of the popularity of Texas hold'em, often known as the "Moneymaker Effect," and changed the Main Event - and the game - forever.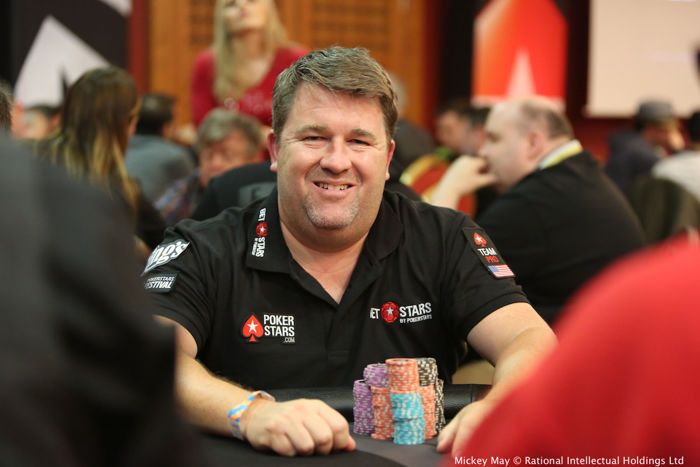 The following year, the number of entries more than tripled and the first-place prize exactly doubled, to the satisfaction of Greg "Fossilman" Raymer. But that was only the beginning. It more than doubled in entries the following year when Joe Hachem shipped for $7.5 million, which was also the first year that the event moved to the Rio following the 2004 acquisition of the WSOP by Harrah's Entertainment (now Caesars Entertainment).
In 2006, the field blossomed to its all-time peak of 8,773 – more than ten times the number of entries in the field that Moneymaker bested only three years prior. That was Jamie Gold's year, and the $12 million first-place prize he won still remains the largest in WSOP Main Event history. For a look at the top ten WSOP Main Event winners, according to prize money won, see the table below.
Top Ten WSOP Main Event Winners
| Rank | Player | Country | Year | Entries | Prize Money |
| --- | --- | --- | --- | --- | --- |
| 1 | Jamie Gold | United States | 2006 | 8,773 | $12,000,000 |
| 2 | Martin Jacobson | Sweden | 2014 | 6,683 | $10,000,000 |
| 3 | Peter Eastgate | United States | 2008 | 6,844 | $9,152,416 |
| 4 | Jonathan Duhamel | Canada | 2010 | 7,319 | $8,944,138 |
| 5 | Pius Heinz | Germany | 2011 | 6,865 | $8,715,638 |
| 6 | Joe Cada | United States | 2009 | 6,494 | $8,574,649 |
| 7 | Greg Merson | United States | 2012 | 6,598 | $8,531,853 |
| 8 | Ryan Riess | United States | 2013 | 6,352 | $8,359,531 |
| 9 | Jerry Yang | United States | 2007 | 6,358 | $8,250,000 |
| 10 | Scott Blumstein | United States | 2017 | 7,221 | $8,158,206 |
Continuing on with the big winners in recent WSOP history, Jerry Yang won $8.25 million for his 2007 win, which stands as the ninth biggest Main Event win ever. A spike in entries the next year saw Peter Eastgate awarded the third-largest first-place prize of $9,152,416. Cada's $8,574,649 win in 2009 marks the sixth-largest ever, and from 2009 to 2010, there was another large increase in field by 825 runners.
Jonathan Duhamel got the victory in 2010 for a bit under $9 million for the fourth-largest Main Event win, and the next three years saw a gradual decline in entries and first-place prizes. Pius Heinz won the fifth-biggest first-place prize in 2011, followed by Greg Merson in 2012 (seventh biggest win at $8,531,853) and Ryan Riess "The Beast" in 2013 (eighth largest win for $8,359,531).
A slight increase in entries in 2014 saw a large spike in the top prize due to a first-place guarantee established by WSOP. Sweden's Martin Jacobson reaped the maximum benefits of the to $10,000,000 guarantee when he was crowned champion. Jacobson's massive win was the second and last eight-figure Main Event winner payout, and it puts him second on the top ten Main Event winners list.
The next two years slipped down to under $8 million for first and just over $8 million for first, won by Joe McKeehen and Qui Nguyen, respectively. Last year's champion Scott Blumstein won $8.15 million for outlasting a field of 7,221, which was also the highest number of entries in seven years. Blumstein's win squeaks into the top ten as the tenth largest first-place prize in Main Event history.
In just a couple days' time, it will be apparent if last year's numbers will be trumped, and what the coveted top prize money will be for the thousands of remaining players to chase. For a preview of the 2018 WSOP Main Event and a complete list of previous winners, check out this PokerNews article.
This World Series of Poker Main Event history and top ten Main Event winners list is brought to our PokerNews readers by GlobalPoker, a social gaming site where players in the U.S. and Canada can play poker online for real cash prizes.