Godfather of Poker Photography Reflects on Decades Behind Poker Lens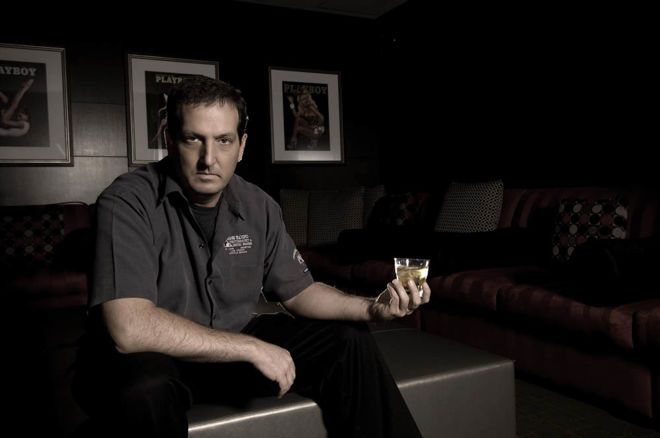 Throughout poker history, there have been photographers capturing the action. Ulvis Alberts was the first to make a name for himself in the 1970s and 80s, while Joseph "Flip Chip" Smith captured many of the images from the late 90s into the new millennium.
If the torch was passed from there, it was to one of today's most prominent poker photographers in Image Masters' Eric Harkins. He began by capturing many of the "poker boom's" most iconic moments, including Chris Moneymaker's improbable win, Greg Raymer posed behind a mountain of money bricks and Joe Hachem draped with the Australian flag in what would be the last WSOP event ever played at Binion's.
Today, he's crisscrossing the country snapping photos at poker events and venues like the Seminole Hard Rock Poker Open, Beau Rivage, and Harvey's Lake Tahoe, just to name a few.
Harkins is used to showcasing poker history through the lens of the camera, but the time has come for his story to be chronicled.
Catching the Photography Bug
The middle child of five kids, Harkins grew up in St. Louis, which he still calls home when he's not on the road. He shot his first official photo on Kodak's Tri-X Black & White Film on a Pentax K1000 in his Freshman year of high school, which led to stints as the yearbook and newspaper photographer.
An internship helped further his photography career by giving him hands-on experience. By age 20, he was mentoring college summer interns at a local studio. A year later he was made VP and worked with clients like Anheuser Busch, 7UP, Monsanto, Alvarez Guitars, Ampeg Audio and Winchester Firearms & Ammo.
Harkins: "I was mesmerized by the big game and the characters, watching them come and go with what seemed an endless stream of cash."
In 1990, he left to launch his own business, Image Masters. At the time it wasn't focused on poker but instead on location photography, which included businesses like hotels. As it happened, many of those hotels were connected to casinos.
"These projects eventually gave way to our being invited to other locations and properties around the country as other casinos learned of our services," Harkins explained. "I received a call in 2001 from our client at Horseshoe Casino in Tunica. They said the owner, Mr. Jack Binion, was requesting my help to photograph his World Poker Open (WPO)."
He continued: "I had photographed the Big Game at Horseshoe Casino with Ken Lambert when Jack brought in the guys to play. It was my first experience at anything outside shooting ads for poker. Like anyone, I was mesmerized by the big game and the characters, watching them come and go with what seemed an endless stream of cash. Unbeknownst to me, Jack was impressed I didn't approach any of the players, bother them, or do anything that might disrupt play. He wanted me to come and shoot for three weeks in Tunica and was pretty insistent even though I knew nothing of tournament poker."
True to Binion form, Harkins was treated like royalty and made a positive impression on the players with his work. Two years later, Nolan Dalla encouraged Binion's to bring in Image Masters for the 2003 WSOP. The pay wasn't great, but luckily they were able to supplement their income with custom print orders from players.
Not only was Image Masters taken to the next level, but the WSOP was too.
"We managed to boost the number of media recipients and get the WSOP international notoriety around the world for the Chan/Brunson/Hellmuth bracelet race and of course the Chris Moneymaker win," said Harkins. "Keep in mind this was before ESPN was able to go live with broadcasts or live streaming. Our images to the press served as keeping the world informed and letting them know what they had to look forward to coming up on ESPN. It was a great partnership."
Since then, Image Masters, which continued to cover the WSOP through 2009, has worked for pretty much every outlet in the industry including the WSOP Circuit, WSOP Europe, World Poker Tour, Seminole Hard Rock, Latin American Poker Tour, Asian Pacific Poker Tour, and Borgata Poker.
"The casinos value the service since they get professional images to use for press and media, and players have the ability to purchase professional images for personal use," said Harkins. "We didn't start out that way as we weren't allowed to sell images to the players, but they kept asking how to get purchase images so eventually we were able to offer that service."
Not only that, Image Masters has continued the advertising side of the business, which still accounts for around 70 percent of the company's revenue.
Documenting the Poker Boom
Working in the years leading up to the "Poker Boom" was an especially memorable time given things were often figured out on the fly.
"From 2001-2004 there was a ton of importance in what we did," Harkins explained. "Every contract, every negotiation, even the work with the tournament directors had meaning or set precedence to how everything is done today. Had we not laid the groundwork, poker tournaments, in general, would be a free for all with no control or consequence how and where players images could be used. Did you know we were part of the groundwork to institute the player release forms and the authorization for PR and TV use on the Bravo receipts?"
One of the things Image Masters figured out early was that they needed to build a comprehensive database. Thanks to starting early, they now have the largest and longest-running Poker Player and Media Photo Database in the world, one that has cost over $1.4 million build over the past 17 years and currently houses over 2.25 million images (that takes up over 10 Terabits of space on the server). There are literally millions of images cataloged by location and event, and plans are in the works to make it searchable via facial recognition.
Harkins: "While ESPN and WPT get credit for the TV broadcast explosion of poker, we earned the right of doing similar for the print and press."
"As the numbers skyrocketed 2005-2009 so did the requests from around the world and the need to be able to find players, as well as get images to publications and sites that needed them for use."
One of those images was Moneymaker's historic win in 2003. The winner photo, snapped by Harkins, was distributed on the AP Wire worldwide and the next day over 100 countries used the image.
"While ESPN and WPT get credit for the TV broadcast explosion of poker, we earned the right of doing similar for the print and press," Harkins said with a smile. Likewise, Hachem's win was another special moment, and Harkins had a crew of six waiting for it. Together they shot nearly 1,000 images of the special moment, and they came in handy when outlets like Yahoo, AOL, MSNBC and TIME all came calling.
Another proud accomplishment for Harkins was the famous WSOP mosaic backdrop – which is made up of every bracelet winner since Image Masters started shooting the WSOP in 2003 – created for the series' 40th anniversary.
Here's to Another 17 Years!
Along with his longtime girlfriend, Monique (she recently retired after more than 25 years of teaching AP Spanish), Harkins is still on the poker photography grind. When he does have some time off, he enjoys playing tennis, rescuing and working with bull terriers, playing the drums, and squeezing philanthropic work into his busy schedule.
The next time you're at a poker stop, keep an eye open for Image Masters Photography. They can usually be found at Seminole Hard Rock, Choctaw, Horseshoe, MGM National Harbor, Beau Rivage and Harvey's Lake Tahoe. To date, Harkins and company have logged over 1,000,000 miles driving to locations across the country.
They often have a staffed booth near the tournament area. Almost everything can be produced on site, and you can also visit their website to browse the aforementioned photo database, which Harkins revealed is on the market. That means potential buyers have the opportunity to acquire photos from historic moments such as the first-ever WSOP Europe, the first WSOP at the Rio, last days at Binion's, the introduction of the November Nine and the WSOP's first Tournament of Champions.
Image Masters has been there for it all, and if Harkins has his way, they'll be there for many years to come.
Executive Editor US, PokerNews Podcast co-host & 2013 WSOP Bracelet Winner.