Top Five Poker Player Appearances on Reality TV Shows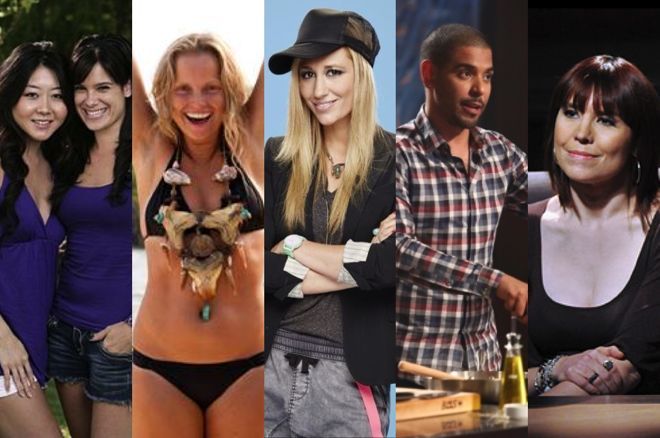 Jackie Glazier's recent appearance on Survivor Australia was just the latest in a string of poker pros appearing on reality TV programs. Dozens of self-proclaimed "poker pros" have participated in televised competitions including The Amazing Race, Celebrity Apprentice, and even Millionaire Matchmaker.
There have even been some close calls in the reality TV casting world. Phil Hellmuth very nearly did Celebrity Wife Swap and briefly considered Dancing with the Stars.
Below are five of the most successful reality TV appearances by poker players. First, here's a look at some honorable mentions.
Ilari Sahamies recently competed in the Finnish version of Celebrity Survivor. He was praised for his strategic moves but failed in the physical aspect of the game. He was ultimately voted out in fourth place.
Garrett Adelstein, Anna Khait and Jim Rice all competed on different seasons of Survivor, and while they were entertaining, all made relatively early exits from the game.
Back in 2007, recent World Series of Poker bracelet winner Jean-Robert Bellande was cast on the 15th season of Survivor. The then 36-year-old was one of 16 castaways on Survivor: China and was the eighth player voted off and the second member of the jury. He had a memorable 24-day run and really was the first big-name poker pro to venture into reality-based competition.
The Season 6 premiere of Bravo's Millionaire Matchmaker saw Daniel Negreanu appear as an eligible bachelor. He went on a date with a blonde bombshell named Lindsay that included visits to Bellagio, a Cirque du Soleil show, and a blackjack table. He also visited her in San Diego for a day. The episode led viewers to believe the two had found true love, though Negreanu later admitted the relationship stalled but the two remained friends. Regardless, the episode was the highest rated in the show's history.
5. Tiffany Michelle & Maria Ho on Amazing Race
Back in 2009, the poker world was excited to learn Tiffany Michelle and Maria Ho – who had finished as the last woman standing in the 2007 and 2008 WSOP Main Events respectively – would be competing as a team on CBS' The Amazing Race.
The duo, who remain best friends to this day, got off to a rough start finishing 11th out of 12 teams in the first leg. They recovered from the near-elimination and ran in the middle of the pack for the next couple legs. Their high point came in Episode No. 5 when they finished second out of the remaining seven teams while competing in the United Arab Emirates.
Unfortunately for them, their run came to an end in the next episode as they tried to make their way to the Netherlands. They exhausted themselves trying to complete a pair of detour challenges. Physically unable to continue, and already in last place, they opted to take a 24-hour penalty, which led to their demise in sixth place.
4. De Meulder Brothers & Fatima Moreira de Melo Dominate Expedition: Robinson
Essentially the Belgian/Dutch version of Survivor, the three poker pros found themselves on the same team in the 2012 edition of the popular survivalist program. Their poker knowledge served them well as they ran circles around their competition when it came to strategy. In fact, they earned the nickname "Evil Poker Trio" for getting rid of some fan favorites.
"I think we really put our stamp on the show," Matthias De Meulder wrote about the experience, which was filmed in Malaysia. "And that's the way poker players are. They let rational thinking take over emotions. In poker and on the island, you have emotions, but you have to be able to keep them under control so you can make the right decisions."
In the end, Fatima Moreira de Melo was crowned the winner while Christophe De Meulder was runner-up.
3. Vanessa Rousso on Big Brother
In the summer of 2015, poker pro Vanessa Rousso skipped the WSOP in favor of appearing on CBS' Big Brother Season 17, a show that sequesters contestants inside a house competing for $500,000. Rousso laughed, cried (more than once), and manipulated her way through the game. Along the way, she founded a potent alliance and largely controlled the game (she masterminded 11 of 15 evictions her season).
Ultimately, Rousso came up one spot short of making the final. She was sent packing in third place by Steve Moses, who went on to win. Had Rousso made it, jurors said she likely had the votes to win the game. While she didn't win, after 98 days in the house, Rousso established herself in Big Brother history as one of the game's best.
Rousso set many records during her appearance, including the one for nominating the greatest number of houseguests during her HOH reigns. She nominated ten different houseguests in a single season. Possibly hoping for a similar contestant, Big Brother cast Vanessa's sister, Tiffany Rousso, in Season 18, though she was not nearly as successful.
2. David Williams Competes on MasterChef
Whoever knew the 2004 WSOP Main Event runner-up could cook? The poker world learned on Season 7 of the popular FOX cooking show MasterChef, which aired in 2016. The 35-year-old Las Vegas based poker pro made it all the way to the final three out of 20 home cooks, along the way impressing judges like Gordon Ramsay.
In the finale, Williams prepared a cabbage-wrapped guinea hen with foie gras, morel mushrooms, and a yellow wine cream sauce. Unfortunately, Williams missed out on the $250K first-place prize as fellow Las Vegas resident Shaun O'Neale edged him out to claim the title.
"You've got the poker player that is playing mind games with the challengers that's left because that's how he tips hand, but this guy has won millions of dollars in prize money and is certainly un-phased by pressure," Ramsay said of Williams.
Williams, who was encouraged to compete by his daughter Liliana, called the experience "the most difficult thing I've ever done in my life."
If there's an all-star version of MasterChef, there's a good chance Williams will be on it.
1. Annie Duke on Celebrity Apprentice
She may be persona non grata in the poker world nowadays, but back in 2009 Annie Duke was one of the most popular players in the world. That's why she was invited to participate in the second installment of Celebrity Apprentice 2, hosted by now-President Donald Trump.
Duke competed alongside the likes of comedians Tom Green and Andrew Dice Clay, former NBA player Dennis Rodman, Khloe Kardashian, country music singer Clint Black, and former NFL running back Herschel Walker.
Duke made it all the way to the final two against the late Joan Rivers, who infamously bashed the poker profession. During certain fundraisers on the show, Duke called upon poker friends like Phil Hellmuth and Erik Seidel, both of whom could be spotted in the background of certain shots.
Interestingly, there were rumors Hellmuth was slated to appear on a future installment of Celebrity Apprentice, though it never came to fruition.
Despite raising the most money ($730,725) and largely being regarded as the best player by fans, Trump ultimately fired her in the finale, instead awarding the title to Rivers, who had raised $526,546. During her time on the show, Duke made a name for herself and painted the poker profession in a positive light.
Duke was invited back for All-Star Celebrity Apprentice in 2013, but turned down the invitation. By that point, she had a falling out among the poker community.
The Top Five Poker Player Appearances on Reality TV Shows list is brought to our PokerNews readers by Global Poker, a social gaming site where players in the U.S. and Canada can win real cash prizes in online poker games.