Off The Felt: Poker Twitter Reacts to Chiefs Super Bowl Win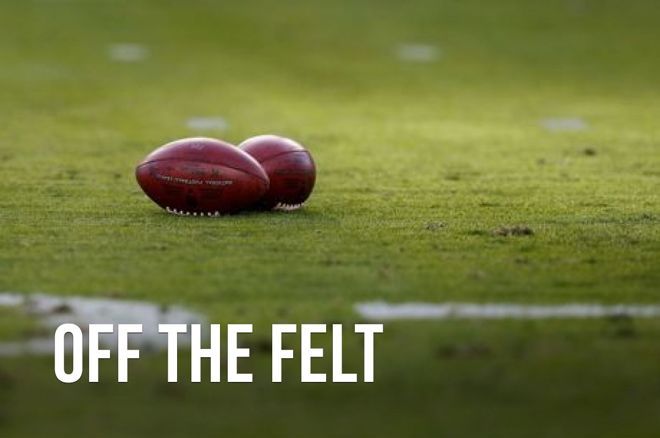 The Kansas City Chiefs led by quarterback Patrick Mahomes overcame a 10-point deficit to stun the San Francisco 49ers and deny them a record-equalling sixth Vince Lombardi Trophy after a 31-20 victory in Super Bowl LIV.
Like any big sporting occasion or playoff game, poker Twitter was abuzz with players sharing their sports betting tips, in-game reactions and response to Mahomes' stunning fourth-quarter comeback.
Some people put time and study into their picks, including former WSOP Main Event final tablist Max Steinberg, who documented his afternoon on Twitter, sharing his picks and the process he went through in making them.
Reading the rules of the prop sheets can lead you to some great bets! Just found a great prop bet at the Westgate that's I just put a few thousand on. pic.twitter.com/vmcxSLWfVj

— Max Steinberg (@MaxJSteinberg) February 2, 2020
We've bet $35,000+ so far, here's an update on what we've bet and what we want to bet! 2 hours to go pic.twitter.com/tHzS3IYolq

— Max Steinberg (@MaxJSteinberg) February 2, 2020
Even poker legend Doyle Brunson couldn't resist putting some money on the big game, although having bet on every Super Bowl ever played, it doesn't sound like he'd need any encouragement.
I've bet every Super Bowl ever played. My smallest bet was 20k. My biggest bet was 200k. I usually bet the underdog, including this year. Go 49er's.

— Doyle Brunson (@TexDolly) February 2, 2020
Meanwhile others...just went with their gut.
Cut myself shaving and my blood was red. Im betting on the Chiefs.

— Uncle Ron (@UncleRonAA) February 2, 2020
And others, like Mike 'Timex' McDonald just didn't go at all, opting to take a break and enjoy the match for the sporting occasion that it was.
Been gambling way too much lately. Today seemed like a good day to take off

— Mike McDonald (@MikeMcDonald89) February 2, 2020
Of course, it wasn't just the football that got people excited, with many tuning in to what many believe was the best Super Bowl halftime show in recent memory, after Shakira andJ.Lo wowed the crowd with a medley of their greatest hits.
Oh my this is best halftime show ever!!! 🤤 🤤

— Ray Henson (@Ray_Henson) February 3, 2020
Halftime show is giving me flashbacks to 14yo me using ask Jeeves to search "J lo ass." Good times

— Mikey D (@3kingme3) February 3, 2020
Who won?

— Daniel Negreanu (@RealKidPoker) February 3, 2020
For some, it went well:
KC and the under baby 🤑

— Ronnie Bardah (@RonnieBardah) February 3, 2020
KC and under #scoop

— Randy Ohel (@randyohel) February 3, 2020
For others, like Bill Perkins, things didn't go as well...
I lost every Super Bowl bet 😂🥵🥵 https://t.co/pmvdIWoxxl

— Bill Perkins (Guy) (@bp22) February 3, 2020
Bad news: Mostly everything lost
Good news: I bet oh so small as I said I would to ensure "I don't lose it all betting the Super Bowl"

See ya later, football. See ya in six months.

— Pamela Maldonado (@pamelam35) February 3, 2020
Rooting hard for @49ers, and I bet 49ers +1.5! #GoNiners

— phil_hellmuth (@phil_hellmuth) February 2, 2020
And can someone check on Doyle for us?
I can't breathe

— Doyle Brunson (@TexDolly) February 3, 2020
Check Out Oddschecker US today!
Whereas others were just happy that Andy Reid finally got his hands - or fingers - on a Super Bowl ring after all this time.
Andy Reid just won a Super Bowl. Whatever you're life long dream is, never ever give up. He's proof.

— Lance Bradley (@Lance_Bradley) February 3, 2020
Gotta be happy for Andy Reid

— Russell Thomas (@RunGoodRussell) February 3, 2020
Are you a Chiefs or 49ers fan? Want to know whether you can play online poker in your state? Find out on PokerNews by heading to the dedicated Missouri or California pages, or by heading to the US Poker Map
In the end, whether winners or losers, the epic comeback - not as epic as the Patriots against Atlanta though - was one that was enjoyed by all.
How good have the last 6 or so Super Bowls been? It's just been an incredible stretch of compelling games.

— Doug Polk (@DougPolkPoker) February 3, 2020
However, at the end of the day, some people were just left with more questions than answers!
what is a Super Bowl and why is it using my name #SuperBowlLIV

— Liv Boeree (@Liv_Boeree) February 3, 2020