Big River Bluff Deep in the WPT Borgata Main Event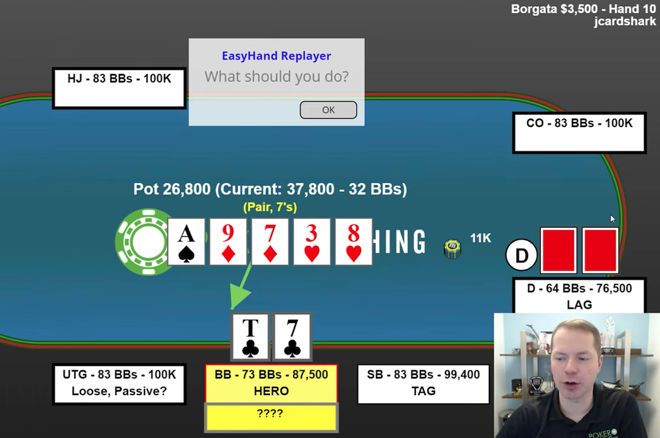 This week I want to return to that $3,500 buy-in World Poker Tour Borgata Poker Open Championship from a couple of months ago to discuss a fun hand I played near the start of Day 2.
The hand began with a loose-aggressive player opening just over 2x to 2,500 from the button, and I called from the big blind with 10♣7♣. We both were just over 80 big blinds to start the hand.
The flop came A♠9♦7♦, giving me bottom pair and I checked. My opponent continued for 3,000 (just under 45% pot) and while I wasn't too excited about it I called.
The turn was the 3♥ and I again checked. My opponent bet again — 7,000 this time — and I called again. Looking back I think I probably should have folded, but my having read the button as loose-aggressive probably had something to do with my decision to stick around.
With 26,800 in the middle the 8♥ came on the river, making the completed board A♠9♦7♦3♥8♥. I checked, and my opponent bet 11,000.
I go through my options in the video below. Hero-calling seems a bad choice, as I'm not beating that many combinations of hands. I could fold. But what about bluff-raising?
As the headline suggests, that's what I chose. Watch below and listen to the reasons why I decided to make a big river bluff and see how things turned out.
Do you always fold when your opponent bets in situations like this or do you ever get frisky? What factors influence your decision?