Hand Analysis: Turning the Nuts, Then Villain Leads River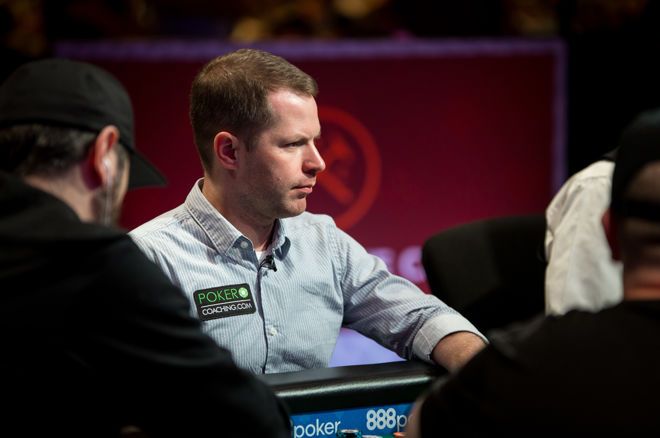 This hand comes from the same $3,500 buy-in World Poker Tour Borgata Poker Open Championship from which we've been analyzing some of the more interesting hands I played.
For this one the blinds were 300/500 with a 500 big blind ante, and after the always tough Anthony Zinno raised to 1,300 from early position, I called from the hijack seat
, and a loose-aggressive player in the small blind called as well.
Zinno had the biggest stack of the three of us (about 80 BB to start), while I had about 60 BB and the small blind about 50 BB.
The flop came
and it checked around to me. I discuss below pros and cons of betting and checking, and here in this multi-way situation I chose to check. Then the
on the turn happily gave me a Broadway straight and the current nuts.
It checked around to me once more, and here I had to decide what the best bet size would be to earn maximum value. The fact that the board was so coordinated and likely to have hit one or both of my opponents' ranges, I opted to bet big — 4,000 into 4,900 — and only the small blind called.
The
river completed the board with a third club, and interestingly my opponent led with a small bet of 3,000.
What would you do here? Call? Raise? Would my opponent lead so small with a flush?
See what I chose to do and listen to my analysis of the hand and situation:
Jonathan Little is a professional poker player and author with over $7,000,000 in live tournament earnings. He writes a weekly educational blog and hosts a podcast at JonathanLittlePoker.com. Sign up to learn poker from Jonathan for free at PokerCoaching.com. You can follow him on Twitter @JonathanLittle.