How to Attack the WSOP, Part 10: The Main Event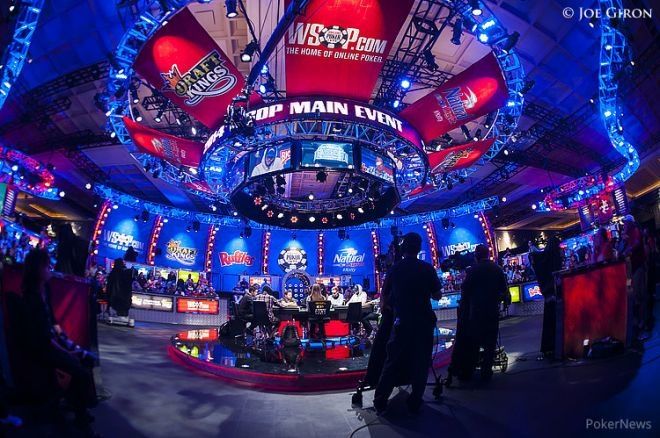 The World Series of Poker is the subject of a great many dreams. Some dream of winning a bracelet. Some dream of making a final table, sitting under the bright lights of "The Mothership" with friends and family in the stands. Some dream of merely participating in the most storied tournament in poker, happy to plunk down $10,000 and walk away with a story.
Ultimately, there is just one dream, though, and it's the dream that Chris Moneymaker proved in 2003 can become stark reality — to win the Main Event. Even for the players who hold on to the "lesser" dreams above, somewhere deep down in their poker souls, they still long to be the last man or woman standing in the WSOP Main Event.
Maybe you don't want to read any further because you don't think you could ever afford to play in the Main Event. After all, $10,000 is a hell of a lot of money for most people.
If that's the case, stop what you're doing and go back and read over Part 2 of this series, in which I covered all things satellite.
Suffice to say there are plenty of ways to get into the Main Event for less than $10,000, including simply spending hours and hours grinding small single-table satellites saving up as many tournament lammers as possible. Meanwhile for those looking to do it in one shot, there are mega-satellites July 8-10 at price points from $135 to $1,100.
Okay, so you have your $10,000 — or your tournament lammers — and you're ready to play. What to expect?
Well, I've personally never had the pleasure of firing in the Main, so I can't give you any first-hand experience. What I can do is relate what some more qualified individuals than I have to say, as well as run down some of the things I've learned from covering the Main Event in recent years.
The first step is preparation. You need to be rested and healthy, mentally and physically ready to go. The Main Event is an unbelievably long grind. We are talking seven straight days of 10 hours or more at the poker table without factoring in breaks. Some of the descriptions on the structure sheet this year call for "five-to-six" levels of two hours each, so it could be even more than that.
There's a reason Doyle Brunson has skipped the Main in recent years, and it's because he doesn't feel his aging body can hold up to that kind of grind.
"It's an absolute grueling marathon," explains Bryan Devonshire, who has two top-25 Main Event finishes to his credit in recent years. "It's hard to go home, wind down, and get some good sleep every night before getting back at it, so you need to come in rested and ready right away."
A healthy diet is also important for physical preparation. Ronnie Bardah, who set a record with five consecutive Main Event cashes from 2010 to 2014, swears by that tidbit.
"I make sure I eat very clean," he said. "For people who love fast food, try to clean up your diet — not too much animal protein, eat lots of vegetables."
The next box to check is poker preparation. Bardah suggests a few days off to clear the mind in advance of the Main, but you don't want to go in totally cold, particularly if you're a recreational player who only gets to the felt every now and then.
Of course, it's critical to be able to play with a short stack in tournament poker, but because of how deep the stacks are at the beginning of the Main Event, it's even more paramount to be familiar with very deep-stacked play.
Your best bet for getting reps with deep stacks is cash games where deep buy-ins are allowed. Some cash games allow players to buy up to a certain percentage of the biggest stack at the table. Try to find such a game and buy in for the max, or failing that, find games that allow players to buy 200-plus big blinds so you get used to the type of multiple-street planning you need at these stack depths.
And about those stack sizes. They create an important dynamic early on where survival is almost the only thing that matters. The levels are two hours apiece — you can check out the full structure here. Realize that 10 hours into the tournament, if you haven't gained or lost a single chip, you still have 100 big blinds. If you've lost 80 percent of your chips, you will still be putting a workable 15-big blind stack in the bag.
"Bag chips and survive," says 2013 champ Ryan Riess. "You start with a lot of chips and with two-hour levels there's a lot of play."
Last year, one of my good friends in the poker world, Lance Harris, made a deep run in the Main Event. But his journey started anything but auspiciously.
Playing Day 1c, he ended the day 2,441th out of 2,747 when he bagged 14,500, less than half of the starting stack. He went on to finish 128th in the tournament, logging some TV time alongside Daniel Negreanu and Phil Hellmuth, because he stayed patient took advantage when his rush finally hit.
On the other hand, check out this list compiled last summer by Mickey Doft featuring the final finishes of Day 1 chip leaders in the Main. Of the 29 players listed who bagged leads in their respective flights, 14 didn't even make the money. Having piles on Day 1 sounds great, sure — and it helped Martin Jacobson and Joe Cada on their way to millions — but it guarantees precisely nothing.
Obviously, the list of poker superstars in the Main Event is basically exhaustive. Even Phil Ivey, who has been notoriously absent from the tournament circuit in recent years, emerged to fire last year. With so many anonymous faces, it's unlikely you'll have to face off with any of these Goliaths, but it's certainly not impossible.
If you do happen to come face-to-face with an Ivey or Negreanu, realize that you are far from drawing dead.
"Remember also that everybody's human," Bardah explains. "I don't care if you're sitting with Phil Ivey or Isaac Haxton or Phil Galfond, they can make mistakes just like you. Obviously they are more experienced, but they're human, too — you can still win."
Or, as a friend of mine always puts it when I text him the names of some of the more intimidating players with whom I've found myself sitting: "he (or she) has two cards just like you."
There are adjustments you can make to minimize your exposure against these players. Tighten up in spots where they will have position on you, for example, and try to focus instead on players against whom think you have an edge.
And if things do happen to fall in your favor and you make a deep run, be ready to adjust to a changing atmosphere late in the tournament. We all saw how everyone shelled up last year and got run over by Joe McKeehen, particularly on the bubble of the final table. The nature of the game changes in the crucible of crunch time in the Main Event.
"As you get deep and under the lights in the Main Event, people become tell boxes," Devonshire says. "The pressure is extreme. It takes a lot of getting used to and not a lot of people are used to it."
But hopefully you will be, and when the dust settles, and I walk into the Rio for the November Nine media day, my recorder will be in front of you as you tell me your unlikely tale of Main Event success.
Good luck in all your efforts this summer.
Want to stay atop all the latest in the poker world? If so, make sure to get PokerNews updates on your social media outlets. Follow us on Twitter and find us on both Facebook and Google+!