How to Attack the WSOP, Part 3: Coming Prepared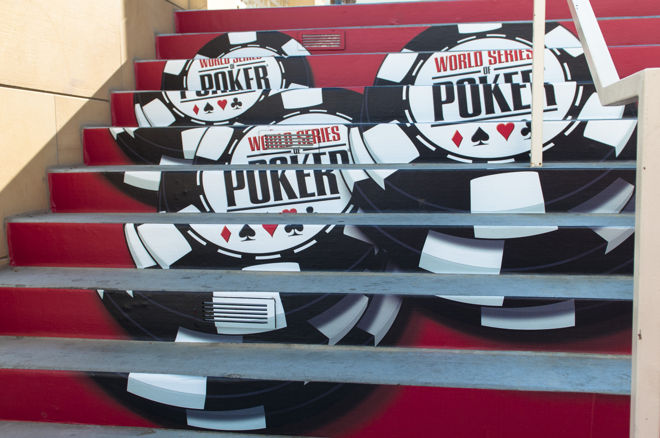 One of the appeals of poker is that anyone can do it, at least on a basic level. As Chris Moneymaker showed when he took on a slew of pros like Phil Ivey and Sam Farha at the 2003 World Series of Poker Main Event, all you need is your wits, nerves of steel, and maybe an impassive face aided by a pair of reflective gold lenses.
That may indeed be the case, but a few extra supplies and a little bit of preparation will go a long way toward making your WSOP experience as smooth and enjoyable as possible.
One thing you'll notice if you walk into the Rio All-Suite Hotel and Casino and wander around the poker rooms is that a ton of players are toting around a backpack or satchel of some sort. That's step one: bringing a tote to carry your stuff. What will that tote hold?
To start with, you'll want some snacks. Days at the WSOP are very long. If you sit down for the first hand of poker for a "standard" 11 a.m. event, you're looking at 10 hours of solid grinding, and that's not taking into account breaks, which add more than two hours on Day 1s. For a 3 p.m. start, it's going to be 10 hours at the tables and about another hour of breaks.
Make sure, then, that you throw some healthy snacks in your bag. I find granola bars to be a great option. Another staple for me is fruit. Bananas are nice but if you have a bunch of solid objects in the bag, they can get smashed and make a mess. Apples are probably the best overall option since they're filling and tough.
A water bottle will also serve you well. It need not be filled — the WSOP staff is kind enough to provide a number of water stations strategically placed around the Rio to keep you hydrated.
And even though it's called the Rio and has rooms called Amazon and Brasilia, be warned: the temperature is anything but tropical in there. Pack some warm clothing like a hoodie or a jacket always. The Amazon Room in particular is legendary for its frosty temperatures. I've even seen players with hand warmers.
Anyone have a thermometer in the Amazon room? How cold is it in here? Unbelievable

— Russell Thomas (@RunGoodRussell)
There's cold, and then there's the Amazon Room at the @WSOP. #Icebox

— Donnie Peters (@Donnie_Peters)
As for electronics, many players enjoy putting on headphones and listening to some tunes while they grind, but be aware that they'll have to be put away if you're fortunate enough to get past the money bubble in a WSOP tournament. I would suggest you leave the electronics behind and keep your focus on the table, using your eyes and ears to pick up as much information as possible. But if you absolutely must, don't forget a charger for your distraction of choice.
Finally, and perhaps most importantly, show up with a plan.
You might sit down and get coolered or take a beat right off the bat and be out in the first hand of the day. Know what your contingency plan is. Are you going to play cash or satellites? If so, be sure to have extra funds on hand.
Did you make the dinner break? You should already know what you're going to do. The food options at the Rio are infamously less-than-stellar, but there are plenty of solid options in the immediate area. There's lots of good stuff in nearby Chinatown — I recommend the Kung Fu Thai & Chinese Restaurant. If you are driving off-site, be sure to plan out a timetable that will allow for time to park when you get back, as the spot you leave will almost certainly be snagged by someone else if it's desirable at all.
The Boy Scouts would probably frown on their motto being applied to poker players, but "Be Prepared" is most definitely something to take to heart before you even play your first hand at the WSOP.
To read Part 1 of this series, How To Attack the WSOP, Part 1: Planning What To Play, click here.
To read Part 2 of this series, How to Attack the WSOP, Part 2: Taking Advantage of Satellites, Live and Online, click here.
Want to stay atop all the latest in the poker world? If so, make sure to get PokerNews updates on your social media outlets. Follow us on Twitter and find us on both Facebook and Google+!