How to Attack the WSOP, Part 9: Outside the No-Limit Hold'em Box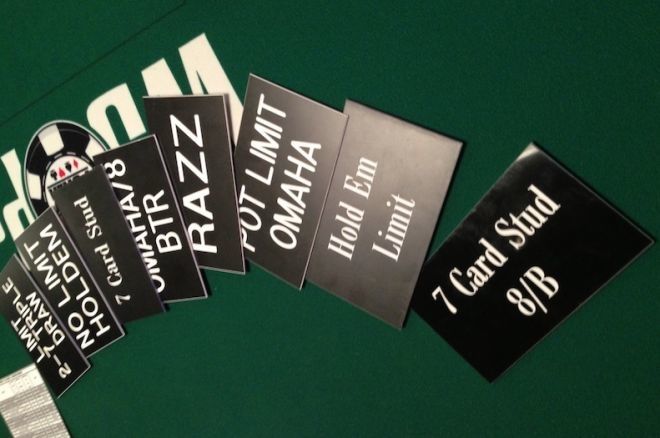 When the World Series of Poker broadcasts first exploded into the mainstream consciousness during Chris Moneymaker's historic win in 2003, poker fever spread like wildfire.
At least, that's the story that's been told ever since. In reality, as any poker aficionado from back in the day would likely tell you, it was no-limit Texas hold'em fever that spread like wildfire. The "Cadillac of Poker" was the game catching on everywhere, enjoying a surge in popularity never seen before or since. Other games like pot-limit Omaha and H.O.R.S.E. certainly saw a boost during the boom years, but it was a far cry from the one hold'em got.
In the years since, NLHE has remained the game of choice for the vast majority of poker players. However, as players progress in their poker educations, they naturally end up branching out and trying new games. For many players, myself among them, hold'em just gets stale after awhile, deep and complex though it may be at the highest levels.
Luckily for poker players who have a love of a non-hold'em game or those simply looking to try out something different at the WSOP, the schedule is always loaded with options outside the hold'em box.
In Part 4 of this series, bracelet winners Aaron Steury and Ben Yu both offered their takes on the best non-hold'em events on the WSOP schedule. First, I'll refresh you on their expert opinions.
"Almost all of the events at the $1,500 level are great events, but a few stand out for me: $1,500 Omaha hi-low, $1,500 stud hi-low, $1,500 (and lower) pot-limit Omaha, $1,500 pot-limit Omaha hi-low, $1,500 H.O.R.S.E. and 8-Game," Yu said.
Steury likewise highlighted the $1,500 H.O.R.S.E. and $1,500 Omaha hi-low events, noting how they have the biggest turnouts, and therefore, less challenging fields. "If you're gonna cut your teeth," suggested Steury, "you might as well do it in the softest fields."
Steury was looking at strictly limit events, but I think Yu brings up an interesting candidate for the best non-hold'em event for a WSOP newbie to play — the $1,500 8-Game. This year's event, which kicks off June 10, marks the return of 8-Game to the WSOP after a one-year absence (a 10-Game event was held instead in 2015).
For those unfamiliar with 8-game, it takes the standard limit H.O.R.S.E. mix of hold'em, Omaha hi-low, razz, stud, and stud hi-low, and adds NLHE and PLO along with limit 2-7 triple draw. It mixes the steady grind of a tried-and-true limit mix with the exciting swings of big-bet poker.
A friend introduced me to it around 2010, and it's absolutely fantastic. Players used to big-bet poker can ease the transition by keeping the games they're familiar with in the mix. Also, one of the criticisms of 8-Game — that the big-bet games hold a bit of an outsized importance due to the ability to win or lose stacks in just one hand — works to the transitioning player's advantage.
Expect a manageable field as well. When 8-Game was last held in 2014, it drew 485 runners and was won by none other than Phil Ivey.
However, if it's max prize money you're looking for, as Steury and Yu both alluded to the $1,500 H.O.R.S.E. and Omaha hi-low events are great options. Last year, the H.O.R.S.E. drew 772 players and awarded $239,750 to first, while the Omaha hi-low drew 918 and paid out $251,022 to the winner.
Of the two, the Omaha event is particularly easy to prepare for because almost every casino with a reasonable cash game scene spreads some Omaha hi-low games. And if you don't live near a place that spreads the game, just get to Vegas a few days early and you'll find games everywhere.
I'd be remiss if I neglected to mention one other exciting new event on this year's schedule, the $565 PLO event, which kicks off June 11 and features unlimited reentry. When branching out from hold'em, PLO is often the first and easiest game for players to grasp due its similarities with NLHE in structure and style.
This low buy-in PLO version of the Colossus should get a hefty turnout. Though it's possibly my favorite game, PLO doesn't appeal much to me in a tournament format, but if it's your thing, you don't want to miss this one.
Again, no matter what event you decide to play, I think it's a great idea to head to Vegas a few days early and get some reps in at a cash game table to prepare. Even if you've played many hands in the past, it's natural for your chops to build up some rust if it's been awhile.
And Las Vegas during the WSOP spreads the widest variety of cash games you're ever likely to see. When I prepared to cover the very first Dealer's Choice event in 2014, I managed to find a crazy mixed-game at ARIA with Badacey and Badeucey and put in a few hours to make sure I was familiar.
If you're lucky, we might even let you in to the late-night $4/$8 media game at The Mirage.
Want to stay atop all the latest in the poker world? If so, make sure to get PokerNews updates on your social media outlets. Follow us on Twitter and find us on both Facebook and Google+!