Finding a Million-Dollar Strategy for Picking the Super High Roller Bowl Winners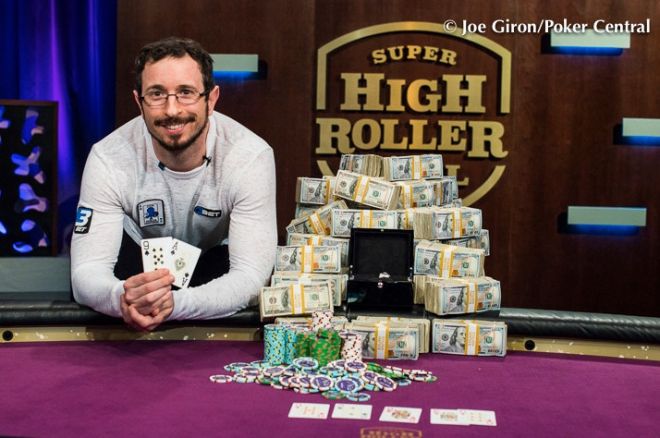 While much of the poker world is gearing up for the 2016 World Series of Poker starting next Wednesday, there's another poker event in Las Vegas that will surely take up our attention during the days preceding the WSOP kickoff. The Super High Roller Bowl 2016 gets started this Sunday, May 29 at the ARIA Resort & Casino.
The buy-in for the tournament is $300,000 with zero rake, and in fact an extra $300,000 is being added to the prize pool by the tournament's sponsors, making it an even $15 million for which the players will be battling. The top seven finishers get to divide those riches, with a $5 million prize and one-of-a-kind Super High Roller Bowl Championship Ring going to the winner.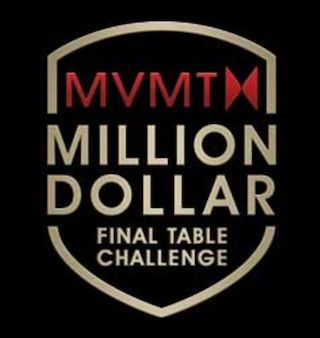 The tournament will feature unprecedented coverage, airing not just on PokerCentral's Twitch channel and Facebook page, but also on the CBS Sports Network for all four days of the event. (Click here for a full broadcast schedule.) The PokerNews live reporting team will be on hand as well to provide start-to-finish coverage of the event.
There's another reason why the Super High Roller Bowl should get a lot of attention. In conjuction with MVMT Watches, PokerCentral is also running the "MVMT Million Dollar Final Table Challenge" in which entrants are invited to pick the order of finish for each of those making the seven-handed final table.
Do so, and you can win $1 million. If no one gets all seven correct, a $10,000 prize will go to the contestant coming closest according to PokerCentral's scoring system, with the top 25 scorers also winning a MVMT watch.
The contest is free to enter, and you have until Sunday to submit your line-up. Click here to visit the PokerCentral site where you can fill out an entry and also see the complete contest rules.
As I was filling out my own contest entry, I found myself thinking about what factors were influencing my selections of certain players over others.
Sure, it's a bit like playing the lottery trying to pick seven cashers — in the right order — in a 49-entry event like this. But those 49 players aren't all equal the way 49 numbers would be. There is some "strategy" here to consider.
How to Select the Top Seven Finishers
When considering how to fill out an entry, it's tempting initially to compare picking a line-up to completing a team in daily fantasy sports, although I think that analogy is probably a poor one. We're not looking for value here — rather, we're simply trying to guess who has the best chance of going deep in this particular poker tournament, and from that group guess how they might finish.
I'd liken it more to filling out an entire NCAA tournament bracket prior to the round of 64, something I imagine most who are reading this and who might take a shot in the MVMT Million Dollar Final Table Challenge have some experience doing. One common approach to that task is to pick a champion or final four and work backwards, which in a sense is what we're doing when picking a seven-handed final table out of 49 starters.
While advanced statistics or "analytics" have given basketball fans an endless amount of information to help with the business of comparing teams — or complicate it, depending on your point of view — we don't have such resources for comparing poker players.
We do, however, have recent super high roller history to consider, and so I thought I'd focus my attention on that category of information to help sort through my picks.
1. Last Year's Super High Roller Bowl
The inaugural Super High Roller Bowl had a $500,000 buy-in and featured 43 participants, with the top seven cashing and Brian Rast ultimately taking down the top prize of $7.525 million. Here's how last year's $21.5 million prize pool was divided up:
| Place | Name | Prize |
| --- | --- | --- |
| 1st | Brian Rast | $7,525,000 |
| 2nd | Scott Seiver | $5,160,000 |
| 3rd | Connor Drinan | $3,225,000 |
| 4th | Timofey Kuznetsov | $2,150,000 |
| 5th | David Peters | $1,505,000 |
| 6th | Tom Marchese | $1,075,000 |
| 7th | Erik Seidel | $860,000 |
All seven of last year's cashers are playing in this year's SHRB. Meanwhile Andrew Robl bubbled the event in eighth, while Ben Lamb, Max Altergott, and Brandon Steven also went deep without cashing. Robl, Lamb, and Steven are back this time, too.
Fabian Quoss was the very first player eliminated during the fourth level on Day 1, with Tobias Reinkemeier, Dan Smith, and Doug Polk, and Jean-Robert Bellande also among the early knockouts. Of those players, only Smith and Polk are back this year.
2. Previous Super High Roller Success
Broadening our focus to consider more than just one half-million dollar event, let's look at how all 49 players have fared in other "super" high roller tournaments with buy-ins of $100,000 and greater.
It's hard to believe it was only about five-and-a-half years ago that tournaments with six-figure buy-ins began to appear at places like the PokerStars Caribbean Adventure and the Aussie Millions. Now they happen year round, with several players having built up considerable histories playing in such events.
Aided by our friends at Hendon Mob, I searched through all 49 players' results to find how many times each had cashed in tournaments with buy-ins of $100K or more. Here's what I found:
| Cashes | Name (Finishes) |
| --- | --- |
| 11 | Erik Seidel (1st, 1st, 1st, 2nd, 2nd, 3rd, 3rd, 4th, 5th, 6th, 7th) |
| 10 | Scott Seiver (1st, 2nd, 2nd, 3rd, 4th, 5th, 6th, 6th, 8th, 8th) |
| 8 | Daniel Negreanu (2nd, 2nd, 3rd, 3rd, 4th, 5th, 6th, 6th) |
| 7 | Igor Kurganov (2nd, 3rd, 4th, 4th, 4th, 5th, 6th) |
| | Dan Shak (1st, 2nd, 2nd, 4th, 4th, 8th, 23rd) |
| 6 | Jason Mercier (1st, 1st, 2nd, 2nd, 3rd, 3rd) |
| 5 | Dan Colman (1st, 1st, 3rd, 3rd, 6th) |
| | Isaac Haxton (2nd, 2nd, 3rd, 5th, 6th) |
| | Tom Marchese (1st, 1st, 2nd, 3rd, 6th) |
| | Brian Rast (1st, 1st, 3rd, 3rd, 6th) |
| 4 | Connor Drinan (3rd, 3rd, 4th, 11th) |
| | Fedor Holz (1st, 1st, 6th, 7th) |
| | Bryn Kenney (1st, 3rd, 3rd, 6th) |
| | David Peters (2nd, 2nd, 5th, 5th) |
| | Doug Polk (1st, 3rd, 4th, 5th) |
| 3 | Antonio Esfandiari (1st, 4th, 4th) |
| | Cary Katz (2nd, 4th, 8th) |
| | Kathy Lehne (2nd, 6th, 8th) |
| | Dan Perper (3rd, 4th, 5th) |
| | Andrew Robl (1st, 2nd, 7th) |
| | Jake Schindler (1st, 3rd, 9th) |
| 2 | Pratyush Buddiga (8th, 10th), Anthony Gregg (1st, 6th); Phil Hellmuth (4th, 6th), Dan Smith (1st, 1st); Christoph Vogelsang (3rd, 5th) |
| 1 | Bobby Baldwin (7th); Stephen Chidwick (6th); David Einhorn (3rd); Keith Gipson (5th); Byron Kaverman (12th); Timofey Kuznetsov (4th); Phil Laak (19th); Jason Les (5th); Bill Perkins (3rd); Nick Petrangelo (2nd); Talal Shakerchi (13th); Brandon Steven (7th); Ben Tollerene (2nd) |
| 0 | Matthew Berkey; Phil Galfond; Rainer Kempe; Ben Lamb; John Morgan; Dominik Nitsche; Vitaliy Rizhkov; Sam Soverel; Haralabos Voulgaris |
This list doesn't tell us how many times players have entered $100K-plus events or what their win rates are in them, though it does give us an idea which players have played them more often and who has posted results. Remember as well that nearly all $100K events have featured small fields and a limited number of cashers, although it's interesting nonetheless to see which players have been winning or finishing runner-up in the events and who has cashed but has not managed to reach the top spots.
Prior success in these events does seem worth noting when trying to handicap players' chances and pick an order of finish. While many in the field of 49 are very experienced, highly-skilled players, some have more familiarity than others with the format and feel of these "boutique" events, including more experience making it to the tournaments' final stages.
3. Other Items of Note
Finally, when filling out those NCAA brackets we're always influenced by other "narratives," stats, or even anecdotal items that tell us this or that team has a chance of making a deep run. We might list a few of those items, too, with regard to some of the 49:
Erik Seidel has the most cashes (11) and most wins (3) in $100K-plus buy-in events.
Talal Shakerchi just won the $10,000 buy-in Spring Championship of Online Poker on PokerStars this week, topping a tough field of 824 to win the $1,468,000.88 first prize. Scott Seiver also made that final table, finishing fourth for $596,000.13.
David Peters cashed three times in $100K-plus buy-in events in January 2016 alone.
Jason Mercier has finished in the top three each of the five times he's cashed in $100K-plus buy-in events
Timofey Kuznetsov's fourth-place finish in last year's Super High Roller Bowl is his only recorded tournament cash.
If you're looking for a player who is comfortable playing big buy-in, small-field tournaments at the ARIA, Tom Marchese has made a kind of specialty out of doing so over the last couple of years. Marchese has won no less than six of the $25,000 High Roller events the ARIA has been putting on each month, and has cashed in that tournament six other times. He also won the $100,000 Super High Roller there in September 2014.
I'm still going back and forth with my picks, favoring Seidel, Seiver, and Mercier to cash but currently undecided about the other spots and a finishing order. Holz and Peters also seem like solid choices, and of course Negreanu and Hellmuth are always worth considering in these kinds of events.
But so are many others. I'm also thinking of that old NCAA bracket advice that a "12 seed always beats a 5" and how there may well be one unexpected name among the final seven — like Kuznetsov last year.
Who are you picking to finish in the top seven in this year's Super High Roller Bowl, and in what order? And what other strategies might be worth considering for those of us gunning for the $1 million? Let us know in a comment below.
Want to stay atop all the latest in the poker world? If so, make sure to get PokerNews updates on your social media outlets. Follow us on Twitter and find us on both Facebook and Google+!