Rivering a Straight Flush in a Multi-Way Pot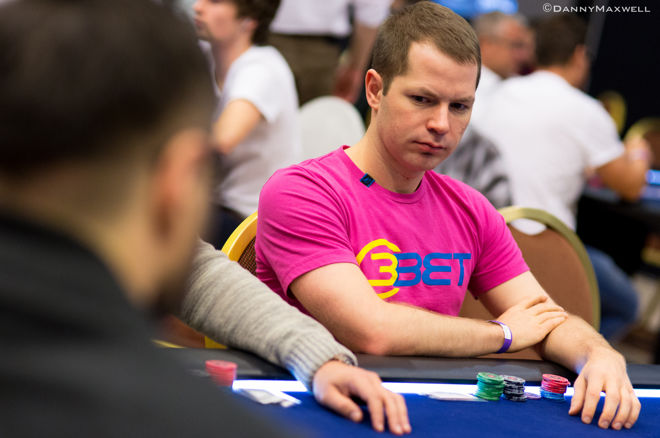 In this week's hand I played a little loosely and ended up making a strong hand versus two opponents. It was a €2,000 buy-in event I played not too long ago, and the hand came relatively early during the 75/150 level when the stacks were still deep.
It began with a splashy 40-year-old player limping from under the gun, then a younger, loose-aggressive player raised to 600 from the hijack seat. I looked down at
on the button and called the raise. The limper came along as well, and we were three-handed when the flop came
.
The UTG player checked and the LAG player continued with a bet of 1,200. Having flopped top pair with a couple of backdoor draws, I called. The 40-year-old guy also called, bringing the pot up over 5,600.
The turn was the
— giving me a straight flush draw — and it checked all of the way around to me. With that much equity I bet 4,000 (somewhat big), and both opponents called. As I talk about in the video below, when both players called I wasn't too excited — I was ready to give up the hand if the river didn't help me.
Well, the river brought the
— that helped me, all right. It checked around to me again, and I had to decide how much to bet. Take a look at how things played out:
When playing deep-stacked, there is a huge amount of value in seeing cheap flops. You have to risk only a tiny portion of your stack for the chance to win a big pot.
Jonathan Little is a professional poker player and author with over $6,300,000 in live tournament earnings. He writes a weekly educational blog and hosts a podcast at JonathanLittlePoker.com. You can follow him on Twitter @JonathanLittle.
Everybody needs an account at one of these online poker rooms! They're the biggest, the best, and we get you the best poker bonuses. Check out our online poker section for details on all the online poker rooms around.