WSOP Final Fifty Winner Danny Tang Discusses Move to Higher Stakes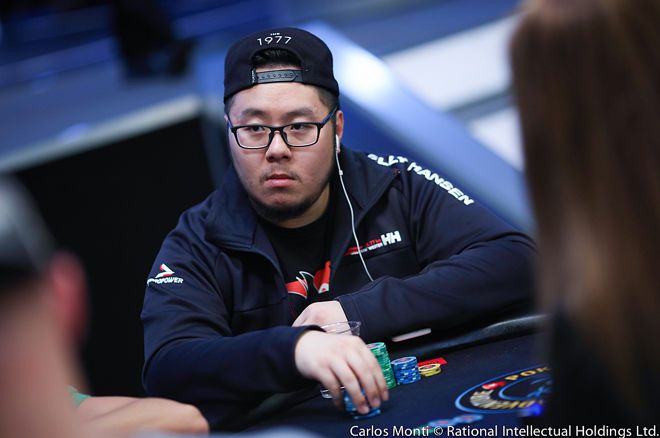 Many poker players — from the serious "recreational" player to those with more concrete professional aspirations — are constantly considering the move to higher stakes games.
There are many factors to consider when weighing the pros and cons of such upward moves. Those with an interest in the topic should dial up the latest episode of the PokerNews Podcast where our Sarah Herring talks with professional player Danny Tang about moving up in stakes (and more).
The pair talked just before the current Triton Super High Roller Series London kicked off. After many years of playing as a pro, Tang very recently made a significant move to play more higher-stakes "high roller" events. The move has gone well for him, resulting in some of the biggest scores of his career.
In May he finished runner-up in the HK$1,000,000 buy-in Triton Super High Roller Series Montenegro Main Event won by Bryn Kenney, good for a cash worth nearly $1.8 million USD. Then in July Tang won his first career WSOP bracelet in Event #90: $50,000 Final Fifty, topping a 123-entry field to win a first prize of just over $1.6 million.
On the show Tang discusses his big win in the Final Fifty. After telling how he got off to a good start to enjoy a big Day 1, Tang then describes a key Day 2 hand he had versus Brian Rast when the tournament was about 10 players away from the cash.
The hand saw Rast open from the small blind, and Tang three-bet from the big blind with
. Rast then jammed all in — for about 1.2 million or 40 big blinds, according to PokerNews' live updates — and Tang who had just a bit more of course called.
The nine on the flop to give Rast a set was bad news for Tang, but an ace arrived on the river and Tang won the pot to knock out Rast.
Tang goes on to tell how Bryn Kenney arrived at the table shortly afterwards and described that river ace as being worth "at least $300,000" in equity. With so much of the tournament left to go, that was something of a vote of confidence that Tang would run deep — which is exactly what happened.
While some encounter increased pressure and anxiety when playing for higher stakes, Tang has been been able to avoid that pitfall.
"One thing I've noticed this year while playing the high-stakes [games] is that the pressure doesn't really get to me, I feel like," Tang explains.
"Obviously when I was all in and the hands are face up, I'm extremely nervous at the runout. But while there are still decisions to make, or if I'm willing or daring to bluff the river, or am bluffing at some stage of the tournament, I feel like I actually handle it pretty well even though it's relatively high stakes."
Other topics covered in the conversation include:
how exploitative play often predominates in lower buy-in events, while GTO-based approaches are more prevalent in high-stakes contexts
how the smaller, tougher fields of the high-stakes events compare to the larger, more varied fields playing lower buy-in events
selling action and how many of the "high rollers" sell significant percentages of themselves
the current online poker experience and debates over the use of "HUDs"
Take a look and listen: