Main Event
Day 1a Completed

Level 9 : 400-800, 100 ante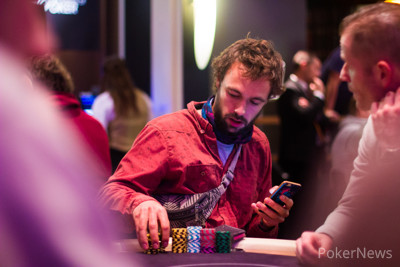 Day 1a of the Master Classics of Poker attracted a field of 96 players to Amsterdam. Some of the biggest players locally visited Holland Casino, as did a small legion of internationally renowned players. After nine 60-minute levels of play, 54 players bagged chips. They'll return on November 21st, as the Main Event goes on a small hiatus before Day 1b gets underway on Tuesday.
Dutchman Daan Mulders, who recorded 2 nice cashes in Barcelona this year, finished up top. He built his 30,000 starting stack into an empire of chips worth 159,000. Mulders skyrocketed to the top of the leaderboard early on after calling November Niner Jorryt van Hoof down with king-nine for a flopped two-pair. Van Hoof was bluffing the river, knowing his aces weren't good anymore. Mulders wasn't folding and was up to almost 100,000 before half the field had even taken their seats. Mulders dropped down all the way back to starting stack after losing with full house over full house. Mulders wasn't so sure he would survive, he said, but it turned out his worries were unjustified. In a short period of time, he took a tablemate's complete stack winning aces against ace-king and ace-queen against king-queen.
Day 1a was full of extraordinary hands, with Sander van Wesemael suffering the most cruel one. He got it in with a backdoored ace-high flush on an unpaired board, only to find out his opponent Marc MacDonnell had made runner runner straight-flush. Van Wesemael bounced back though, bagging 71,800, while MacDonnell would finish the day with just 9,200 in chips.
Ole Schemion, arguably the biggest name to enter the event on Day 1a, had an excellent day at the tables. He doesn't play as frequently as he used to, but the MCOP in Amsterdam probably isn't a tournament Schemion plans on missing anytime soon. Schemion won the Main Event here back in 2012 (€286,200) and won the Super High Roller here last year (€160,875). While his aces got cracked by five-deuce at one point today, he ended the day with a solid 96,100.
Other big stacks to finish the day are Marijn van Puffelen (144,400), Wim Anne Wesselink (102,500), Orpen Kisacikoglu (95,800) and Jan Eric Schwippert (90,900).
Play in the Main Event resumes at 2 p.m. on Tuesday, November 21st. For the first time this year, a turbo Day 1c is scheduled for 10 p.m. that day. Players have the option to reenter once per flight, and once more before the start-of-play on Day 2. So even those who have busted, like Govert Metaal, Claas Segebrecht, and November Niner Michiel Brummelhuis, still have plenty of options to try and become the next MCOP champion.
On Saturday, the €25,500 Super High Roller starts. PokerNews.com will be on the ground to cover that event from start to finish, so keep your eyes out for updates from that event this weekend.

Level 9 : 400-800, 100 ante
Player
Chips
Progress

Daan Mulders

159,100

39,100

Marijn van Puffelen

144,400

114,400

Niklas Hambizer

114,000

Wim Anne Wesselink

102,500

32,500

Ole Schemion

96,100

1,100

Orpen Kisacikoglu

95,900

65,900

Jan Eric Schwippert

90,900

7,900

Wim Emo

90,300

60,300

Timo Kamphues

88,000

Alberto Stegeman

87,200

-10,800

Valeriy Chupin

79,200

M Siljander

75,100

Michael O'Sullivan

74,700

Markus Lures

72,000

Sander van Wesemael

71,800

51,800

Jussi Mattila

68,400

Jans Arends

64,000

-31,000

S Leenen

59,800

Mark Roovers

58,000

7,000

Tomas Jozonis

55,000

Jean-Philippe Schoonbrood

50,900

-18,100

Vincent Caliz

50,700

Maxi Lehmanski

48,500

15,500

A el Haddad

47,100

Antoine Vranken

46,200

29,200

Level 9 : 400-800, 100 ante
And the day is done. We'll be back with you shortly, writing up assorted end-of-day chip counts and a recap of today's play.

Level 9 : 400-800, 100 ante
As we entered the tournament room, we ran into Govert Metaal who was busy getting out. Metaal told us he was short for some time and he had shoved a couple of times before running into a real hand. Metaal was down to 10 big blinds when he made a move against countryman Fatih Aydin with
. Aydin had
and hit an ace on the flop to end it all for Metaal.

Level 9 : 400-800, 100 ante
Claas Segebrecht got up from the table and made his departure, reason enough for us to check with Jans Arends what had happened.
"It was against me!" Arends said with a smile as he started elaborating on the hand.
From middle position, Arends opened to 1,800. Segebrecht 3-bet his small blind to 6,800 and Arends called.
Segebrecht bet 3,900 on
(with a club flush draw) and Arends called.
The two then checked the
on the turn before the
completed the board. Segebrecht shoved for around 15,000 and Arends called with
. Segebrecht had
and had to leave the tournament area.

Level 9 : 400-800, 100 ante
Daan Mulders was one of the early leaders of this tournament but lost a massive pot to drop down all the way back to starting stack. Before the dinner break, he said "I don't think we're gonna make it," with a touted face - followed by a smile.
But, as it turned out, he was wrong. He was very wrong. In fact, Mulders is now back in the winner circle owning a stack likely to be one of the bigger ones in the room.
Right before the last break, he doubled through a player with
against
. Right after the break, he took the rest of that player's stack as well as they got it in with
and
. Mulders' hand proved best at the river still and he stacked chips worth 120,000 while his opponent departed.

Level 9 : 400-800, 100 ante
We missed the pre-flop action but saw Antoine Vranken (big blind) check on
. A player in middle position bet 5,500 and Jan Eric Schwippert (button) called. Vranken folded.
The
on the turn saw the player shove for 22,400. Schwippert called with
and turned out to be up against
. The
on the river was a blank and Schwippert eliminated his opponent.
Level: 9
Blinds: 400/800
Ante: 100

Level 8 : 300-600, 75 ante
The last break of the day has just commenced. After the break, a single 60-minute level remains on the schedule according to the speaker just now.