Top Ten Poker Stories of the 2009: #1, Phil Ivey Final-Tables the World Series of Poker Main Event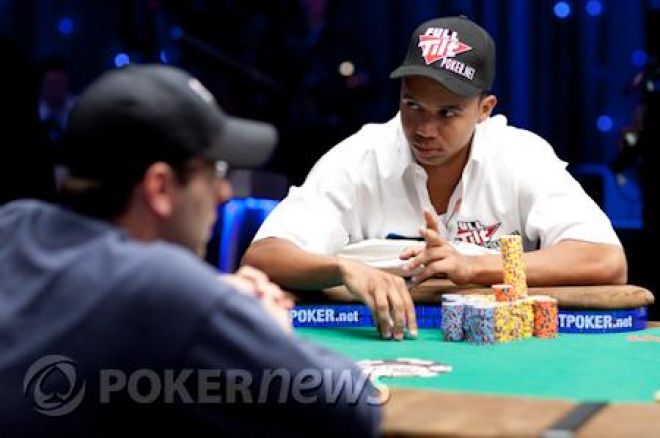 Although many may argue that the rise of "Isildur1" on the high-stakes poker scene over the past few months should take the top spot as 2009's biggest story, no story has trumped the hype surrounding Phil Ivey's World Series of Poker Main Event run this year.
Ivey's charge for poker's holy grail in July and then into November, took not only the poker world by storm but put the mainstream sports media into a frenzy; a combination that earned Ivey the top spot for 2009.
After a disappointing 2008 World Series of Poker that saw Ivey reportedly lose several million dollars in side bets, Ivey's 2009 WSOP made up for his losses in 2008 — and then some.
It didn't take long for Ivey to capture his sixth WSOP bracelet when he final-tabled event eight, a no-limit deuce to seven low-ball draw tournament. Although he was short-stacked much of the final table, Ivey used his finely tuned poker skills to decimate his competition one by one. While first prize was only a paltry $96,000, it was reported that the bracelet was worth anywhere between $200,000 and $12 million in side bets for Ivey.
Unfortunately for his opponents, Ivey was not finished. Just over a week later, he struck again, this time in an Omaha/seven-card stud hi/lo event, winning bracelet number seven, $220,000 in tournament earnings, and once again an undisclosed sum in side bets. In a year that saw several players win multiple WSOP bracelets, Ivey's two wins by the middle of June had the poker world abuzz.
While Ivey made a run at his third WSOP bracelet of the summer later in June, finishing eighth in the $5,000 buy-in no-limit hold'em shootout, it was not until July 7th that the real fireworks of this story began. After each day of the WSOP Main Event, Ivey's name could be found closer to the top of the chip counts. By day five, Ivey was over the million-dollar mark and bagging 1.4 million chips. It became quite clear that he was on a mission to prove he was the world's best poker player.
By day six, the poker world had its eyes on Ivey as he made his fourth deep run in the WSOP Main Event of the decade. Although other well-known pros were left, such as Joe Sebok, Antonio Esfandiari and Tom Schneider, they were sideshows to Ivey who grabbed the spotlight. He ended day six in third place with over 6 million in chips. Then he finished day seven with over 11 million. With only one more day of play, it looked as though Ivey was a shoe-in to make the final table and the 2009 November Nine.
Day eight was not an easy one for Ivey, and fans and the media, who were all several rows deep watching Ivey on the rail, seemed a bit anxious. One by one, players were being eliminated and with each elimination Ivey's name moved closer and closer to the list of short stacks. When the players came together at the final ten-handed table, Ivey sat in as one of the shortest stacks, and people many questioned whether Ivey would once again finish tenth, bubbling the official final table as he did in 2003.
If you were standing just a few feet from the table, you knew that everyone in the Amazon room and feature-table stadium area was rooting for Ivey. Each time he looked at his chips or cards, fans held their breath until finally the final-table bubble burst with Darvin Moon cracking Jordan Smith's aces with pocket eights.
While Moon held a significant chip lead with his 58 million from July through November, it was Ivey and his 9.7 million that were the talk of the town — and also the nation. Phil Ivey became the first poker player to be featured on the cover of ESPN The Magazine. A subsequent feature ran on ESPN's prime-time newsmagazine show "E:60." The features followed Ivey for a few days, chronicling a lifestyle filled with million-dollar wagers, private jets, and VIP treatment. It was one of the first times that a professional poker player's life was portrayed for the world in a positive light.
When the big day finally came in November, it was again clear that Ivey was the center of attention. Fans lined up hours before the doors opened at the Penn & Teller Theater hoping to get a seat to see the legend attempt to win poker's biggest prize. Each time Ivey was in a pot, the crowd became eerily quiet and then burst with excitement if he won a hand or gasped in despair if he lost one.
After what seemed like an eternity of hovering around average, Ivey was finally in a position to double-up into serious contention when he moved all-in with
and found only one caller, Moon, who held the inferior
. Unfortunately, Moon spiked a queen on the flop, and Ivey got no help from the turn or the river, thus eliminating him in a disappointing seventh place.
Although the seventh-place finish may not have made Ivey happy, the run leading up to it and the attention the mainstream media gave his story makes this, in our eyes, the story of the year. The game's biggest star was on the biggest stage with a spotlight that no other poker player or poker event has ever seen. Although a repeat performance in 2010 is unlikely, Ivey's response to a noted poker author's question about when we'll see him at another final table, he said, smiling, "Next year, probably."
Follow us on Twitter for up-to-the-minute news, and also become our fan on Facebook.