Sam Trickett Discusses High Stakes Cash Game at Aussie Millions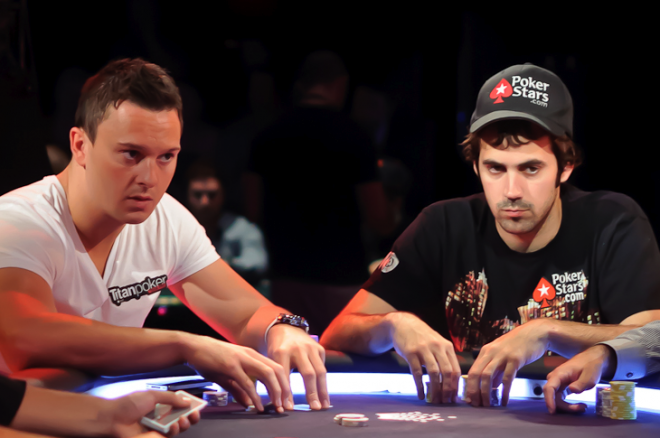 Recently, the Aussie Millions Million Dollar Cash Game was held at Crown Casino. Held year after year at the Aussie Millions, the game attracts some of the biggest stars in the poker world along with a few rich businessmen — all playing for very large stakes with plenty of money on the line.
This year, the first day of the game was AUD$500/1,000 no-limit hold'em with an AUD$100 ante for each player that was paid by the button. The first day of the game lasted several hours before breaking prior to midnight. Jason Mercier, Winfred Yu, Richard Young, Gus Hansen, Daniel Cates, Tom Dwan, Daniel Negreanu, Patrik Antonius and Sam Trickett all participated in the game.
Trickett, who is no stranger to the Aussie Millions having won the $100,000 Challenge and placed runner-up in the $250,000 Super High Roller last year, was one of the big winners in the game. He pocketed a profit of approximately AUD$448,000 after buying in for AUD$200,000 on Thursday. Remko Rinkema from PokerNews.nl caught up with Trickett after the game broke for a quick chat about how things went, his rise to poker stardom and a key hand he played against Cates.
Big cash game at the Aussie Millions, you guys just finished your first session, how did it go?
Pretty well. I was running really good. I flopped loads of big hands, like three of four sets, but hardly won any big pots with the hands I flopped....I don't regret anything, I played every hand well and did OK. It's a shame my opponents didn't hit a bit more when I was hitting, but it was still a good session and a big win.
We saw two Chinese businessmen, they're probably from Macau and you probably know them. What was the game like?
It wasn't the greatest game, but I feel like I got a good seat. If I could pick anywhere to sit on the table, I'd probably pick my seat. I was pretty happy with that. Yeah, it's like when the line up is as tough as that, it comes down to who runs the best and who plays the best, really, and it was a combination of both.
We saw you cash out a big amount of chips, what was the biggest pot you played and could you walk us through the hand?
Well, the biggest pot I played was probably — I don't know how big it was because I don't know how much he started the hand with — but it was, I three-bet with ace-queen suited from the small blind, Jungleman called and the flop came nine, ten, jack rainbow. I check-called like 21 — maybe getting this wrong — $21,000 I think I check-called. Turn was a two of diamonds or something and I think he bet $52,000. I check-called again. The river was an eight and I moved in for like $125,000 and he called. So, that was a pretty big pot.
Does it still do something to you, playing all these big pots? Or has it become normal over the last year because we've seen you play all the big games, you had an amazing year last year — is it something big for you or has it become sort of normal?
I try not to think about the size of the pot and how much money it is when I play. I just try and think about the chip contribution and how much chips he's betting percentage wise and stuff. No, I'd say it doesn't really do anything to me. Obviously, I like big wins like this, it's good. It's good to keep racking up wins like this I suppose, but it's not like Macau. Macau gets me if anywhere gets me because the game's a lot bigger.
Any plans for more games here [in Australia], more televised games or maybe you're going to play in the Mahogany Room?
Yeah, I'm going to play, whatever other games are going on I'm going to play. Like I've said before in a few interviews before, I'm not going to be playing many tournaments this year — high rollers only and a few bigger buy-in ones — mainly just cash games because I just enjoy it more and it's more relaxing.
Could you go back into the way you looked at poker, let's say, two years ago. Could you have thought you would have been at this point? It's such an amazing achievement you've had over the last year and a half or two years.
I've always wanted to be at the stage I'm at now and I've always felt like I've picked up the game pretty quickly. I've always felt comfortable at the table and sat with anyone, every time I've played with good players I've never felt out of my depth, in my view. That gave me the confidence to go ahead and move my game on and start playing in these tougher games. Even since I've started playing in these tough games, I've been doing well. I didn't think I'd get there this quick, but I always thought I could get to this level in poker and I'm pretty happy to be playing in these games now.
One final thing. Every country seems to have one, big superstar — Jason Mercier from the U.S., Daniel Negreanu from Canada, and [Daniel "Jungleman" Cates] is also from the States — but you're the only Brit who has really made it to this high level. Would you say there's a difference that you could point out between you and the guys who are just one tier below you who are also playing the big games, but just haven't reached the top level?
Well, right now a lot of the players from England are tournament players. They all play tournaments and they don't really play many cash games. That's where they're all from, they all play online tournaments. They travel around playing the European circuit and every tournament going, so it's hard for them to win as much, as say, I'm winning, because I'm putting myself in more position to win more money all the time playing in games like this.
You're risking more?
Yeah, I risk more and, I don't know, maybe I'm just a bit more experienced in those [games], as well. I've been playing a little bit longer than a lot of the younger generation back home at the minute. I'm sure with time there will be a few more players playing in these games.
Stay up to date on all the latest news by following us on Twitter and liking us on Facebook.