WPT on FSN Grand Prix de Paris Part III: European RFGs, Expletives, and an Epic Comeback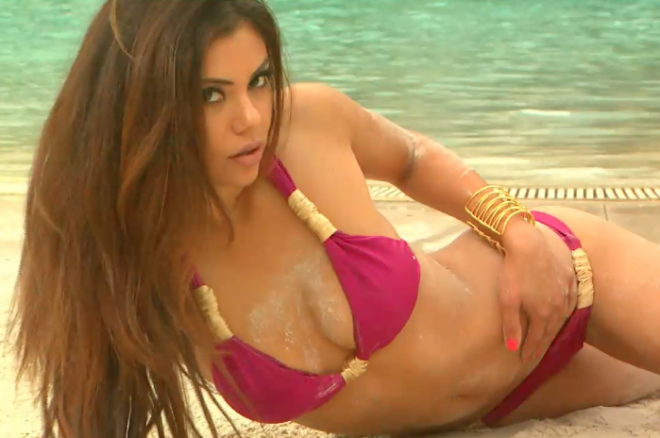 The World Poker Tour continued its broadcast of Season XII on Fox Sports Network Sunday night with the conclusion of the Grand Prix de Paris, a €7,500 Main Event that attracted 187 entries to the Aviation Club de France in Paris back in October 2013. The field generated a prize pool of €1,839,496 that was to be distributed to the top 21 players.
In my recap of Part I — which you can read by clicking here — I highlighted the elimination of Kimmo Kurko, and then in last week's recap I covered three more eliminations, offered a lengthy interview with Mohsin Charania on his favorite things off the felt, and of course checked in with the lovely Royal Flush Girls.
I've also started recapping episodes of the WPT Alpha8, which recently premiered on Fox Sports ONE. Check that out by clicking here.
I watched the latest episode and thought I'd offer you my thoughts in my weekly WPT on FSN recap. First and foremost, I must say that it's rare for the WPT to devote a whole episode to heads-up play, so you just knew it was going to be good.
Here's how things stacked up at the top of the broadcast: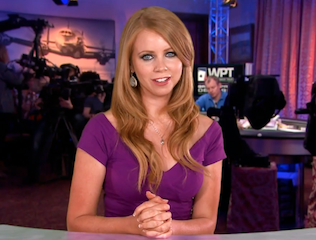 WPT Season XII Grand Prix de Paris Final Table
| Seat | Player | Chips |
| --- | --- | --- |
| 1 | --empty-- | N/A |
| 2 | --empty-- | N/A |
| 3 | --empty-- | N/A |
| 4 | --empty-- | N/A |
| 5 | Mohsin Charania | 712,000 (29BB) |
| 6 | Vasili Firsau | 4,875,000 (203BB) |
What Does Vasili Think?: "I feel good now, I am a big chip leader going into heads up, but it is still a big responsibility because a short stack can always increase and losing heads up being a big chip leader is always a pity," Vasili Firsau, who doesn't speak English, said in his native tongue before the start of play. "The short stack, there is nothing to lose, therefore, one feels more comfortable psychologically."
Firsau began with a 7-to-1 lead and was looking to become the first player from Belarus to win a WPT title.
Standing Alone: While Charania was all in for the first time (which would subsequently lead to his first double) he made his way over to the rail where he had a throng of friends waiting including Jason Koon, Marvin Rettenmaier, and Renae Garcia. On the flip side, it appeared Firsau was flying solo at the Aviation Club.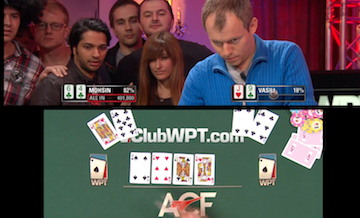 It reminded me of the many times I've covered a tournament and the winner ended up being unaccompanied. No support, no one to cheer them on, and no one to celebrate and share in their special moment. I've seen it happen at numerous World Series of Poker events, and truth be told it is kind of sad. Of course it's not their fault, but I can't help but feel they deserve someone in their corner.
I experienced this firsthand when I won my WSOP bracelet last year. I had dozens of friends, colleagues, and players sweating me during heads-up play, while there didn't seem to be a single sole in the crowd there for my opponent, Allan Kwong. The point is, poker – as well as life – is easier when you have people there to support you during the low moments and applaud you during the high.
Oh, and don't feel too bad as it was revealed a little later on that Firsau had three comrades – Igor, Oleg, and Vadim — nearby to give him some love. "All from Mississippi," Vince Van Patten joked.
Dalia & Sonia: You know I love the Royal Flush Girls, but did you know they have different RFGs for European events? I didn't until last night's episode, and I've gotta tell ya, Dalia and Sonia are just as lovely as their American counterparts.
The two ladies were introduced when they visited Acide to make macaroons with owner and head chef, "Chef Jonathan." They had the shells and the filling, so all they had to do was learn how to put them together. Through trial and error they managed to do it, and the Parisian snack looked absolutely delicious.
Déjà Vu: Charania was at the Grand Prix de Paris for the second year in a row, and he was looking to avoid the bad luck he experienced in Season XI. That was highlighted in a video, which you can watch here:
Expletives: Swearing on TV is not what you're supposed to do, but apparently Firsau didn't get the memo. As Charania hit a heater and clawed his way back into the match, Firsau was getting visibly frustrated. Every time Charania would roll over the winning hand, Firsau would say something in Russian that contained some not-so-pleasant words (i.e. "I'm already (expletive) tired of you"). Even though Firsau was in agony, it was actually kind of funny.
As you can see from the following graph, Firsau dominated the final table by eliminating the other four players, but then Charania, who had been laying low, shifted gears at just the right time.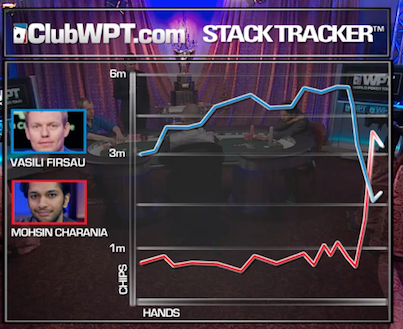 Some Kudos to the WPT: The poker industry is full of competing business, and oftentimes those businesses try their best not to recognize one another. In this broadcast, neither Mike Sexton nor Vince Van Patten showed any hesitation when referencing Charania's accomplishments at the World Series of Poker and European Poker Tour. Despite being competitors, they recognized such events as highlights of Charania's career and proudly praised him even though by doing so they were ascribing a certain amount of prestige to the other tours. It was classy, refreshing, and even though it may seem like a small and inconsequential thing, I applaud them for not glossing over it.
The Final Hand: With the blinds at 40,000/80,000, Charania looked down at the
and raised to 165,000. Firsau then squeezed out the
and moved all in for 2.02 million, which Charania snap-called.
"Let me hit once (expletive) I'm fed up with this," Firsau said in Russian. Players and spectators alike were on their feet to watch the flop come down
, which made Charania a 3-to-1 favorite. The
turn made it more like 6-to-1, and Firsau needed either an ace or queen to stay alive.
The
was not it, and Charania's rail embraced their man as he completed one of the biggest comebacks in WPT history. It was certainly a disappointing ending for Firsau, but he handled it much better than one might expect – with a sincere smile on his face.
"I am satisfied with the way I played," Firsau said after the elimination. "I think I played on a very good level, I just had bad luck post flop. I didn't win any chips when we were all in preflop. Knowing the outcome, one could change something, but I'm satisfied with my play.
Tune in Next Week: The next WPT episode is set air on Sunday, April 13 on FSN, so be sure to check your local listings. If by chance you miss it, check back next week for the latest recap of all the action here on PokerNews.
Past Grand Prix de Paris Champions
| Season | Player | Earnings |
| --- | --- | --- |
| 1* | Christer Johansson | €500,000 |
| 2 | David Benyamine | €357,200 |
| 3 | Surinder Sunar | €679,860 |
| 4 | Roland de Wolfe | €479,680 |
| 5 | Christian Grundtvig | €712,5 |
| 9 | Theo Jorgensen | €633,902 |
| 10 | Matthew Waxman | €518,750 |
| 11 | Matt Salsberg | €400,000 |
| 12 | Mohsin Charania | €340,000 |
*Called Euro Finals of Poker
*Pictures courtesy of World Poker Tour.
Get all the latest PokerNews updates on your social media outlets. Follow us on Twitter and find us both Facebook and Google+!