Bracelet Winner Daniel Strelitz on How to Survive the WSOP Grind
On opening weekend of the 2019 World Series of Poker, all eyes of the poker world were fixated on the record-breaking Event #3: BIG 50 - $500 No-Limit Hold'em won by Femi Fashakin and the special Event #5: $50,000 50th Annual High Roller No Limit Hold'em in which Ben Heath took the title.
But on the following Monday one of the most competitive tournaments of the WSOP summer began, Event #11: $5,000 No-Limit Hold'em. The tournament drew exactly 400 entries, creating a prize pool of $1.86 million and first prize of $442,385.
On the fourth grueling day, the final table was highlighted by some big names in the world of poker, including Maria Ho (who finished runner-up in the same event in 2011) and Ali Imsirovic, the 2018 Poker Masters Champion.
In the end, however, there were two other young and talented players battling each other, both trying to capture a first WSOP bracelet. After a tough heads-up battle, Daniel Strelitz outlasted Shannon Shorr to win the title with his parents cheering him on from the stands.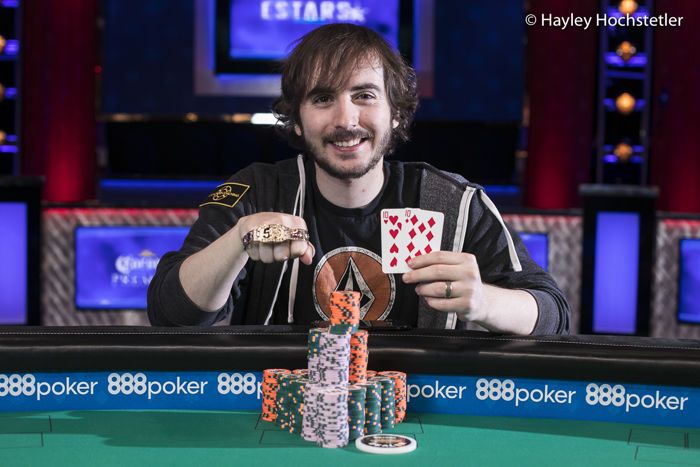 After starting this year's series off with a bang, Strelitz is excited to play the rest of the WSOP. Since 2011, his first eligible summer at the WSOP, the 29-year-old poker pro has played the entire summer series at the Rio All-Suite Hotel and Casino every year.
As most who do the same well know, the WSOP can be a roller coaster of emotional highs and lows. I caught up with Strelitz after his big win in the $5K and asked him for advice on how to survive such a grueling two-month stretch in Las Vegas.
PokerNews: Congratulations on winning your first WSOP bracelet.
Daniel Strelitz: Thanks Bernard. Yeah, I was excited especially winning it in this event because it was a pretty tough field. The final table of six had no weak spots at all.
Are you glad to finally get the monkey off your back?
Yeah, it's awesome especially with the bracelet winners only event this summer at the WSOP. Some of my buddies who have won bracelets were needling me before the summer that I wasn't able to play it. Well, now I can.
Since 2011, you have come out to the WSOP and pretty much played a full schedule. How to you prevent yourself from burning out?
It's hard. Nowadays, there are a million tournaments here in Las Vegas (not just at the WSOP). You can easily bust and just turn around and play another one. And you can easily even play three a day.
I think it's really important to take breaks. If you bust early in a tournament, it's okay to take a day off. You don't have to grind in multiple tournaments every day.
Also, make sure you get enough sleep. I try to get at least seven hours a night. On my days off, I try to get more like nine hours and sometimes even get a nap in during the afternoon to be fully refreshed when I go back to play.
Where do you recommend staying during the summer in Las Vegas?
I would recommended finding a place off the (Las Vegas) Strip. I find the Strip so hectic and, for some, so tempting. I usually stay in a house with my close poker buddies.
Also, not staying in a casino helps if you like playing in the pits (blackjack, craps, baccarat, etc.). I would really try to stay avoid those games as losing money there can just snowball and add up, which will not give you right mindset for playing poker.
You talk about hanging out with a group of poker buddies. Do you find this important during the summer?
Absolutely. Not only to hang out with them and have fun, but also to go over a lot of hand histories. Someone will text his hand history to the group and we will go over it. We may joke back and forth with each other, but definitely discuss hands and tell each other if you feel that they may have played it differently.
Who are your closest friends here at the WSOP?
My closest friends have to be Brian Yoon, Niall Farrell, Michael Gagliano, and Brendon Shane.
So many people who come out to the WSOP love to take advantage of the nightlife here in Vegas. What are your thoughts?
If you bust early in a tournament, it's okay to take a day off. You don't have to grind in multiple tournaments every day.
If you are out here for the summer to play poker, I would recommend be professional. Have a drink or two and maybe go out if you aren't playing the next day. However, don't go crazy. Las Vegas and its nightlife will always be here, but playing your best during the WSOP is what is important.
I'm actually not a big party guy or drinker anyway, but I have definitely seen some players have lots of fun.
What do you do when you are on a bad streak? How do you clear your mind and reset during the summer?
For me, I have two things that I do.
First, I go see a movie. You sit in a cold theater, get your mind off of poker and there are usually a ton of good movies to see during the summer.
Second, go out in nature. One year, I was a having a really bad run and I was really tilted. I went up to Mount Charleston and there was a waterfall there. The icy cold water was so rejuvenating and gave me a restart to the summer.
I agree with you. For me, I love to play golf so if you can get up early, you can get a round in before it becomes too hot or take a hike at Red Rock Canyon.
Definitely.
Do you have any other recommendations for players planning on coming for a lengthy stay during the WSOP?
Avoid the long registration lines. They will just be tiring and a waste of time. I would suggest buying into tournaments when there are no lines, especially late at night.
However, this year, the WSOP has an online registration using Bravo Poker Live, which allows you to deposit money into your account. Then for only a $3 charge, you can register for the event by just going to a kiosk to get your tickets and avoid the long lines. It has definitely saved me a lot of time and stress.