Top Stories of 2020, #9: The End of the Black Friday Saga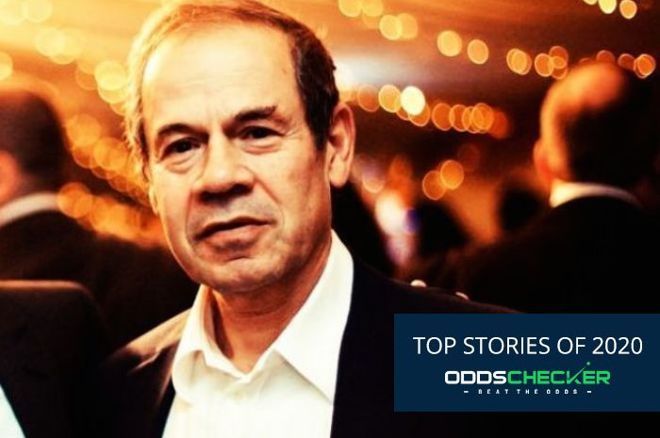 This year's Top Stories are brought to you by Oddschecker US.
Visit OddsChecker to get instant access to the latest odds, tips and exclusive offers thanks to their all-inclusive sports-betting portal.
Whether you like football, basketball, baseball, hockey, soccer and more, OddsChecker is your one-stop-shop to get always the best odds. Check out Oddschecker US today!
---
The year 2020 will be mostly known for when COVID-19 changed the world as we know it but many big events in the poker world did take place including the end of the Black Friday saga.
Black Friday was the day the U.S. federal government brought charges and shut down the three largest U.S.-facing online poker networks in PokerStars, Full Tilt Poker, and Absolute Poker on April 15 2011.
A total of 11 individuals were charged in an indictment from the Department of Justice including PokerStars founder Isai Scheinberg.
In September 2020, Scheinberg was given a $30,100 fine and time served by Judge Lewis A. Kaplan in the Southern District of New York, becoming the last of the 11 individuals indicted by the United States Department of Justice (USDOJ) to face his day in court to put this dark chapter of online poker to rest.
While many poker players lived through Black Friday, many others were introduced to online poker after this day forever changed the landscape of online poker. That being said, let's take a look back at how Black Friday came about and its aftermath.
UIEGA Introduced
One might say that the Black Friday saga began nearly five years before it actually happened with the introduction of the Unlawful Internet Gambling Enforcement Act (UIGEA) was passed by the United States Congress in October 2006.
Among many things, the act prohibited U.S. financial institutions, including banks and credit card companies, from sending money to online poker sites.
Many online poker rooms and networks left the U.S. marketplace after its passing including the industry leader at the time in partypoker. Both PokerStars and Full Tilt Poker were among the operators to continue to allow players from the United States propelling the duo as the industry leaders with partypoker losing much of its market share due to following the rules in place.
Believe it or not, things went on as normal for many years for many online poker players in the United States with still many options to choose from. This was partly due to the fact that the anti-poker legislation didn't go into effect until June 2010.
PokerStars, Full Tilt, Ultimate Bet, Absolute Poker, Bodog, and others continued to operate after this date, although processing of payments required some maneuvering with most of the bigger players blocking payments to United States residents related to online gaming.
Black Friday Rocks the Poker World
The hammer came down on April 15, 2011, a day that will forever be known in the poker community as Black Friday.
On this day, the USDOJ unsealed a 52-page indictment and civil complaint against the top executives of PokerStars, Full Tilt Poker, and Absolute Poker, along with executives at a variety of payment processors based on both the Illegal Gambling Business Act of 1955 and the UIGEA of 2006.
Those named in the indictment potentially faced many years in prison while the civil complaint sought $3 billion in assets from the sites.
As a result, PokerStars and Full Tilt Poker immediately stopped serving U.S. players, with Absolute Poker and its sister site Ultimate Bet did the same soon after.
The indictment named 11 defendants as follows:
| Indictee | Role |
| --- | --- |
| Ray Bitar | Full Tilt Poker CEO |
| Brent Beckley | Absolute Poker Payments Director |
| Nelson Burtnick | Full Tilt Poker Executive |
| John Campos | Payment Processor |
| Chad Elie | Payment Processor |
| Bradley Franzen | Payment Processor |
| Ryan Lang | Payment Processor |
| Ira Rubin | Payment Processor |
| Isai Scheinberg | PokerStars CEO |
| Paul Tate | PokerStars Payments Director |
| Scott Tom | Absolute Poker CEO |
"As charged, these defendants concocted an elaborate criminal fraud, alternately tricking some U.S. banks and effectively bribing others to assure the continued flow of billions in illegal gambling profits," said Manhattan U.S. Attorney Preet Bharara. "Moreover, as we allege, in their zeal to circumvent the gambling laws, the defendants also engaged in massive money laundering and bank fraud. Foreign firms that choose to operate in the United States are not free to flout the laws they don't like simply because they can't bear to be parted from their profits."
A few days after Black Friday, PokerStars and Full Tilt made a deal with the United States Attorney's Office for the Southern District of New York to regain their dot-com domain names and were both back in business. The development encouraged American residents and others to withdraw their funds.
The same path was available to Absolute Poker but they - along with their sister site Ultimate Bet - opted to open dot-eu domains and offer services to players outside the United States.
As the days became months, it became quickly apparent that Full Tilt Poker and Absolute Poker didn't have the funds on hand to pay their customers and once again shut down.
Meanwhile, PokerStars paid back all players that requested a withdrawal and quickly established themselves as the clear top dog in the online poker marketplace with no other site within a close reach for many years to come.
---
Related: Top Stories of 2020 #10: Depaulo, McKeehen & Other WSOP.com Bracelet Winners
---
PokerStars Saves Full Tilt
Many players were left hanging with significant balances at Full Tilt Poker, Absolute Poker, and Ultimate Bet following the fallout from Black Friday along with not keeping players' balances in segregated accounts.
It appeared like players would eventually be saved at Full Tilt Poker with various parties attempting to purchasing the failed online poker room.
At the end of the day, it was the parent company of PokerStars in the Rational Group that stepped up in a big way as they acquired the assets of Full Tilt Poker back in July 2012 in a deal that included that involved the USDOJ. PokerStars saved the day after they agreed to pay back worldwide customers while forfeiting $731 million to the DOJ, which was in charge of repayment of U.S. players through a remission process, which took over a year to fullfil.
Full Tilt Poker relaunched a few months later as a sister site to PokerStars where players could transfer money between their accounts.
Absolute Poker and Ultimate Poker were different stories as there was nobody purchased their assets. It appeared players would be out of luck to get their balances returned until the USDOJ announced in April 2017 a repayment plan was announced from the forfeited funds related to Black Friday.
Scheinberg the Final Holdout
One by one the 11 indicted parties faced their day in court. Some received fines while others served some jail time.
The poker world was shocked that in 2014, Full Tilt Poker CEO Ray Bitar's sentence only included a $40 million fine and no time in prison with Bitar arguing he had a life-threatening heart condition.
---
Read More: Ray Bitar Pleads Guilty; Sentenced to Time Served and Must Forfeit Assets
---
"The Federal Bureau of Prisons is not able to provide the care that Mr. Bitar needs," the ruling judge said. "Prison almost undoubtedly would kill him. The possibility of prison would make Mr. Bitar ineligible for a heart transplant, which would also impose a death sentence."
Meanwhile, Scheinberg was eventually arrested in Switzerland in June 2019. Scheinberg initially fought extradition to the United States before eventually giving up this battle. In January 2020, the 73-year-old Israeli-Canadian businessman, who was born in Vilnius, Lithuania, surrendered to federal authorities in New York City on charges of operating an illegal gambling business of which he initially pled not guilty. He surrendered his passport and posted $1 million for bail.
Two months later, in March 2020, Scheinberg changed his plea to guilty of the single charge of operating an illegal gambling business and faced five years in jail along with fines.
Eventually, a federal judge ruled in September this year with a sentence of time served along with a fine of $30,100.
The judge apparently took into account Scheinberg's lawyer contention that he deserved a lenient sentence because PokerStars had stepped up and righted the devastating wrongs of its rivals, who had failed to segregate player funds leading up to Black Friday, while still not condoning Scheinberg's actions.
"I don't condone what you did but the world is made of fallible people," the judge reportedly said. "It was a big mistake but should not ruin what remains of your life."
It seemed Scheinberg was fine with how things went in wrapping up the decade-long drama. He provided a statement to Online Poker Report:
I am pleased that Judge Kaplan has determined today not to impose a prison sentence in my case.

PokerStars played an important role in creating today's global regulated online poker industry by running an honest and transparent business that always treated its players fairly. I am particularly proud that in 2011, when PokerStars exited the United States, all of its American players were made whole immediately. Indeed, PokerStars reimbursed millions of players who were owed funds from other online companies that could not or did not repay those players.
Coincidentally, a few months after the sentence was passed, Scheinberg was nominated for the Poker Hall of Fame Class of 2020 where he will be up against the likes of poker players Patrik Antonius, Eli Elezra, Antonio Esfandiari, Chris Ferguson, Ted Forrest, Mike Matusow, and Huck seed along with infamous poker director Matt Savage and World Series of Poker (WSOP) commentators Lon McEachern and Norman Chad.
The 31 living Poker Hall of Fame members will vote with one candidate to be announced as the newest member of this exclusive club on Dec. 30, 2020.
The Stars Group owns a majority shareholding in iBus Media, PokerNews' parent company.