DeNiro, DiCaprio, and Scorcese Star in Macau Promotional Piece "The Audition"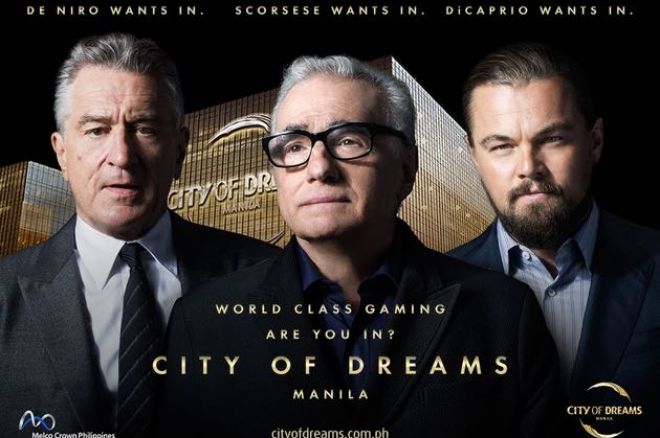 Hollywood would go nuts over a movie directed by Martin Scorsese starring Robert De Niro, Leonardo DiCaprio, and Brad Pitt. Such a Hollywood film may not exist, but there is a short-movie with the star-studded lineup coming out of Macau. That's because Melco Crown Entertainment Limited, the owner and operator of casino gaming and entertainment resorts in Asia, has created a short-movie titled "The Audition," which is essentially an advertisement for two new Asian casinos — Studio City in Macau, China, and City of Dreams in Manila, Philippines.
Studio City, a $2.3 billion, Hollywood-inspired gaming and entertainment complex, is expected to launch in the middle of this year, and to help promote it the company hired Terence Winter (The Wolf of Wall Street) to write the script and RatPac Entertainment's Brett Ratner (Red Dragon; X-Men: The Last Stand) to produce. Scorsese directs and stars, and according to a press release, Pitt, who is briefly glimpsed in the trailer, will also star in the final cut.
"This short film is a historic event because it is the first film ever to star such legendary actors as Robert De Niro, Leonardo Dicaprio, and Brad Pitt in one film together. Mr. Lawrence Ho and Mr. James Packer served as Executive Producers and convinced iconic filmmaker Martin Scorsese to direct the film whom I was thrilled to have the opportunity to collaborate with," said Ratner. "The cooperation between Mr. Scorsese and the Melco Crown Entertainment brand is synergistic because of the fact that Mr. Scorsese directed the film Casino starring Robert De Niro. Mr. Scorsese has collaborated with Mr. DeNiro on eight films and with Mr. DiCaprio on five films and is working with Mr. Pitt for the first time. Our hope is that the trailer for 'The Audition' gives audiences an early look into what will surely be an important cinematic experience directed by one of the most culturally influential directors in the history of Hollywood films. I look forward to the Global Premiere of the film at the launch of Studio City in mid-2015."
Lawrence Ho, Co-Chairman and Chief Executive Officer of Melco Crown Entertainment, added: "Studio City will represent Asia's 'next generation' of immersive, world-leading, entertainment-driven gaming and leisure destination experiences, as we work to support Macau's tourism development and diversification. It will take the entertainment-inspired leisure destination concept to new levels, in a cinematic setting developed in partnership with the world's leading entertainment brands, supported and endorsed by many of the legends of Hollywood - including this very special short-film collaboration with Brett Ratner, Martin Scorsese, and superstars Leonardo DiCaprio, Robert De Niro and Brad Pitt."
In addition, Melco Crown Entertainment also announced a partnership with Warner Bros. and DC Entertainment to bring most iconic DC Comics' super heroes and Warner Bros.' classic characters to life at the property, though details were not revealed.
Watch the trailer for "The Audition" below:
*Lead photo courtesy of twitchfilm.com.
Get all the latest PokerNews updates on your social media outlets. Follow us on Twitter and find us on both Facebook and Google+!