PokerNews Op-Ed: Mike Sexton and the Poker Hall of Fame Dinner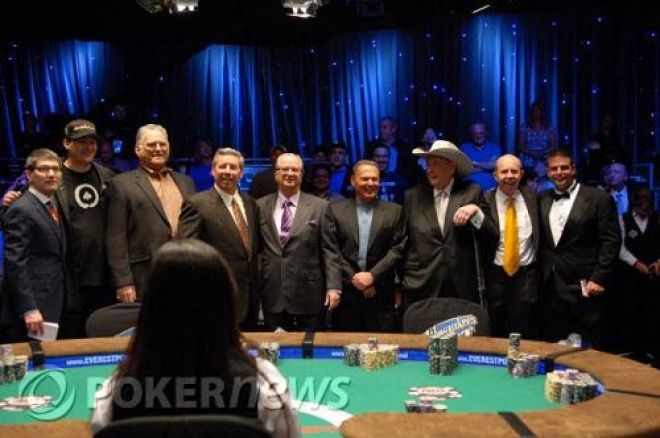 I had the honor of being one of the 15 members of the media who cast votes for the Poker Hall of Fame, so I was not going to miss the opportunity-of-a-lifetime to rub shoulders with its current living members including T. J. Cloutier, Dewey Tomko, Jack Binion, Doyle Brunson, and Phil Hellmuth as they honored their latest addition, Mike Sexton.
Mike Sexton's induction as this year's lone new member of the Hall of Fame was held in the Rio's Brasilia Room during the dinner break of the November Nine. Many of poker's most-known players joined the festivities, including Vince Van Patten, Howard Lederer, Daniel Negreanu, Chris Ferguson, Joe Sebok, Linda Johnson, Tom McEvoy, Padraig Parkinson and Barry Greenstein.
A couple of Sexton's closest friends kicked off the ceremony with a few stories. Brunson told a zinger about Sexton's penchant for sports betting. "Back in the old days when we played poker it was illegal," explained Brunson. "Mike was playing up in North Carolina and got arrested. They took him to the police station and gave him one phone call. He called me up and the conversation went like this – 'Give me Atlanta and the over.'"
Cloutier expanded on Sexton's passion for action. "This man would bet on anything," Cloutier said. "We all know I have the propensity to play a little craps; well Mike has a propensity to bet on sports. He loved the sports (betting)."
WSOP Commissioner Jeffrey Pollack, who recently resigned his position, shared a few eloquent words: "When we think of Mike Sexton, one word comes to mind. That word is class. Class pretty much sums up how Mike carries himself, what he represents, and the person he is both at and away from the poker table. Mike has dedicated much of his life to the game of poker. It is so fitting that we are gathered here tonight to reward that unwavering commitment with the game's supreme honor. The Poker Hall of Fame rewards a lifetime of work and contributions. This is what makes the Hall of Fame so special."
Tom Sexton, a former columnist here with PokerNews, spoke about his younger brother's accomplishments on and off the felt in an emotionally charged speech.
"There may be no single individual on the planet who has done more to promote poker and take it mainstream than Mike Sexton," Tom said. "His vision of where the game could go was always ahead of its time. There were some who thought he was a dreamer. Mike would always say for many years before the poker boom, 'TV is coming in a big way!' Predicting it is one thing, but being the guy who leads the way to make it really happen is why Mike is being honored tonight."
Tom also shed some light on how Mike and the original designers came up with the name for Party Poker. "Mike said that they gave him a list of 10 to 12 domain names because they did not have a name of a site yet. Talk about being on the ground floor of a project. Mike went down the list and he said 'I like this one. Party Poker. It has a nice ring to it.'"
"I'm so proud of Mike with all of his success," Tom added. "He's remained modest, humble and grateful. He learned all of that from Phil Hellmuth."
"I just want you to remember one thing," Tom explained. "Two major components that led us into the poker boom were television and the Internet. And Mike Sexton has been our quarterback and our point guard in both arenas. And still is today. When you hear that Mike is called a television and internet pioneer – that might be the most understated accolade in poker history."
At that point, Tom was in near tears when describing the disappointment that their mother, who passed away almost three decades earlier, was not alive to witness the shining moment of Mike's career as he became only the 38th member to be inducted into the Poker Hall of Fame.
"She never got to see what a giant Mike became in the poker world," Tom said.
Tom introduced his brother, Mike, who spoke for over 20 minutes as he reflected upon his relationship with poker.
I proudly voted for Mike Sexton, and, as expected, he delivered a remarkable speech where he gave credit for his success to dozens of other people in his life. Once again, Mike Sexton proved that he was a class act and a true ambassador of poker.
Here were some of my favorite excerpts from Mike's Poker Hall of Fame acceptance speech:
"Just the thought of your name being up there with the legends, not only for your lifetime but after you're gone as well, is really an awesome feeling."
"It's really special to my heart that The Hall of Famers themselves voted me into their exclusive club."
"Just look at the group of players that I got selected over. That's really incredible and I'm very proud of that. They're all good friends of mine and their accomplishments are amazing."
"In 25 years, I never saw Chip Reese whine about a beat at the table. I never saw him throw cards at the dealer. I never saw him criticize an opponent at the table. Barry Greenstein and Erik Seidel are in Chip's league there. They are class with a capital C."
"Back in 1996, they had a big tournament at the Four Queens Hotel. The championship event was a $5,000 buy-in. All the big players were there, and I wanted to play it. I was sort of between bankrolls at the time, which is a polite way of saying you're broke."
"I started out playing professionally in North Carolina over 30 years ago. All poker players remember where they started out. Those really were the good old days for me, when I think of some the places where we played. Terry [an Army buddy] and I would go to play in tobacco warehouses. We'd play in log cabins that were so far back in the woods that if anything happened to us, no one would have found us to this day."
"I wouldn't be standing here today without you, Linda Johnson. If you're thinking about somebody to nominate someone for the Hall of Fame – there is not one person on the planet who has not done more for the poker industry than Linda Johnson."
"Doyle, thank you for being a great partner on the golf course and staking me in those matches when I was in between bankrolls."
"I got a call a week before Christmas in 2000.... (Ruth Parisol co-founder of Party Gaming) was looking over my resume and she said 'I can only hire you if you can be in India in 10 days time to work with the software developers.' Well the smartest thing I ever did in my life, except from marrying my wife of course, was to take that job. You know the story – we launched (Party Poker) eight months later."
"Steve Lipscomb paired me up with my buddy Vince Van Patten. I can't thank Vince enough. It's really been a joy working with this guy. We really do love poker. We've been poker guys our entire lives. And we've traveled all the world together for work. Vince used to tell me, 'I spend more time with you than my wife.' And that is a bad beat."
"When I think about people who have had the greatest impact on poker in history, two names jump out at top at me. Number one is Jack Binion, for creating and cultivating the World Series of Poker, and the other is Steve Lipscomb, the founder of the World Poker Tour. That is the show that put poker on television on prime time on a weekly basis and with that, the poker world changed forever."
Read more of Dr. Pauly's work at TaoPoker.com, and follow us on Twitter while you're at it.