The Hand I'll Never Forget: Phil Galfond's $50-$100 Bad Beat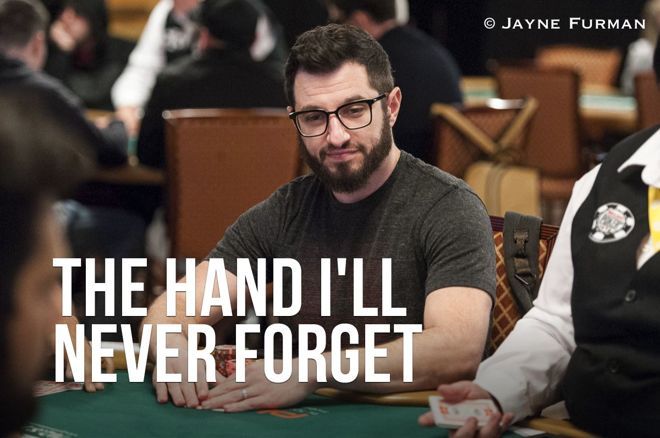 Phil Galfond is a legend in the online poker world. If there was an Online Poker Hall of Fame, he'd surely be in it. Well, actually he is on the Internet Poker Wall of Fame established by Adam Schwartz and Terrence Chan.
Since 2011, Galfond is up $1.45 million on PokerStars, where he plays as "MrSweets28," and $6.6 million on Full Tilt under the "OMGClayAiken" moniker. The two-time bracelet winner, who has also amassed more than $2.3 million playing live, has contended for many six-figure pots – his biggest was for $541,523 on January 1, 2009 against Sami "LarsLuzak" Kelopuro – so you'd think the hand he'd never forget would be a monster. You'd be wrong.
Galfond: "I was a $5-$10 player with around an $80K bankroll and I'd already lost two buy-ins to him."
PokerNews caught up with Galfond at the 2018 World Series of Poker and were surprised to learn the hand that stuck out to him had occurred 12 years earlier on his first visit to the WSOP. It wasn't at the nosebleeds either, instead taking place at a $50-$100 heads-up table on Full Tilt against an opponent Galfond said "you probably wouldn't know."
"It's a memorable beat," Galfond reminisced. "I was playing $50-$100 heads-up. This was shot taking, I was mostly a $5-$10 player at that time. There was a player I liked playing with that was sitting there so I jumped up.
"He opened button and I three-bet the big blind to $1,100 with
offsuit. He called. The flop was
rainbow. I bet half pot and he called. The turn was a
. I checked and he potted, which was like $4,400. He had basically another $4,400 behind."
He continued: "I went into the tank and just didn't believe that he had anything. I didn't think he would bet that with worse than a deuce. I tanked and I shoved my king-queen high. There was no flush draw so I wasn't worried about ace-seven calling me or something like that."
For a man who regularly played for millions and experienced six-figure swings, it's funny to think a pot less than $20K more than a decade ago was still so fresh in his mind.
"He took his clock down all the way to the last second and called," Galfond said. "I was deflated. The dude turns over a
offsuit. Jack on the river. That one is hard to beat I think. That was gut-wrenching, it was a huge pot for me. I was a $5-$10 player with around an $80K bankroll and I'd already lost two buy-ins to him, which was $30K. I think I quit after that."
The hand was no doubt demoralizing, but in the end proved to be a minor roadblock on his way to having one of the most storied careers in poker history.
"That was the end of taking a shot for a little while," Galfond concluded, "At least for a few months.
Executive Editor US, PokerNews Podcast co-host & 2013 WSOP Bracelet Winner.