The Hand I'll Never Forget: Quads Over Quads with Norm MacDonald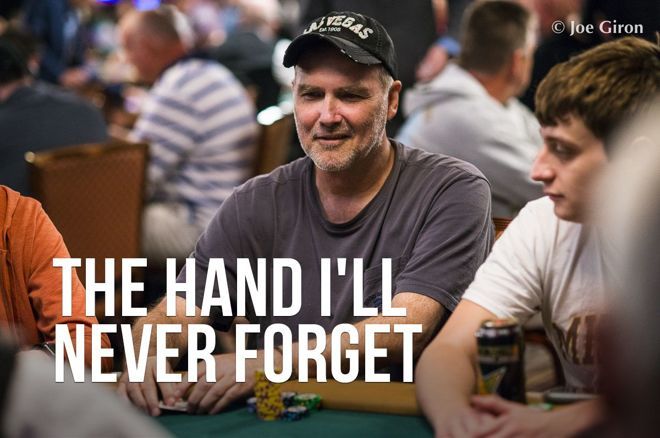 It's the hand that put you over the top. Or the two cards you held that time you were rivered for a monster pot. Everyone has "the hand," that one that you remember no matter how many more tournaments or cash games played. PokerNews takes a look at those hands that stick with players and relive the glory, or misery, depending on the results.
Comedian Norm Macdonald made his way to the Rio on Sunday and was playing in a few sit 'n' go tournaments in the Pavilion after busting in the Monster Stack. The actor, writer, and comedian is a regular poker player and in town to play some events at the WSOP. Macdonald will also perform at the South Point Showroom from June 29 to July 1.
A veteran comedian, many may remember him as the host of Weekend Update on "Saturday Night Live" from 1996-98 as well as his impressions of Burt Reynolds, David Letterman and Larry King. Netflix also recently announced Macdonald had been signed for a 10-episode talk show called "Norm Macdonald Has a Show."
When it came to the hand Macdonald remembers, his definitely tiled to the misery side.
Quads Over Quads
When asked about a hand he can't forget, one night at the Mirage came instantly to mind. He was playing in a $40/$80 limit hold'em cash game with a woman he regularly played with. In one hand, he was dealt pocket queens and the two got tangled up in a monster pot.
"The betting got crazy at the end, but she had mercy on me and let me off the hook."
"She was dealt pocket kings, and I flopped quads," he says.
Macdonald looked to be in great shape, but then there was a pretty sick runout on the table as they kept betting.
"Then she turned and rivered quad kings," he says. "The betting got crazy at the end, but she had mercy on me and let me off the hook."
At the end, Macdonald believes there were 12 bets back and forth between the two with no capped number of river raises. By the time it was over, the pot swelled to $6,600 and Macdonald came out on the short end of a massive cooler. To make things worse, unfortunately there wasn't a bad beat jackpot.
"There should have been right?" he says laughing. "That would have been way better."
Bad Beat Jackpot?
While there wasn't a bad beat jackpot on that hand, Macdonald does remember a time he won something for a bad beat, thought it wasn't quite what he expected.
"I did win a bad beat jackpot once at the Mohegan Sun, and they came back with a jacket," he says. "I still have the jacket, but I would rather have had some money."
"I still have the jacket, but I would rather have had some money."
Macdonald has career tournament winnings of more than $44,000 with his best cash at the WSOP coming in 2013 in a $3,000 No-Limit Hold'em. He finished 20th for $14,608. Before Black Friday, Macdonald admits that he was a regular online player – playing as many as 20 limit hold'em games at once.
"Since they went offline, it kind of saved my life," he says. "Because I was just grinding out and couldn't even sleep. The good thing about [playing online] was it was just fold, fold, fold fold, fold – it was all ABC poker."
This summer, the comedian plans to play as many as five events as well as the Main Event. When PokerNews caught up with him, Macdonald had busted the Monster Stack and had won a sit 'n' go. He then finished runner-up in another sit 'n' go after deciding against a deal for the money when heads-up. He was a little frustrated afterward and had a pang of regret.
"I should have taken that deal," he said. Ever the poker player, however, Macdonald had a reason for playing on, noting: "I really wanted to practice playing heads-up."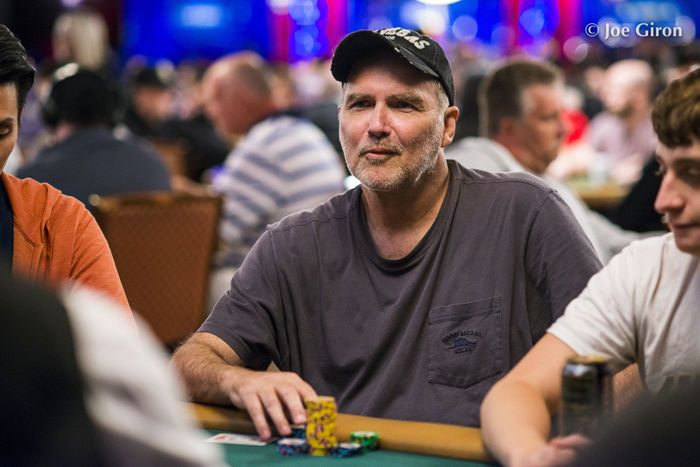 Sean Chaffin is a freelance writer in Crandall, Texas. His work appears in numerous websites and publications. Follow him on Twitter @PokerTraditions. He is also the host of the True Gambling Stories podcast, available on iTunes, Google Play, TuneIn Radio, Spotify, Stitcher, PokerNews.com, HoldemRadio.com, and TrueGamblingStories.com.