The Hand I'll Never Forget: Emmitt Smith Exits 2010 Main Event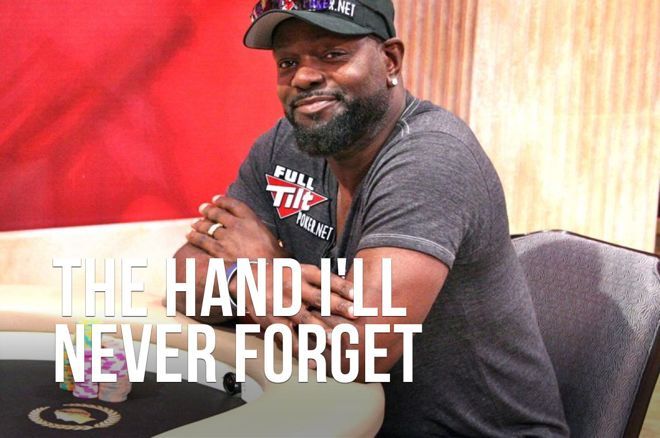 It's the hand that put you over the top. Or the two cards you held that time you were rivered for a monster pot. Everyone has "the hand," that one that you remember no matter how many more tournaments or cash games played. PokerNews takes a look at those hands that stick with players and relive the glory, or misery, depending on the results.
With NFL training camps approaching, PokerNews recently caught up with Dallas Cowboys legend and NFL all-time rushing leader Emmitt Smith. The Hall of Famer is only an occasional poker player, but found himself in the Main Event in 2010 – even offering up the day's traditional "Shuffle up and deal" start for his flight.
Emmitt in the Main
While he doesn't play too often, Smith enjoys some cards when he gets a chance. Good-natured and always up for some competition, Smith has even cashed in a few small tournaments in Tunica, Miss.
"I'm not the poker player everybody thinks I am," he says. "I'm a fly by night player."
Smith and his wife run Pat and Emmitt Smith Charities, and put on the Emmitt Smith Invitational each year. The event is a two-day celebrity golf tournament and gala. In 2010, the invitational also featured a poker tournament with several poker stars including Phil Hellmuth and Phil Ivey in attendance. The winner of the tournament had to face Ivey heads up to win a Main Event package.
"I ended up winning and won the opportunity to go play in the World Series of Poker," Smith says, still shocked that he somehow beat Ivey.
In the day before taking his seat in the Main Event, Smith hung out with Hellmuth at his house a bit to learn some tips and strategies. Along with three Super Bowl rings, the highly competitive Smith also won the 2006 season of "Dancing with the Stars."
Unfortunately, Smith didn't have quite the run at the Rio that he had with the Cowboys or sliding across the dance floor. The first level began smoothly and Smith picked up some pots to build his stack a bit. Midway through the second level of play, Smith picked up
and called a small raise to see a flop with three others and it brought
.
Things were looking great for no. 22. He was sitting with three of a kind, and he tried to keep his cool. A player checked and Smith bet 1,000. The players in the cutoff and button folded and the original checker called.
The turn brought the
and Smith's opponent checked. Smith moved 15,000 chips in the pot and his opponent called again. The river brought the
and Smith moved all in with his full house.
"I'm a fly by night player."
However, events didn't quite go his way. His opponent tabled
for an even bigger full house. Smith headed to the rail smiling telling his tablemates, "Nice seeing you all."
It may have been a disappointment, but he took it in stride. Smith took the full house over full house well after hitting the rail. He figures he may not be cut out for so long a stretch at the table anyway.
"When I found out I had to be there almost a week to win, I went, 'No I can't be here for a week,'" he says. "I've got other things to do. I can't sit around here in Vegas for a whole week if I make it that far. So forget it, I might as well just enjoy the moment, which I did."
Cards with Cowboys, Bicycling & Charity
When the Cowboys were winning those titles in the 1990s, Smith says he and his teammates played cards regularly – just not poker. There was plenty of action, however, with big bills and bets flying into the pot.
"We played other card games like 'In Between' and 'Tonk,'" he says. "Those were the two main games. There's not a whole lot of skill in 'In Between,' but there could be a whole lot of money in the pot, and you could make a lot of money."
In 2011, Smith was back at the poker table in the NBC Heads-Up Poker Championship, where he showed some chops by defeating David Williams before falling to Andrew Robl in the second round.
While he may not play as much poker anymore, the running back legend has taken to bicycling and Pat and Emmitt Smith Charities put on a major ride each year in Dallas, the Emmitt Smith Gran Fondo. As part of the event, he tries to promote living a healthy lifestyle. He's a big fan of bicycling now, which is much easier on his legs after rushing for 18,355 yards in the NFL and 3,928 as a Florida Gator.
The Gran Fondo features a highly-competitive 100-mile ride, but also a 100K, 45-mile ride, a 22-mile ride and a short family ride. The event raises funds to provide programming for the foundation's TEAM 22 mentoring and leadership development program and the annual Back to School Program.
While he can look back and laugh a bit about his Main Event experience, this father of five is serious about his efforts for charity. Look for Smith hitting the road, but not hitting the tables in Las Vegas anytime soon.
The Emmitt Smith Gran Fondo will be held Sept. 22 in Dallas. For more information and to register, click here.
Sean Chaffin is a freelance writer in Crandall, Texas. His work appears in numerous websites and publications. Follow him on Twitter @PokerTraditions. He is also the host of the True Gambling Stories podcast, available on iTunes, Google Play, TuneIn Radio, Spotify, Stitcher, PokerNews.com, HoldemRadio.com, and TrueGamblingStories.com.