Hand I'll Never Forget: Tom Koral Catches Triple Barrel Bluff, Wins Second WSOP Bracelet
Table Of Contents
As the summer winds down at the 50th annual World Series of Poker, one player who is definitely still wound up is Tom Koral.
Fresh off a big win in Event #82: $1,500 No-Limit Hold'em Double Stack for $530,164 plus his second bracelet and his biggest career cash, Koral talked to PokerNews about a big hand he played against second place finisher Freek Scholten.
Koral topped a massive field of 2,589 entries, adding a no-limit hold'em gold bracelet to his long list of mixed game finishes and bringing his career earnings to over $2.6 million. Koral's first bracelet came in 2017 after he took down Event #55: $1,500 Seven Card Stud for $96,907.
The hand he shared as one he won't soon forget helped propel him to bracelet No. 2.
The Triple Barrel Bluff
Koral was at the final table in the $1,500 Double Stack with just four players remaining. Two hands prior, he had doubled up against Philip Scaletta after he won a flip with queen-nine suited versus Scaletta's pocket fives. To start this hand, Koral sat second in chips and Scholten was the chip leader.
The blinds were 600,000/1,200,000 with a 1,200,000 big blind ante and Koral decided to limp in from the small blind. Scholten checked his option from the big blind, the dealer put out a flop of Q♥9♦8♦ and Koral opted to check. Scholten put out a bet of 1.8 million, good for half of the pot, and Koral called.
"I kind of do my own self-analysis and then talk hands over with some of my high-stakes friends."
The turn brought the 7♥ and Koral checked for a second time. Scholten bet again, sliding forward a stack worth 4.7 million. Koral called again and the two players saw the board complete with the 2♣ on the river.
Koral checked for a third time and Scholten decided to fire out a third shell worth 12 million. Koral asked for a count and eventually decided to call. Scholten showed 10x3x for ten-high, and Koral tabled Q♣8♣ for queens up to scoop the pot.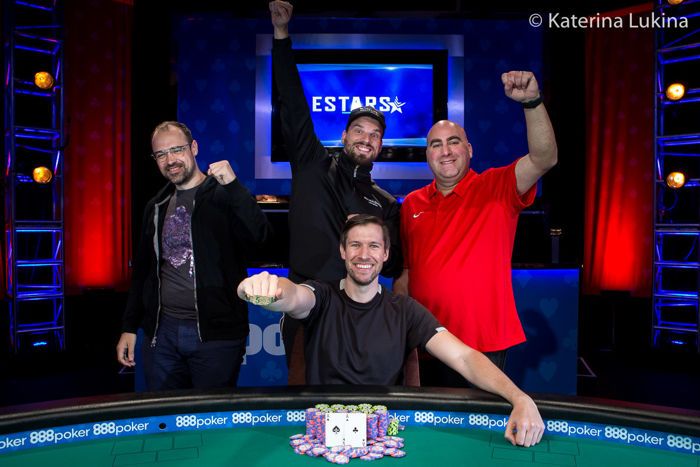 Under ICM Pressure
The hand in question saw Koral sitting second in chips, up against the chip leader. The other tricky part about this hand is there were also two short stacks, so ICM implications were certainly an important consideration.
"It was kind of early in the final table from when I actually had chips and was deep. Because of the large pay jumps I wanted to try and keep the pots small since I've got the chip leader in position," Koral told PokerNews. This led to Koral's limp from the small blind with queen-eight suited. "My goal was to keep the pots small and pretty much limp 100% of my playable range."
Scholten opted to check back, and Koral needed to start constructing a range to put him on. "I guess I didn't know what his raising frequency was going to be when I limped in that spot in the beginning, so he obviously just has a random hand."
"I switched over to mixed games at the beginning...I wanted my mind to work in different ways for poker."
On the flop, Koral check-called a half-pot sized bet. "I don't see any reason to bloat the pot - I'm still up against a random hand here," explained Koral.
Koral checked the turn and faced a second big bet from Scholten - this time for around 65% of the pot. "He sizes up big, which I think he would do with strong hands as well. But he can definitely be sizing up with two pair hands worse than me, or even a queen that is worse than me without two pair. I was curious if he would bet that big with a straight at that point, because my hand looks so weak on the flop."
The board completed with a brick on the river, and Koral checked again. Scholten fired a third shell worth 12 million, good for a pot-sized bet. "He sizes out real big, which was about 60% of my stack. So I kind of felt like his sizing was pretty polarized. He definitely could've been value-betting two pair worse than me, but I thought those hands he would've sized down a little to try to get a call from me from a worse hand," explained Koral.
"I did feel like it was a very good spot, if I was in his shoes, to put ICM pressure on me. If I lose that pot, I go from second in chips to last. I really didn't think I was going to fold at all from the beginning, but I just wanted to think it over and make sure I was making the right decision."
Koral called, and saw he was up against ten-three for a busted straight draw. "I thought a common hand he would have would have a ten in his hand. He would've turned the open-ender and it would've made sense he was semi-bluffing," said Koral. "I'm glad the board ran out like that because I would've been in a lot worse spot with different rivers."
A Hold'em Bracelet for a Mixed Game Specialist
In the poker world, Koral is known for specializing in mixed games, but seeing him win a no-limit hold'em bracelet doesn't come as a shock to anyone that knows him. "I feel I've always been good at hold'em. To be honest, I switched over to mixed games at the beginning not only because I felt there was an opportunity for money to be made, but just because I got a little bit bored of hold'em and I wanted my mind to work in different ways for poker," explained Koral.
Koral wanted to learn mixed games so he could learn different moves to make in hold'em that aren't considered to be typical plays. "Like leading out on flops, for instance. You do that a lot more in some of the mixed games - it's not as common in hold'em. I think playing those other games has strengthened my hold'em game."
"If I lose that pot, I go from second in chips to last."
"My best game would be omaha eight-or-better. I actually don't watch any of the poker site videos," said Koral. "I kind of do my own self-analysis and then talk hands over with some of my high stakes friends, like Brett Richey, and some other really good guys."
In preparing for his final table, Koral wanted to credit poker pro Faraz Jaka: "He gave me some help with the tournament ICM stuff before my hold'em final table, so I gotta give him a shoutout. I understand the general math behind the shove spots, but it becomes different when there are giant pay jumps."
Tom Koral is now in the money in the $3,000 H.O.R.S.E. event, so keep following the live updates to see if he can win bracelet No. 3 to wrap up a successful summer. Join Global Poker now and play for real cash prizes!