The Hand I'll Never Forget: Dutch Boyd's 2003 WSOP Check-Raise Jam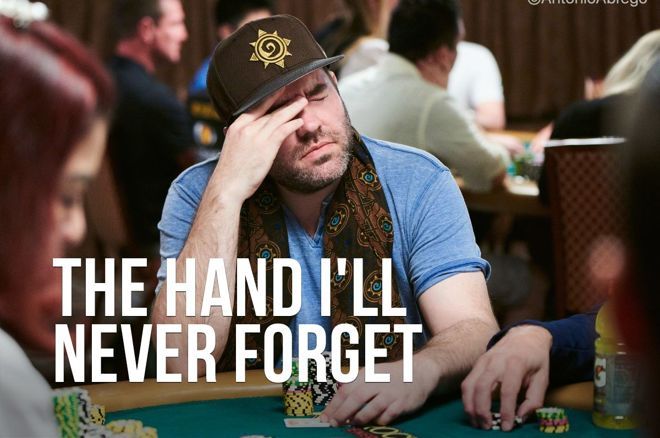 Making the World Series of Poker Main Event final table is every poker player's dream. Fifteen years ago, Dutch Boyd had that dream but came up three spots shy finishing 12th in the 2003 WSOP Main Event for $80,000.
Boyd would go on to win three gold bracelets, but the hand he'll never forget came from that tournament.
"It was my first Main Event and second WSOP tournament ever," Boyd told PokerNews. "I won a satellite the Sunday before. I pretty much had my whole bankroll into this event."
The hand took place late in the tournament, which had begun two days earlier with 839 players. As captured on the ESPN broadcast, Boyd was the chip leader and one of the favorites to win the title.
Boyd: "I always kind of wonder what would've happened to ... poker in general had I won that hand."
"Going into Day 4 it's really getting into it," Boyd said. "I start feeling like it's my event to win. I felt like it was meant to be. We're down to two tables, 14 players left, and I've got 1.2 million, which was the chip lead. Everyone folds to me and I have
and I raise. This young, unknown accountant from Tennessee who is two to my left makes the call on the button."
He continued: "The flop comes out
. I check to him and he fires out a bet. I decide he has some sort of mediocre pair like fives or six. He started the hand with about 750K, which put him in the middle of the pack. I just thought to myself there's no way he's going to put his tournament life on the line with some weak pair."
Boyd ended up check-raising all in and his opponent hit the tank. On the broadcast, it only took around 30 seconds to play out, but in reality, it was more than five minutes before his opponent called off with the
.
"This is the first time it dawned on me that maybe the universe wasn't conspiring to make me win," said Boyd. "I realized that God doesn't have a dog in this fight. Come on king or queen. It actually ran out a five and an ace to give him a straight. That man was Chris Moneymaker."
The hand didn't eliminate Boyd, but it did leave him short stacked and he'd bust soon thereafter. While Boyd's shove may have been ill-advised by today's standard, it was a different game back then.
"Now if I was in the same spot I'd probably just continuation-bet like normal," he reflected. "If he decides to put up a fight I'd try to blow him off later in the hand. Or if I decided to check-raise maybe make it a normal amount, make it 2.5X his bet. I think that's probably more effective but at the time I thought there was no way he was going to call so I just ripped it all in."
At the time, the hand didn't stick out in his mind much – other than being the one that knocked him down a peg – but it became one etched in his memory when episodes of the 2003 WSOP aired on ESPN and helped spark the "poker boom."
"I'd say at least once a month people will ask me if I remember that one hand. I always kind of wonder what would've happened to Chris, what would've happened to me, what would've happened to poker in general had I won that hand. There were a lot of ways for me to win even when the money got in. Chris made a ballsy call for his tournament life and he was right. It took a lot of courage and I respect Chris for doing it."
Boyd concluded by saying: "That hand kind of defined my whole career as a poker player. It's something I can't forget as much as I try. Even if I wasn't bluffing, say I had top set, he goes runner-runner for a straight. It was almost like there was a little angel on his shoulder saying, 'You've got this one, Chris.'"