The Hand I'll Never Forget: Dylan Hortin Misses a Shot at Becoming a Millionaire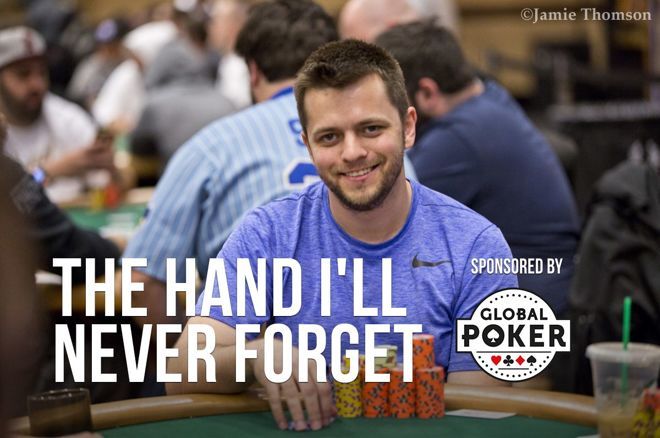 Table Of Contents
Everyone has that one hand that they'll never forget. The hand that either makes you feel immense pain when re-living it, or gives you so much joy you can't wipe the smile off of your face.
Stay locked in as PokerNews tracks down the biggest hands from the biggest names in poker, re-living their crazy experience and bringing it back to life.
In this hand, Dylan Hortin looks back on the biggest equity spot of his career, which took place in 2014 during the World Championship of Online Poker (WCOOP) $5,200 Main Event on PokerStars.
Blind vs. Blind Against Faraz 'The-Toilet 0' Jaka
There were just 15 players left in the 2014 WCOOP $5,200 Main Event and Hortin was chip-leading, with a shot at $1.8 million for first place.
Action folded to professional poker player and online phenom Faraz 'The-Toilet 0' Jaka in the small blind and he put in a raise to 180,000 with blinds at 40,000/80,000. Hortin, playing under the screenname Pokerl)evil, looked down at pocket sevens and had a decision to make. Jaka had about 2 million in chips, with Hortin sitting on 5 million.
"...Things would be way more different with just one turn of a card."
"I thought there was some value in inducing there because I had a really active image. I was opening a lot, I was three-betting a lot. So I felt like he would just stuff in some ace with a low card or something like that in this spot," explained Hortin.
Hortin decided to three-bet to 420,000. "Much to my surprise he calls, with about a million in the middle, and it comes nine-eight-five rainbow," Hortin told PokerNews.
Jaka bet around half of the pot, and Hortin decided to shove all in. Jaka called and tabled nine-eight of hearts for top two pair. The board ran out dry for Hortin with his pair of sevens and a gut-shot straight draw, and Jaka doubled through.
Hindsight
"Hindsight's twenty-twenty. I wish I had just stuffed it (preflop), but I really didn't think he'd be peeling my three-bets out of position," said Hortin. "I wish I had flatted, or maybe just found a fold here, but in-game I felt like, stupidly I think, he would find some lead-folds, which I don't think is the case."
A hand like this always stings, even years later, so Hortin asked Jaka two years after the hand took place whether he would ever be bet-folding in that spot. "He said 'Yeah, maybe' but I think he's lying," smirked Hortin.
"This was a huge shift in the flow of the tournament. Instead of being the chip leader on the final table, I went in midway through the pack. I ran tens into Jaka's jacks blind versus blind but I still had chips after that. I grinded for a while, then got in queens to tens and lost that one as well."
"Instead of being the chip leader on the final table, I went in midway through the pack."
Hortin ended up finishing in seventh place for around $215,000, after the exact same finish for almost the exact same amount just a year before in 2013.
"The whole redemption arc that I was going through in my mind at the time, I was like, this is mine. I came back next year, I'm chip leader, I was really feeling it. And the sevens hand was when the wheels started to come off - it did not go my way."
"It's by far the biggest equity spot in my career. I've YOLO'd many tournaments in my life, in my career - poor bankroll management. Just fired away at stuff. That was actually the first one that was paying off big time. I had 100 percent of myself - I had a two percent swap, and that's it."
Building a Bankroll From Freerolls
Hortin's poker career began in 2006 and he never really looked back. He began playing small homegames with his friends and freerolls online. In 2007, Hortin played some of the promotional freerolls that were running on PokerStars with the Poker Players Alliance (PPA) and he cashed for $3.
"I played $0.01/$0.02 and then said 'screw it' and played a $2.20 tourney that day. I won it for $620 and never deposited after that. I ran it straight up from there, and built a $70,000 roll in the next six months," said Hortin.
Hortin built his bankroll playing strictly tournaments online, and played live poker for the first time at Turning Stone in 2008.
"I remember being so nervous and so star-struck by some of the online guys I had played with."
"It's by far the biggest equity spot in my career."
He ended up not cashing a single tournament though, including bubbling the first event he fired. His first Hendon Mob would come in his first international poker trip in the €5,300 WPT Spanish Championship in Barcelona, where he cashed for €11,760 at the age of 19.
"I didn't really get it (variance) until those WCOOP runs and took bad beats to come in seventh both years, and when I had a lot of myself. It wasn't until then that I realized how stupid this tournament life is that we have and how it doesn't even have to balance out over a lifetime. Those are once in a lifetime opportunities. I'm hoping for some more like it in the future, but things would be way more different with just one turn of a card."
Hortin now has over $3.6 million in online earnings. He is currently deep in Event #59: $600 No-Limit Hold'em Deepstack Championship for his third cash of the 2019 World Series of Poker and is guaranteed to cross $1 million in live earnings with his current run.
Follow the Live Updates on PokerNews.com as Dylan Hortin navigates a massive field in Event #59: $600 No-Limit Hold'em Deepstack Championship in search of his first career gold bracelet. Join Global Poker now and play for real cash prizes!