The Hand I'll Never Forget: McEvoy Takes Big Pot From Amarillo Slim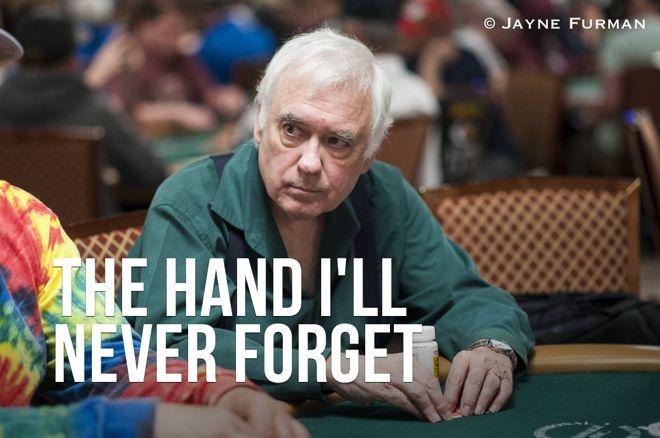 It's the hand that put you over the top. Or the two cards you held that time you were rivered for a monster pot. Everyone has "the hand," that one that you remember no matter how many more tournaments or cash games played. PokerNews takes a look at those hands that stick with players and relive the glory, or misery, depending on the results.
Tom McEvoy is a Poker Hall of Famer with four WSOP bracelets including the 1983 Main Event championship. McEvoy has plenty of career highlights and more than $3 million in live tournament winnings. He's also authored numerous books on poker strategy, and shared with us a hand from that 1983 WSOP Main Event that really stands out.
Many of the game's early players were from Texas, such as Main Event champions Doyle Brunson, Jack "Treetop" Straus, and "Amarillo Slim" Preston. The events from the 1970s and '80s were filled with Texans still. It was Slim who was locked into a big hand with McEvoy in that '83 championship.
McEvoy: "Back then you could expose your hand and try to get a reaction out of your opponent."
At the time, McEvoy had won a bracelet in limit hold'em, but was a virtual unknown among a field of players with big wins and big games.
"That was my one little mark of distinction," he says of his single bracelet. "And I had made up my mind in advance that no matter who I was up against, I wasn't going to be intimidated by any of them. That's the way it was going to be."
As the action played out on Day 2 at Binion's Horseshoe in downtown Las Vegas, many of the old-timers stacked chips and contemplated their next moves. In a key hand that evening, McEvoy raised the action and received a lone call from Amarillo Slim.
The amount of the bets are a little lost to time, but McEvoy remembers how the hand played out.
"Back then I usually did three to four times the size of the big blind," he says.
The flop brought
– all different suits. McEvoy led out with a bet and Slim made the call.
"I wasn't sure where to put him on exactly," he says. "The turn card is an ace and I led out again with a bigger bet this time. And so he's thinking about it now."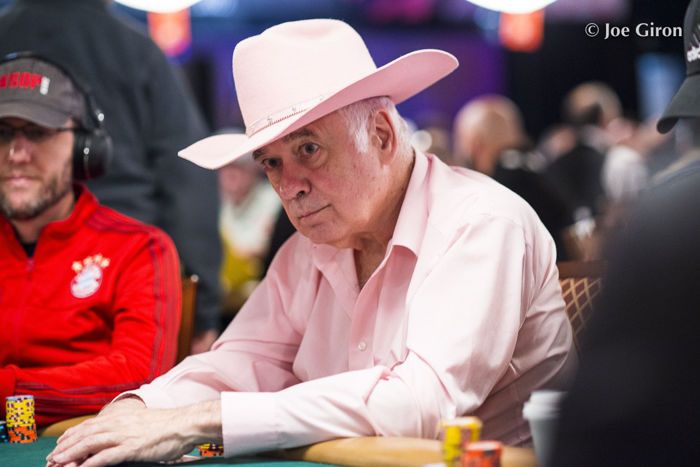 The bet was at least the size of the pot. A scenario then played out that is usually not allowed in modern tournament poker.
"Back then you could expose your hand and try to get a reaction out of your opponent," he says. "So he flipped his hand up and he had flopped a set of sixes, which is pretty strong. But there was an ace out, and I was the preflop raiser and kept betting. He didn't know for sure where I was at."
With Slim staring down and showing his trips, McEvoy was still determined not to be intimidated.
"So I did something I wouldn't do today, but I did back when I was a little bit more cocky and arrogant," he says. "I flipped over one of my cards. It was an ace. Now he doesn't know what to do. He's thinking, thinking, thinking. If he calls, he's going to be virtually crippled."
After a few minutes, McEvoy adjusted his Stetson cowboy hat and called the clock. The clock continued to count down.
10, 9, 8 … Slim continued looking at McEvoy.
7, 6, 5, 4 … He looked at his cards a bit and back at the board.
3, 2, 1 … McEvoy had his head down a bit so Slim couldn't see him.
The countdown finally reached zero and Slim's hand was dead. McEvoy pitched his cards into the center of the table without exposing his remaining hole card. Amarillo Slim was forced to stew over his decision not to call.
"I had it, but I didn't show it at the time," he says. "So Slim did make a good lay down. I wouldn't tell anybody what my other card was when I was approached afterwords. "
The two cowboy card sharks would tangle again later in the event with McEvoy's two queens sending the Texan to the rail.
McEvoy would go on to win the title and didn't reveal he had a third ace until weeks later for an article about the series. His tough, no-nonsense approach to that Main Event paid off to the tune of $540,000, his second bracelet, and his name etched in poker history.
McEvoy played in Day 2 of the Main Event on Thursday, and was playing for his daughter who was struck recently with breast cancer for the second time. To read that story, click here.
Sean Chaffin is a freelance writer in Crandall, Texas. His work appears in numerous websites and publications. Follow him on Twitter @PokerTraditions. He is also the host of the True Gambling Stories podcast, available on iTunes, Google Play, TuneIn Radio, Spotify, Stitcher, PokerNews.com, HoldemRadio.com, and TrueGamblingStories.com.