The Hand I'll Never Forget: Jean-Robert, the Cooler & the Comeback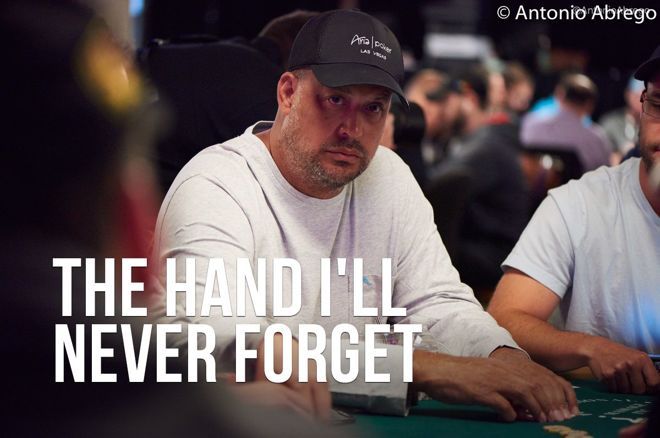 It's the hand that put you over the top. Or the two cards you held that time you were rivered for a monster pot. Everyone has "the hand," that one that you remember no matter how many more tournaments or cash games played. PokerNews takes a look at those hands that stick with players and relive the glory, or misery, depending on the results.
As Monday's Day 2 action continued in the $10,000 Omaha Hi-Lo, Jean-Robert Bellande reflected on a recent cash game that he just can't forget.
2018 Montenegro No Limit Hold'em Cash Game
No stranger to poker fans, Bellande has played at some of the biggest stakes in the world and has $2.2 million in live tournament winnings. He's even appeared on the TV show "Survivor" and is a fan favorite when playing on TV. Bellande was recently playing high-stakes cash games when one crazy hand came about that resulted in a massive cooler.
It had not been a good trip to Montenegro for Bellande. In a big $1,000/$2,000 game, he needed something to go his way to climb out of the hole.
"I was down a lot of money for the trip," he says. "I was actually down over a million dollars. I was really, really bummed and decided that I was going to fire one last bullet, $200,000, the minimum buy-in."
"I was actually down over a million dollars."
With more chips in front of him, Bellande needed to get some traction and hopefully recoup some of those losses. Immediately, he won the blinds and antes on the first hand. A hand that would follow is still playing out in his mind a few weeks later.
"I had $220,000 three hands in and I get aces," he says. "I'm like, 'Oh wow, maybe I'm going to run well here,' because the game was really lively. It was a good time to catch aces."
The player under the gun opened for a hefty raise to $10,000. The player next to him called, and Bellande bumped it up to it $50,000. Both players then called.
Just a few hands after getting back in on the action, the pot was now more than $150,000. The flop brought
. The player who initially raised jammed all-in for $500,000, which of course had Bellande covered. The second player folded and JRB was left with a decision to make.
"So now it's me and I call," Bellande says.
"You got something?" his opponent asked.
"I'm like, 'Yeah I've got aces,'" Bellande says.
"I've got King-Jack," the other player responded.
"I had $220,000 three hands in and I get aces."
Bellande looked to be in good shape with his bigger two pair. Would he recoup a huge chunk of his losses in one massive hand?
"We agreed to run it twice," Bellande says. "He hit the king on the river on the first board, and on the second board he hit the second king.
"And I was just like, 'Are you serious?' That was extremely, extremely painful."
All was not lost, however. Bellande couldn't pull himself from the table after so unfortunate a turn of events.
"Well the good news is that because it was so disgusting how it ran out, I went ahead and re-bought for another $200,000 and I cashed out for $1.5 million that game," he says. "I came all the way back for a half-million dollar profit. That's a true story, that really happened."
Back to the WSOP
While he may not have cashed in the $10,000 Omaha Hi/Lo event, Bellande says he was just happy to be back in the Rio among so many poker players and friends.
"It's just a good feeling, there's always a nice nostalgic feeling when you walk into the World Series of Poker arena."
"I really enjoy these tournaments," he says. "I enjoy the friendship, the camaraderie, just you know hanging out with the boys, just sitting at the table, and catching up with old friends. A lot of these guys I've known for 15 years."
Bellande says he will be playing a limited number of tournaments this summer, but trying to work in as many as possible that fit his schedule – maybe five to seven events.
"It's just a good feeling, there's always a nice nostalgic feeling when you walk into the World Series of Poker arena," he says. "It's always good to be back. So any chance I get, I'll come and hop into a tournament."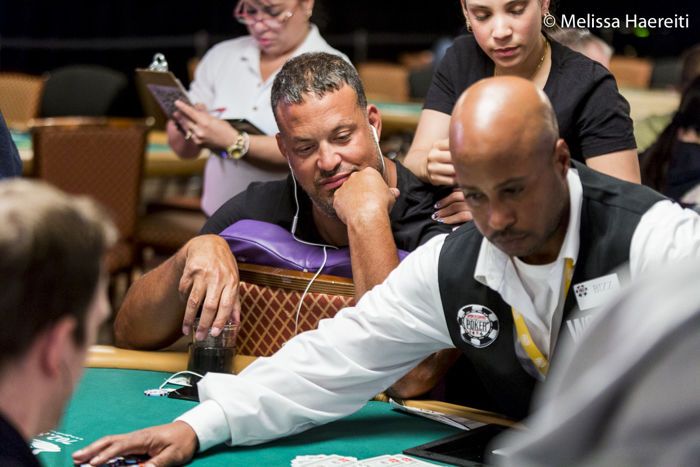 Sean Chaffin is a freelance writer in Crandall, Texas. His work appears in numerous websites and publications. Follow him on Twitter @PokerTraditions. He is also the host of the True Gambling Stories podcast, available on iTunes, Google Play, TuneIn Radio, Spotify, Stitcher, PokerNews.com, HoldemRadio.com, and TrueGamblingStories.com.