The Poker Hand I'll Never Forget: Daniel Negreanu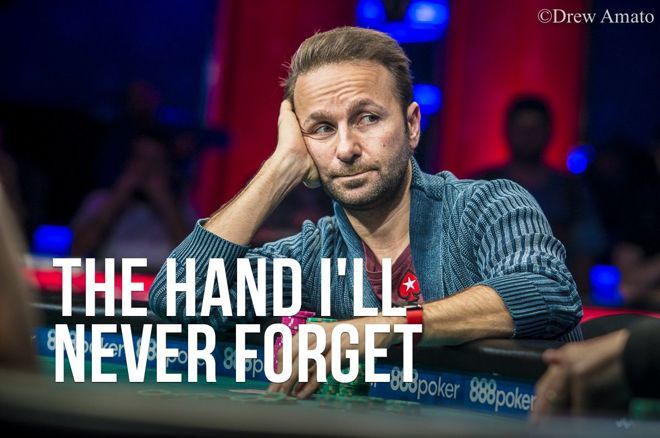 It's the hand that put you over the top. Or the two cards you held that time you were rivered for a monster pot. Everyone has "the hand," that one that you remember no matter how many more tournaments or cash games played. PokerNews takes a look at those hands that stick with players and relive the glory, or misery, depending on the results.
For our second edition of this series, we spoke with Daniel Negreanu about an important hand he played during the World Series of Poker Main Event. Sixteen years later, it's the first hand the pops into his mind.
2001 World Series of Poker Main Event
Before the Rio was the home of the WSOP, Binion's was the birthplace and setting for the biggest event in poker. There were 613 rounders in 2001 vying for the Main Event bracelet and $1.5 million top prize.
Carlos Mortensen would go on win the event, but one hand in particular comes to Daniel Negreanu's mind immediately – as if it were only yesterday. Negreanu was deep into the tournament when a key situation emerged.
"It was 5,000 and 10,000 blinds and under the gun, Carlos made it 35,000 because that's what people did back then," Negreanu says. "Henry Nowakowski made it like 150,000. I put him on a small pair and I had Ace-King on the big blind, so re-raised like another 200,000. Mortensen then folded pocket nines. Henry went all-in with pocket sixes."
Negreanu had him covered and called. The flop came J-10-blank. No help came on the turn or the river – Negreanu missed the hand and lost a big pot.
"If I had won that hand, I'd have been a massive chip leader at the final table," he says. "It's a hand I look back on as something I wouldn't even do now. I would have just folded the Ace-King if I had the situation to do over."
Negreanu finished 11th for $63,940 that year, and Nowakowski took seventh for $179,825. The final table that year was stacked with pros including: Dewey Tomko (runner-up for $1.1 million); Phil Gordon (fourth for $399,610); Phil Hellmuth (fifth $303,705); and Mike Matusow (sixth for $239,765).
A fold or a different board may have seen Negreanu at the final table and even the winner's circle.
Also Read: Mike Matusow remembers his disaster at the 2005 WSOP Main Event final table