The Hand I'll Never Forget: Jessica Dawley's Wreckage on the River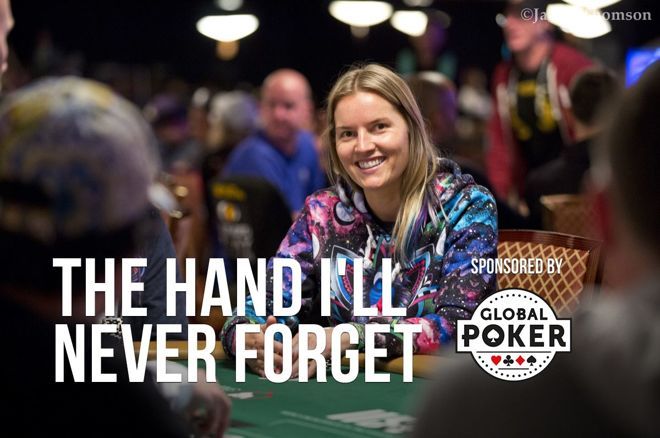 Table Of Contents
Everyone has that one hand that they'll never forget. The hand that either makes you feel immense pain when re-living it, or gives you so much joy you can't wipe the smile off of your face.
Stay locked in as PokerNews tracks down the biggest hands from the biggest names in poker, re-living their crazy experience and bringing it back to life.
In this hand, Jessica Dawley looks back on the biggest hand of her career to date, which took place at the 2010 Aussie Millions Main Event.
2010 Aussie Millions Main Event Decisive Hand
With just 23 players left, Dawley found herself in a prime spot against Stephen Friedlander. At the time, Friedlander had been complaining that he just couldn't beat Dawley, so the dynamic between the two players was unique.
The action folded around to Freidlander on the button and he min-raised, with blinds at 5,000/10,000 with a 1,000 ante. Dawley was in the small blind with
and decided to call. "I just flat, which obviously I would do differently now," laughed Dawley.
The dealer put out a flop of
and Dawley opted to check. Friedlander grumbled about never being able to beat Dawley and decided to check back.
The turn was the
and Dawley led out for 45,000. "I lead out on the turn because I think that's gonna hit a lot of his range, and I wanna make him punt off if possible." Friedlander, who started the hand with about 560,000, decided to raise to 160,000. Dawley went into the tank and eventually shoved all in for about 800,000 total.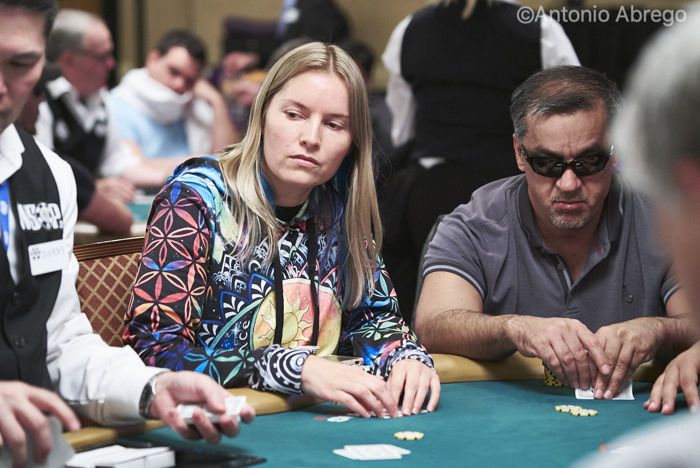 At this point, Friedlander began to complain while in the tank. According to Dawley, he went off: "I know you've got me beat, there's no way you're bluffing here. You've had my number all day!" Eventually, Friendlander decided to call.
Friendlander tabled
for a pair of tens and a gut-shot straight draw, and was at risk against Dawley's trip sevens. According to the live updates, Dawley got up from her seat and had her hands over her ears.
It was clear she was nervous and excited in a big spot in her career to that point. With $2 million reserved for the winner, this swing of chips at this blind level was for a huge amount of equity in the tournament.
"That was my most memorable poker hand because even though it wasn't something super crazy, it was my biggest spot."
"Why are you walking away? You're ahead!" asked a player at the table. Sure enough, Tournament Director Christian Vaughn yelled, "The river is a ten!" over the loudspeaker. Dawley heard it and sat back down in her seat, naturally disheartened. She was not eliminated in this hand, but eventually finished in 17th place, with Friedlander moving on to make the final table.
"I was pretty devastated," Dawley told PokerNews. "That was my most memorable poker hand because even though it wasn't something super crazy, it was my biggest spot. And because I was so far ahead."
Dawley explained that back in 2010, "the money was flowing." It was before Black Friday, and there were huge tournaments running all the time with tons of money up for grabs. So she wasn't as devastated at the time, but it clearly stings now looking back on it.
Redemption at the WSOP
Dawley continued to grind over the years, playing in cash games and at the WSOP each summer. Finally in 2018, she registered the Ladies' Championship and ended up winning the whole thing for $130,230 and her first ever gold bracelet. "I finally got redemption!" laughed Dawley.
"Obviously now to have a bracelet has been massive. Now that I have the bracelet, I have that monkey off my back, and cashed the Main Event finally last year."
The poker pro has now amassed over $800,000 in live tournament earnings and is back at it this summer. Dawley is currently deep in Event #28: $1,000 No-Limit Hold'em with around 50 players remaining in the field.
Follow the Live Updates on PokerNews.com as Jessica Dawley looks to win her second career gold bracelet. This article was brought to you by Global Poker.