Everything You Need to Know About the World Series of Poker Main Event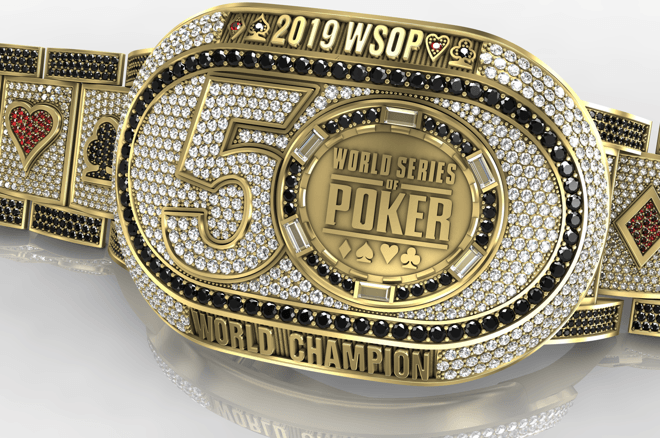 Table Of Contents
The most hopeful day on the poker calendar has arrived!
Today, the first of three starting flights in the 2019 World Series of Poker $10,000 Main Event will get underway at noon local time. Players from around the world will compete for the most coveted title in the game. Anyone with the $10,000 buy-in and a dream could potentially win!
The most hopeful day on the poker calendar has arrived!
All four tournament rooms – the Amazon, Brasilia, Miranda, and Pavilion – will soon be packed with thousands of people; from fans to dealers; and amateurs to poker pros. First timers will compete against legends like Daniel Negreanu, Phil Ivey, Phil Hellmuth, and reigning champion John Cynn.
This year is particularly special as it's the 50th Annual WSOP.
While today marks the first opportunity for players to jump into the action, there will be more over the coming days. Days 1b and 1c will take place at noon on Thursday and Friday respectively, while players also have the option of late registering as long as signed up before the start of either Day 2 flight (11 a.m. on Saturday and Sunday.)
Last year, the 49th Annual WSOP Main Event was the culmination of a record 78 bracelet events. The Main Event attracted 7,874 players, which made it the second-largest turnout in tournament history behind 2006's 8,773 players. John Cynn ultimately came out on top in the longest heads-up battle in WSOP history to capture an $8.8 million first-place prize.
More than 7,000 players are expected to participate in the Main Event, while some experts believe it could even cross the 8,000-mark. Early numbers from the 2019 WSOP indicate that it's possible. Through 66 events, this year's WSOP shattered the attendance record as 147,334 entrants have played in WSOP gold bracelet events.
In fact, through 66 events, this year's participation exceeded the first 36 years of the WSOP combined; 147,334 entries from 602 events in 1970-2005 totaled 125,628 entries.

Article continues below the following promotion
Day 1a Tournament Structure
At noon, players start with 60,000 in chips. Levels are 120 minutes long throughout with five levels on the schedule for Day 1a. After every level, players have a 20-minute break. The dinner break, 75 minutes long, takes place 85 minutes into Level 2, around 3:45 p.m. to accommodate the live broadcast.
Late registration for this event is open until the start of play on Day 2. Day 1a is expected to wrap up fifteen minutes past midnight.
| Level | Estimated Start | Duration | Small Blind | Big Blind | Big Blind Ante |
| --- | --- | --- | --- | --- | --- |
| 1 | 12:00 p.m. | 120 minutes | 100 | 200 | 200 |
| | 2:00 p.m. | 20-minute break | | | |
| 2 | 2:20 p.m. | 85 minutes | 200 | 300 | 300 |
| | 3:45 p.m. | 75-minute dinner break | | | |
| | 5:00 p.m. | 35 minutes | 200 | 300 | 300 |
| 3 | 5:35 p.m. | 120 minutes | 200 | 400 | 400 |
| | 7:35 p.m. | 20-minute break | | | |
| 4 | 7:55 p.m. | 120 minutes | 300 | 500 | 500 |
| | 9:55 p.m. | 20-minute break | | | |
| 5 | 10:15 p.m. | 120 minutes | 300 | 600 | 600 |
Players to survive today's Day 1a return to the Rio All-Suite Hotel & Casino Saturday, July 6, 2018, to play another five levels on Day 2ab PokerNews will be there the entire day with live updates from around the convention center of the Rio All-Suite Hotel & Casino.
World Series of Poker History
The World Series of Poker began as an idea hatched in Texas gambler Benny Binion's mind to promote his casino.
In 1970, a small group of Texas rounders gathered at Binion's for ten days playing for high stakes in games like five-card draw, 2-7 lowball, seven-card stud, razz, and no-limit hold'em. Players voted on the winner at the end of the gathering; Texan and future Poker Hall of Fame member Johnny Moss was honored as the best.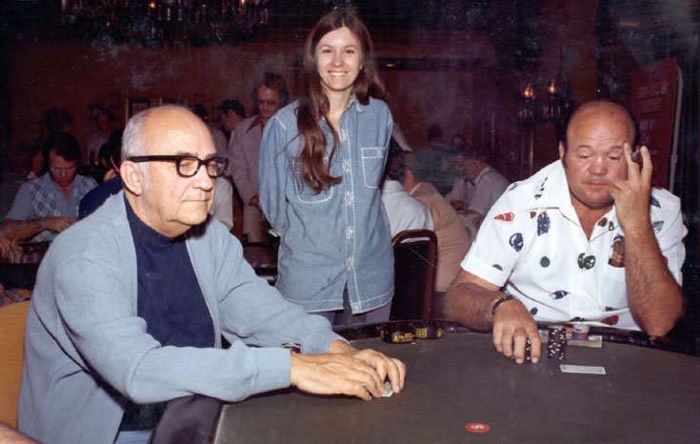 Johnny Moss, Becky Binion, and Puggy Pearson (Image courtesy of Wikimedia Attribution-Share Alike 3.0 Unported)
By 1972, no-limit hold'em became the premier game and the $10,000 buy-in tournament that players now know as the WSOP Main Event was introduced.
The World Series of Poker has grown to enormous proportions with numerous preliminary events. The championship bracelet, introduced by Binion in 1976, has become the ultimate trophy in poker. Owning one or more has become the litmus test for poker greatness. The series has even expanded beyond Las Vegas with numerous circuit and bracelet events around the country and the world.
For an in-depth look at the WSOP's history, check out this five-part series by Martin Harris:
Binion surely couldn't have imagined the reach that the game would get since his showcase began in 1970. The World Series of Poker is the largest, richest, and most prestigious gaming event in the world.
Here's a look at all the winners since the tournament's inception: Clicking the year will lead you to PokerNews Live Reporting of the event, clicking the winner's name takes you to the PokerNews final table recap of the event.
| Year | Entries | Champion | Country | | Winning Hand | Prize |
| --- | --- | --- | --- | --- | --- | --- |
| 1970 | 7 | Johnny Moss | United States | | - | - |
| 1971 | 6 | Johnny Moss | United States | | - | $30,000 |
| 1972 | 8 | Thomas "Amarillo Slim" Preston | United States | | | $80,000 |
| 1973 | 13 | Walter "Puggy" Pearson | United States | | | $130,000 |
| 1974 | 16 | Johnny Moss | United States | | | $160,000 |
| 1975 | 21 | Brian "Sailor" Roberts | United States | | | $210,000 |
| 1976 | 22 | Doyle Brunson | United States | | | $220,000 |
| 1977 | 34 | Doyle Brunson | United States | | | $340,000 |
| 1978 | 42 | Bobby Baldwin | United States | | | $210,000 |
| 1979 | 54 | Hal Fowler | United States | | | $270,000 |
| 1980 | 73 | Stu Ungar | United States | | | $385,000 |
| 1981 | 75 | Stu Ungar | United States | | | $375,000 |
| 1982 | 104 | Jack Straus | United States | | | $520,000 |
| 1983 | 108 | Tom McEvoy | United States | | | $540,000 |
| 1984 | 132 | Jack Keller | United States | | | $660,000 |
| 1985 | 140 | Bill Smith | United States | | | $700,000 |
| 1986 | 141 | Berry Johnston | United States | | | $570,000 |
| 1987 | 152 | Johnny Chan | United States | (born in China) | | $625,000 |
| 1988 | 167 | Johnny Chan | United States | (born in China) | | $700,000 |
| 1989 | 178 | Phil Hellmuth | United States | | | $755,000 |
| 1990 | 194 | Mansour Matloubi | Iran | | | $895,000 |
| 1991 | 215 | Brad Daugherty | United States | | | $1,000,000 |
| 1992 | 201 | Hamid Dastmalchi | Iran | | | $1,000,000 |
| 1993 | 220 | Jim Bechtel | United States | | | $1,000,000 |
| 1994 | 268 | Russ Hamilton | United States | | | $1,000,000 |
| 1995 | 273 | Dan Harrington | United States | | | $1,000,000 |
| 1996 | 295 | Huck Seed | United States | | | $1,000,000 |
| 1997 | 312 | Stu Ungar | United States | | | $1,000,000 |
| 1998 | 350 | Scotty Nguyen | United States | (born in Vietnam) | | $1,000,000 |
| 1999 | 393 | Noel Furlong | Ireland | | | $1,000,000 |
| 2000 | 512 | Chris Ferguson | United States | | | $1,500,000 |
| 2001 | 613 | Carlos Mortensen | Spain | (born in Ecuador) | | $1,500,000 |
| 2002 | 631 | Robert Varkonyi | United States | | | $2,000,000 |
| 2003 | 839 | Chris Moneymaker | United States | | | $2,500,000 |
| 2004 | 2,576 | Greg Raymer | United States | | | $5,000,000 |
| 2005 | 5,619 | Joe Hachem | Australia | | | $7,500,000 |
| 2006 | 8,773 | Jamie Gold | United States | | | $12,000,000 |
| 2007 | 6,358 | Jerry Yang | United States | (born in Laos) | | $8,250,000 |
| 2008 | 6,844 | Peter Eastgate | Denmark | | | $9,152,416 |
| 2009 | 6,494 | Joe Cada | United States | | | $8,547,042 |
| 2010 | 7,319 | Jonathan Duhamel | Canada | | | $8,944,310 |
| 2011 | 6,865 | Pius Heinz | Germany | | | $8,715,638 |
| 2012 | 6,598 | Greg Merson | United States | | | $8,531,853 |
| 2013 | 6,352 | Ryan Riess | United States | | | $8,361,570 |
| 2014 | 6,683 | Martin Jacobson | Sweden | | | $10,000,000 |
| 2015 | 6,420 | Joe McKeehen | United States | | | $7,683,346 |
| 2016 | 6,737 | Qui Nguyen | United States | (born in Vietnam) | | $8,005,310 |
| 2017 | 7,221 | Scott Blumstein | United States | | | $8,150,000 |
| 2018 | 7,874 | John Cynn | United States | | | $8,800,000 |