Enrico "GTOExploiter" Camosci Wins WSOP Bracelet in Event #50: $2,100 Bounty Championship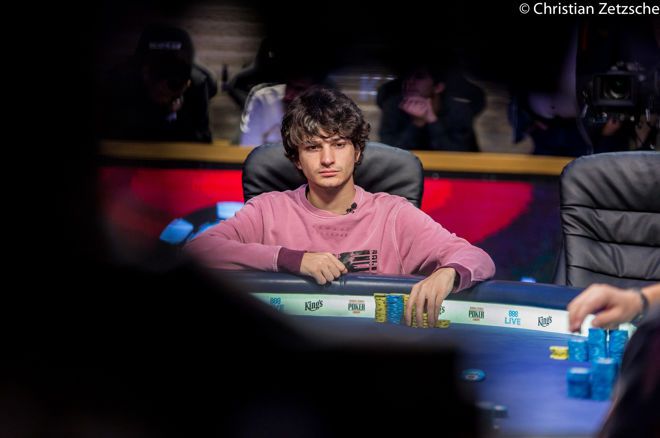 It took fewer than ten hours of play in the most recent 2020 GGPoker World Series of Poker Online Bracelet Events to crown a champion in Event #50: $2,100 No-Limit Hold'em Bounty Championship. Flying the Maltese flag, it was Italy's Enrico "GTOExploiter" Camosci that topped a field of 1,168 entries to take home the lion's share of the $2,336,000 prize pool.
Camosci entered the final table as the chip leader after eliminating Alex Difelice on the final table bubble and spent most of the time near the top of the leaderboard after. He subsequently knocked out three of the finalists and has earned his maiden WSOP gold bracelet.
Follow all the latest from the GGPoker 2020 WSOP - LIVE!
The cards are in the air in the GGPoker WSOP Online. The PokerNews live reporting team is on top of all things WSOP. Don't miss a beat!
The sheer magnitude of Camosci's bounty prize of $142,740, which is bigger than the cash prize for second-placed Omer "omeroz01" Ozsirkintis and nearly as big as the total prize of third-placed Aki "Seabossss" Virtanen, reveals the importance of the progressive knockout format which triggered most of the action throughout the day.
The final table also featured 2017 WSOP Main Event finalist Damian Salas, Dominik Panka, and Connor Drinan who were the first three players to bust.
Event #50: $2,100 Bounty No Limit Hold'em Championship Final Table Results
| Place | Winner | Country | Cash Prize | Bounty Prize | Total Prize |
| --- | --- | --- | --- | --- | --- |
| 1 | Enrico "GTOExploiter" Camosci | Italy | $184,579 | $142,740 | $327,319 |
| 2 | Omer "omeroz01" Ozsirkintis | Turkey | $133,948 | $48,615 | $182,564 |
| 3 | Aki "Seabossss" Virtanen | Finland | $97,206 | $47,043 | $144,249 |
| 4 | Alexander "xBGx" Fitasov | Russia | $70,543 | $6,750 | $77,293 |
| 5 | Murilo "muka82" Figueredo | Brazil | $51,193 | $18,656 | $69,849 |
| 6 | Renato "MAIAAA" Valentim | Brazil | $37,151 | $7,313 | $44,463 |
| 7 | Connor Drinan | United States | $26,960 | $17,352 | $44,312 |
| 8 | Dominik "tiredfella" Panka | Poland | $19,565 | $17,813 | $37,378 |
| 9 | Damian Salas | Argentina | $14,198 | $22,328 | $36,527 |
Think you know all about the WSOP Online on GGPoker? Find out here
Deep Runs for "ElkY", Bohn, and Difelice
As is typical for a progressive knockout event, the action moved quickly. Less than 4 hours after the first hands were dealt, the field was down to a quarter of itss original field and it took another hour to get down to the money. Among the players to get close, but fall short of the paid spots was GGPoker ambassador Daniel Negreanu, as well as Simon Higgins and Patrick "Egption" Tardif. Martin Pineiro was one of three players to bust on the bubble hand before the money.
Once in the money, players like Ajay "Ross_Geller" Chabra, Kazuki "8809" Ikeuchi, Mike McDonald, and Pete Chen booked minimum cashes, while Kilian "Birdie Power" Loeffler and Parker Talbot, Juha Helppi, Bernardo "GGeKKo" Dias, Thomas Cazayous, Gary "bebeloup" Hasson, GGPoker ambassador Bertrand "ElkY" Grospellier Alessandro "GoldRush" Giannelli, Pedro "WhyNotChili" Ivars, Ami Barer, and Blake "Beast2018!" Bohn fell along the way as well.
It took until just before the end of Level 30 before former chip leader Alex Difelice was eliminated in 10th place to set up the final table draw with Enrico "GTOExploiter" Camosci leading the way with more than 8 million chips.
---
---
Final Table Action
Damian Salas was the first to go from the final table after shoving pocket fives into Aki "Seabossss" Virtanen´s queens and finding death by quads. Dominik "tiredfella" Panka and Connor Drinan shortly followed him out the digital door to leave the field with six. Virtanen was responsible for Drinan's elimination and also took care of Renato "MAIAAA" Valentim and Murilo "muka82" Figueredo to leave just four.
Camosci surged into a nearly 3x lead after eliminating Fitasov in 4th place for a total score of more than $75,000 when Fitasov's queens couldn't hold against ace-ten. Virtanen, after doing most of the heavy lifting early in the final table, fell in third place for $144,249 including almost $50k in bounties. The Finn got his money in with a made flush and straight flush redraw on the flop, but couldn't hold as a fourth diamond came on the river to give Ozsirkintis the nut flush with the ace.
Heads up between Ozsirkintis and Camosci didn't last long. The Italian came into heads up with the chip lead and was never at risk. The final chips went in the middle in a race situation, and while Ozsirkintis hit his ace on the flop, Camosci rivered the spade flush to take it all down. Ozsirkintis booked $48,615 in bounties in addition to the $133,948 second-place prize. Camosci ended up with a total first-place prize of more than $325,000, including more than $142,000 in bounties alone.
---
2020 Online WSOP Bracelet Winners on GGPoker
| Date | Tournament | Entries | Prize Pool | Winner | Prize |
| --- | --- | --- | --- | --- | --- |
| 7/26/20 | Event #32: $100 The Opener | 29,306 | $2,571,216 | Marcelo Jakovljevic Pudla | $265,880 |
| 7/26/20 | Event #33: $1,111 Every 1 for Covid Relief | 2,323 | $2,580,853 | Alek Stasiak | $343,204 |
| 7/19/20 | Event #34: $525 Super Turbo Bounty No-Limit Hold'em 6-Handed | 2,214 | $1,107,000 | Shoma "pp_syon" Ishikawa | $117,650 |
| 7/21/20 | Event #35: $5,000 Pot-Limit Omaha Championship | 328 | $1,558,000 | Juha Helppi | $290,286 |
| 7/22/20 | Event #36: $1,500 FIFTY STACK NLHE | 1,342 | $1,912,350 | Michael Clacher | $297,496 |
| 7/23/20 | Event #37: $1,050 Bounty Pot Limit Omaha | 971 | $971,000 | Hun Wei Lee | $161,886 |
| 7/25/20 | Event #38: $600 Monster Stack 6-Max | 2,007 | $1,143,990 | Aaron "fishnchip" Wijaya | $171,389 |
| 7/26/20 | Event #39: $1,500 No Limit Hold'em | 922 | $1,313,850 | Roberto Romanello | $212,613 |
| 7/26/20 | Event #40: $2,500 Pot Limit Omaha | 532 | $1,253,500 | Simon Lofberg | $224,493 |
| 8/1/20 | Event #41: COLOSSUS | 12,757 | $4,796,632 | Ranno Sootla | $595,930 |
| 8/1/20 | Event #42: PLOSSUS | 4,356 | $1,637,856 | Yuri Dzivieleski | $227,557 |
| 7/28/20 | Event #43: $10,000 Short Deck No Limit Hold'em Championship | 130 | $1,261,000 | Lev "LevMeAlone" Gottlieb | $276,393 |
| 7/29/20 | Event #44: $2,500 NLHE 6-Handed | 892 | $2,118,500 | Kristen Bicknell | $356,412 |
| 7/30/20 | Event #45: $840 Bounty NLHE | 2,382 | $1,905,600 | Patrick "Muddington" Kennedy | $245,448 |
| 8/1/20 | Event #46: $500 Deepstack | 2,307 | $1,095,825 | Sung Joo "ArtePokerTV" Hyun | $161,898 |
| 8/2/20 | Event #47: $1,000 Short Deck No Limit Hold'em | 487 | $462,560 | Paul Teoh | $82,202 |
| 8/2/20 | Event #49: $500 Turbo Deepstack No Limit Hold'em | 2,978 | $1,414,550 | Vladas Burneikis | $192,523 |
| 8/4/20 | Event #50: $2,100 No Limit Hold'em Bounty Championship | 1,168 | $2,336,000 | Enrico "GTOExploiter" Camosci | $327,319 |
---
PokerNews will be back again on Wednesday with more bracelet action in Event #51: $400 Pot Limit Omaha. Follow along with live coverage throughout the month of August and into September of all the GGPoker WSOP Online bracelet events