Before the Game: Chris Moorman The College Dropout (Part Two)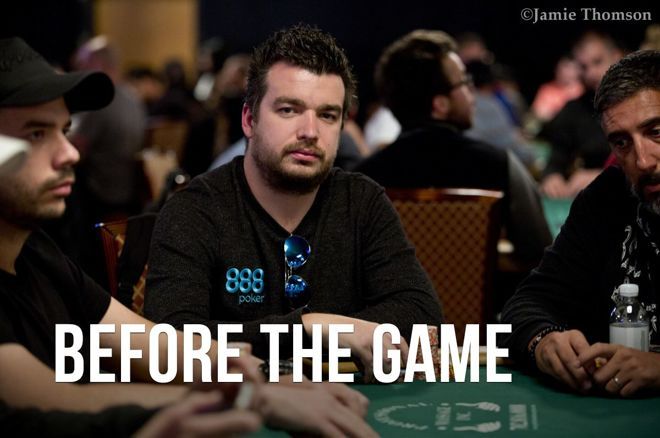 Table Of Contents
When we last spoke with Chris Moorman, he had hidden a growing passion for poker from his parents, dropped out of university and stayed in during a long hot summer playing online - and winning.
The budding poker player was about to find even more success in the game, but before he could become an online tournament superstar, Moorman would need to get his parents on board.
Discovering Tournament Poker
"I didn't want them to shut it down before I did well," says Moorman, looking back at his efforts to bypass his parents' understandable doubts by becoming a success as quickly as he could. "They couldn't shut it down if I was doing well - it would have been illogical - but at the start, poker is way more volatile. You don't know if you're good or not. I really liked playing and I wanted to see if I could do it successfully before I told my parents."
Moorman's pivotal move from cash games to tournaments came completely by chance. Unable to get his new poker tracker set up, Moorman waited for a friend to help him, but had a week of downtime to kill. He played in some $100-entry tournaments just for fun and discovered an instant love for the format.
"I ended up coming fifth in a $200 tournament on Full Tilt on a Sunday for $13,000. It felt as if everyone was giving me their chips, like they were way worse than in cash games. I liked the different stages of tournament poker. It was new, exciting and cash games had started to become a bit monotonous."
All cash games were doing for Moorman was adding to his bankroll. He didn't have a driving license. He wasn't saving for a house. After a week of playing tournaments, Moorman couldn't return to cash games. His heart wasn't in them, and whenever he played tournaments, he was excited to do so.
"I got hooked on them," Moorman said. "I started playing more tournaments, found Pocket Fives, joined the forums and had goals to move up the rankings which I could aspire to. I chatted to other players from different countries and got their opinions. Cash games were fun at university when all my friends would come and watch but now, I had cyberfriends and if I made a final table they'd be watching."
Going Live
It was a very communal way of learning, with Skype groups prevalent and a collective desire to get better influencing everyone positively. Moorman comes alive discussing it, this period of his life putting in all the hard work, all the lonely nights. The sacrifices gave him a life full of social promise as well as profit in poker, both parts of the equation of equal importance in Moorman's eyes.
"I got the chance to play different tournaments in other countries," he recalled. "I hadn't traveled that much growing up. Suddenly I was going to all these different countries and meeting lots of different people. It was exciting and you could see the first prize, and think 'I can do this.'"
Moorman knew how to win tournaments online by this stage. In fact, he was winning triple crowns and crushing the tournament scene. But that took time to translate to the live arena. He had, however, found his calling.
"Tournaments felt more like I was my own boss, running my own business. You could wake up and anything could happen. The possibilities were endless. I just wanted to become as good as possible. It was before solvers. I'd try stuff out, and if it didn't work, I wouldn't do it. It was trial and error and you did it by playing."
Live Career Highlights
While his L.A. Poker Classic win in 2014 for just over a million dollars is still Moorman's biggest live win, perhaps more significant for Moorman's career was his €800,000 score in 2011 for his runner-up finish at the WSOP Europe Main Event in Cannes. There, Moorman made the final table with a couple of his good friends in the game, Elio Fox and Jake Cody.
"It doesn't feel like eight years ago," said Moorman. "I can still remember how I was feeling. Me, Jake and Elio all went to dinner on Day 1 at this place and every day for the rest of the tournament, we went to the same spot because we were all still in and we made the final table. It was kind of ridiculous."
"I really liked playing and I wanted to see if I could do it successfully before I told my parents."
While Cody bowed out in seventh place, Fox and Moorman would chop top prize, although the former would pose for the winner's photos after coming out on top. Having been losing at live poker for a year, Moorman had supplemented his live game by remaining a consistent winner at the online tables. A few live results in the build-up to Cannes set the scene for the perfect week at the felt.
"I remember everything going my way in the tournament. An obscene amount of money up top. It was back when everyone was doing what they wanted. I watch some of the hands back and it was ridiculous, hands aren't played like that anymore. In terms of my overall confidence, it was my highest point ever coming into that tournament."
Moorman ran up a big stack on Day 1 and rode that wave all the way to a heads-up chop. A few years earlier, he'd been in his first-ever WSOP Europe event, top three in chips on the bubble, but ending up busting out shy of the money after running kings into aces against the only other big stack at his table. A min-cash at the time would have been £30,000, which Moorman admits would have been huge for him at the time. But he more than made up for it in Cannes and suddenly had €800,000 - in cash.
"I swapped with a few friends so got the money in cash and was carrying it around in a backpack, which probably wasn't wise," Moorman recalls. "I had all this money on me in purple €500 notes. You don't get the same feeling when you're winning online. It was kind of stupid looking back, I was lucky to survive it - I wouldn't do it again!"
Legacy
Moorman is now one of the biggest names in the game. With over $15 million in online winnings and $5.8 million in live tournament earnings, his love of the game remains the same as it was back when he was a student living off very little. The hunger has never waned and he is keen to play until he gets bored of it.
One of the biggest indications of how dedicated Moorman is to the game is how he acts if he's having a losing session online in tournaments.
"Some of the most rewarding days are when it's going really badly and you break even. Those are some of the days I enjoy the most. Other people would tilt, unregister and lose $5,000. But there are always going to be days when you have a big win; in between those days, you've got to make sure that you don't lose too much."
After finally winning a WSOP bracelet in 2017 in the $3,000 Six-Max event for nearly half a million, there's little left on Moorman's live poker bucket list. If he had to name one more ambition remaining on the live circuit, it's to win the Aussie Millions, a tournament he got so close to winning once upon a time.
"Some of the most rewarding days are when it's going really badly and you break even."
"It's such a long trip that you need to go for about a month. But it's one of my favorite tournaments and venues and it goes to 6-max when you're in the money. I feel like that suits me. One of my good friends Toby Lewis won it, whereas the WSOP Main Event feels so far away and none of my good friends have final tabled it."
After so many years playing poker for a living, Moorman's family has all come around to him playing the game professionally. His dad now plays poker too, and even won a GUKPT event when Moorman bought him in as a birthday present. When Moorman released the first of his two poker books, Moorman's Book of Poker, in 2014 both his parents were at the launch.
"They're always asking how I'm doing, they'll always watch, and it's been magical to have their support. It's been incredible and little things like their friends wanting the book signed, it's amazing. They're proud of what I've done. My mum's just retired, and she wants me to teach her how to play."
There could hardly be a better teacher to pass on wisdom about poker. But with Chris Moorman, it's clear that the business and economics knowledge he gained Before the Game helped him become his own boss and build one of the most successful legacies in poker.