Before the Game: Toby Lewis the Sports Nut (Part One)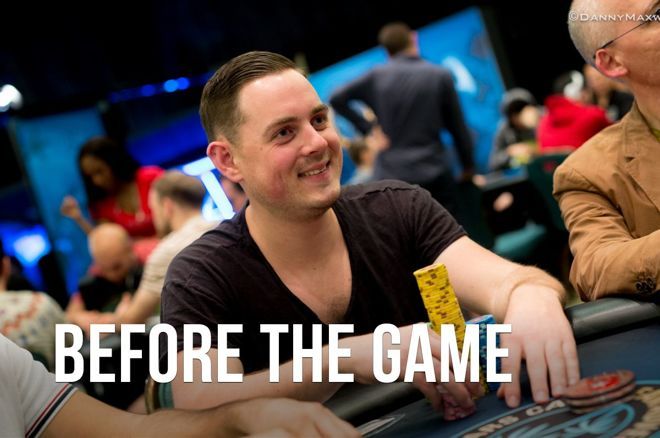 Table Of Contents
Known as one of the fiercest competitors on the live tournament circuit, Toby Lewis is one of Britain's finest poker exports. Whether it's under the moniker "810ofclubs" online or in some of the biggest live events worldwide, Lewis has been a major presence in poker over the last few years.
An EPT Main Event winner in 2010 and an Aussie Millions Main Event champion in 2018, the man from Hampshire on the South Coast has won over $6.3 million in live tournaments alone. But who was he... Before the Game?
Young Toby Finds Poker
"I played a lot of golf when I was 15 years old. When we finished playing and came home, we had nothing to do," says Lewis, looking back on his youth. "We started watching poker on television. There was a pool table in the house, and we started playing £2 and £5 Sit n Go's on it."
From the outset, Lewis and his friends felt like it was a sport, not a gamble. They tried to outdo each other and earn bragging rights to go with the loose change a victory would provide.
"Because it was closely linked to sports and being as competitive as we were as kids, everyone was trying to work it out. But I don't think I won or lost more than anybody else."
"Because [poker] was closely linked to sports and being as competitive as we were as kids, everyone was trying to work it out."
That would soon change. By the time he was 18, Lewis had learned how to win at poker when playing with friends. He wanted to transfer his talents to the local casino in Southampton.
"I had no idea what to do after school and I was playing more and more poker. I turned 18 that November and finished school the following June. By that time, I'd been playing poker a lot and won my first tournament."
That feeling of winning your first poker tournament, whether online or live, is always a thrill. Lewis freely admits that it was a feeling he wanted to repeat again and again.
"I was addicted to it and deferred university at that point. I had applied for business management and economics, but it was just something generic. When I turned 18, I just started going down to the Grosvenor Casino in Southampton. I made friends that I still have now."
Getting the Family on Board
Among those friends was Craig McCorkell, who shared the same obsession with sports. The two men began succeeding at the game, but at home, Lewis found that family was harder to convince about the merits of poker.
"It was hard to convince my mum that playing poker for a living was a good idea. I moved in with my dad, and he was a lot more encouraging."
Far from being bitter about what was obviously a tough period, Lewis can see where his mother was coming from.
"When your 18-year-old kid thinks he's going to play poker all the time and stay in a casino until 4 am, it's probably not a great look."
"I didn't understand it at the time, but I understand it now. When your 18-year-old kid thinks he's going to play poker all the time and stay in a casino until 4 am, it's probably not a great look."
It's harder to fully support a teenager's desire to become a poker player, but Toby's father did just that, and indeed is still a big supporter of his son's career to this day.
"He just said 'follow your dreams' and he could see how passionate I was about it. He wanted to put me in card games in the pub when I was a kid, so I think he pointed me in the right direction, or maybe the wrong direction and it turned out right."
Establishing His Place in Poker
It would be hard to argue that is wasn't the right move. Within just a few years, Toby Lewis was an EPT champion after conquering a final table that featured two other British players in former football legend Teddy Sheringham and poker superstar Sam Trickett. But even after his success in such a high profile tournament, Lewis wasn't convinced that he was a full professional in the game.
"Even after I won EPT Vilamoura, I didn't think about it that much. I was just in the moment and trying to keep increasing my bankroll. Maybe four or five years ago, I thought about it and started to think about what I'd do after poker."
The benefits of a sensible head on young shoulders can't be overestimated. Where some players might have blown a fortune on fast cars and nosebleed limits, Lewis pressed home his edge and climbed the ranks steadily. He considers it a compliment to be called sensible.
"Poker is a calculated risk. I'm very competitive with sports and I hate losing, so I think that helped. Poker was very addictive for me at the start. I was definitely addicted to playing."
"Poker was very addictive for me at the start. I was definitely addicted to playing."
From his success on the European Poker Tour to an established reputation online, Lewis became a British poker professional who commanded respect, on the felt and off. He puts a lot of that down to the company he kept, with a strong core of friends in poker.
"When you have a group of friends to talk about stuff with and tell you what's bad and good, it's really helpful. It's definitely one of the things that's helped me the most, as well as having companions to travel with. Craig and I met at the Grosvenor Casino in Southampton, so it was a long time ago. It could have been anyone, but we found ourselves chatting at the table."
That table talk transferred to Skype groups, where players discussed hands while multi-tabling. It quickly got them all used to making decision after decision with a collective sounding board to bounce ideas off of.
"We used to chat on Skype for six or eight hours a day. We were playing thirty tables, and everyone was giving each other updates on how they were doing. I can't play six tables and have a chat with someone anymore, so I don't know how we did that back then! We consistently had between 15 and 20 tables up."
Good Timing
The rest is poker history. Lewis didn't just play but also staked McCorkell and several other players during a period of success for British poker pros at the WSOP and beyond. He went on a golden run of backing the right players at the right time.
"I was pretty lucky when I was staking that Middy [Tom Middleton] won the EPT, Elliott Panyi won the Genting Poker Series Main Event, Sam Grafton won a GUKPT, Chris Brammer won a big online tournament and Craig [McCorkell] won a WSOP bracelet. There were so many wins in major stuff, and it was so much fun to rail."
But Lewis' staking days are behind him. In fact, his stable all but closed its doors. Find out why he went in a different direction and how live tournaments took over from online rankings in part two of Toby Lewis: Before the Game.