VAMOS!! Samuel Bernabeu Wins First Bracelet in Event #79:$2,500 No-Limit Holdem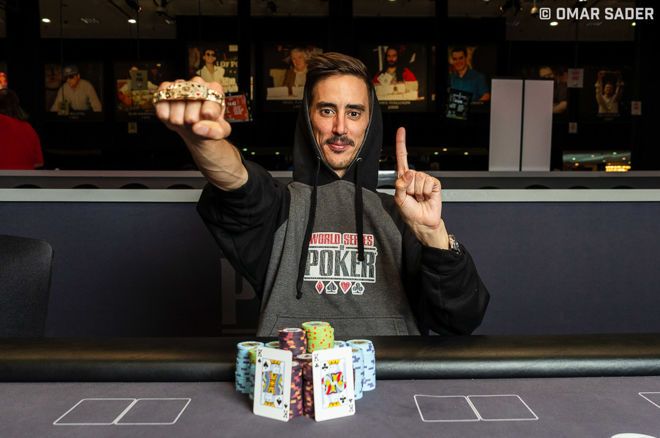 Table Of Contents
After three long days of play in an event stacked with notables, Samuel Bernabeu has joined the ranks of WSOP bracelet winners. Bernabeu bested a field of 2,068 entries in Event #79: $2,500 No-Limit Hold'em to take home a first-place prize of $682,436 and his very first WSOP gold bracelet.
Bernabeu came into Day 3 sixth in chips with 43 big blinds, and although it got a little rocky for a while in the earlier levels of the day, he managed to survive to the final table by hitting quads against Derek Normand right before. Heading into the final table, he was sixth in chips but really got going whenever he drew first blood by busting Daniel Schill in ninth place. He then went on to bust six of the nine players at the final table for a dramatic finish to the tournament.
This was the Spaniard's first WSOP bracelet and his first big cash since he returned to poker after a long hiatus.
Event #79:$2,500 No-Limit Holdem Final Table Results
| Place | Player | Country | Prize |
| --- | --- | --- | --- |
| 1 | Samuel Bernabeu | Spain | $682,432 |
| 2 | James Anderson | United States | $421,761 |
| 3 | Zlatin Penev | Italy | $310,528 |
| 4 | Seth Davies | United States | $310,528 |
| 5 | Diego Vaz Sorgatto | Brazil | $230,772 |
| 6 | Justin Kindred | United States | $137,121 |
| 7 | Ramon Fernandez | Spain | $100,252 |
| 8 | Derek Normand | United States | $77,401 |
| 9 | Daniel Schill | United States | $60,346 |
"I used to play a lot in Spain, but when I moved to Mexico, I took a lot of time of, but I felt like something was missing in my life being away for so long. It just feels amazing to actually win one after everything that has happened," an emotional Bernabeu said with tears in his eyes.
Bernabeu has fired in many of the WSOP events this summer without much success, including a heartbreaking bust out in the Main Event on Day 2, where he explained that he had fallen sick and could not play to his full ability.
His rail was also there for the entire final table, cheering him on throughout the ups and downs and finally, the sweet moment when the last card fell to secure his victory, and he threw his hands up and yelled "VAMOS!!" and ran to embrace them.
PokerNews caught up with 888 Ambassador Ana Marquez, who was a member on his rail who described him as:
"[He's]... a really great guy and poker player. He loves the game and is very creative. He even created his own revolutionary poker deck with five suits instead of four and wants to introduce it to the world at some point."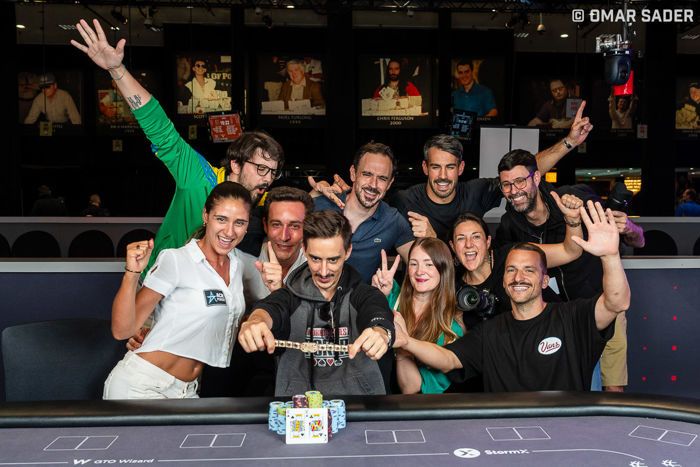 Final Day Action
After the cards were in the air, it didn't take long before the bust-outs began rolling in. Several players were eliminated within the first few hands, with Galen Hall the first to exit followed by George Janssen. After that, it seemed a player busted every 15-20 minutes on average until Junhao Wu busted in 19th and the players were then redrawn to the final two tables. Even at this point, the bustouts were still fast and furious and the final table was reached within two levels when Kartik Ved and Matias Gabrenja were eliminated at almost the same time in 10th and 11th, respectively.
Next to go was the previously mentioned Schill, who fell in ninth as the first final table casualty, as well as Bernabeu's first victim.
Coming in eighth place was Houston native Normand, known for his stellar table talk throughout the tournament, who busted when he got it in with king-nine of spades but could not improve against Penev's superior ace-jack of spades.
Bernabeu then turned around and busted short-stacked Ramon Fernandez who got it in with ten-three offsuit versus Bernabeu's pocket queens.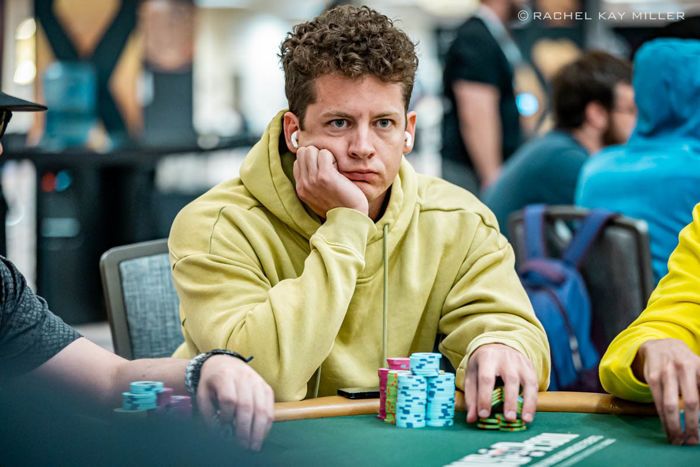 After that, it became the Penev and Anderson show as they both won several giant pots and took turns being the chip leader on several occasions, including the hand when Penev busted Justin Kindred in sixth when his ace-jack could not improve against Penev's ace-queen.
Their back-and-forth chip race went on for quite a while with no bust outs until Bernabeu got it all in against Sorgatto, who then became his third victim on the final table as he exited in fifth.
Triton high-roller regular Davies was the chip leader heading into both Day 2 and Day 3, and he maintained his dominance through much of the day until he took a big hit against James Anderson right before the dinner break and was reduced to only a few blinds. After returning from break, he only lasted a few hands before getting it in with king-ten offsuit versus the pocket jacks of none other than Bernabeu. He failed to improve on the runout and exited the tournament in fourth place as Bernabeus's fourth kill.
Although he was chip-leading for most of the final table, Penev took a big hit when he doubled up Bernabeu in a giant 20,000,000 pot when he called his all-in with ace-king suited versus Bernabeu's pocket queens and failed to improve. It wasn't long after that when he finally fell to the final table MVP when his pocket fives got crushed by Bernabeu's ace-queen on an ace-queen-king flop with no five in sight.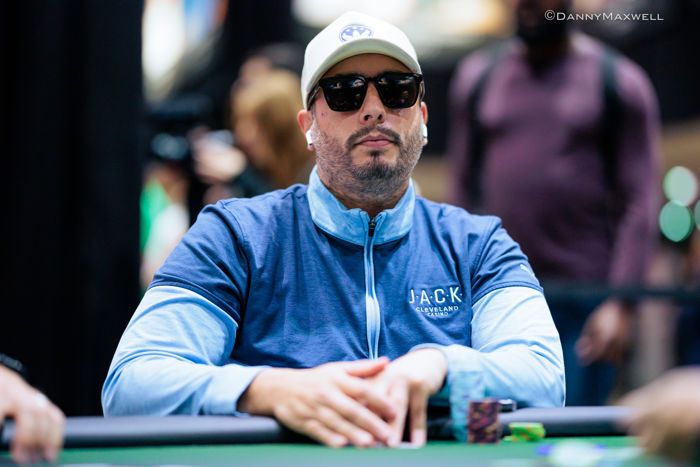 Heads-up play between Bernabeu and Anderson lasted for about 25 minutes until they got it in with pocket kings against ace-queen, with Anderson holding the latter. Although he flopped the nut flush draw, Anderson could not find a club and the king of spades on the river was just the icing on the cake to send him out as the runner-up while Bernabeu was crowned the champion and adorned with the WSOP gold bracelet.
This concludes the coverage of Event #79: $2,500 No-Limit Hold'em but stay tuned to PokerNews as we bring you all the action from the last handful of 2023 WSOP bracelet-awarding events.