Thomas Skaggs Adds a WSOP Bracelet to His Circuit Ring in Event #76: $1,500 Bounty Pot-Limit Omaha
Table Of Contents
Event #76: $1,500 Bounty Pot-Limit Omaha came to an end after a rollercoaster of action here at the 2023 World Series of Poker hosted at the Horseshoe and Paris Las Vegas. Only one person was left holding their hands high, gripping the elusive gold bracelet. Thomas Skaggs was that person, having conquered the 1,214 entry field.
The gold meant more to Skaggs than the $171,742 grand prize; it was his first WSOP bracelet. He did, however, recently win a circuit ring in a pot-limit Omaha event at Horseshoe Indiana earlier this year ($28,181). Skaggs went on to say that he had made it his goal to win either a circuit ring or bracelet, so he's beyond thrilled to have gotten both. A deserving runner-up, David Hu held the chip lead multiple times at the final table, and Skaggs commented about the skill and precision that Hu played with.
Final Table Results
| Place | Player | Country | Prize |
| --- | --- | --- | --- |
| 1st | Thomas Skaggs | United States | $171,742 |
| 2nd | David Hu | Netherlands | $106,138 |
| 3rd | Satar Al-Sadoun | United States | $75,761 |
| 4th | Paul DeGiulio | United States | $54,775 |
| 5th | Yusuke Tanaka | Japan | $40,119 |
| 6th | Vincent Moscati | United States | $29,773 |
| 7th | Paul Spitzberg | United States | $22,392 |
| 8th | Noah Schwartz | United States | $17,069 |
| 9th | Sergio Martinez | United States | $13,191 |
Winner's Reaction
PokerNews got the opportunity to chat with Skaggs just following his victory, and he was ecstatic, despite him being just two hours away from having to catch a plane home to Glendale, Kentucky. He mentioned that he's mostly an Omaha player, and this was his third year in a row playing this particular event. He and a few of his buddies usually make the trip out around this time in the series, but he's always foregone the Main Event to play the PLO Bounty instead. Skaggs contributed his experience in cash games, which gave him the strong mindset needed to deal with the swings throughout the tournament.
Day 1 and Day 2 Action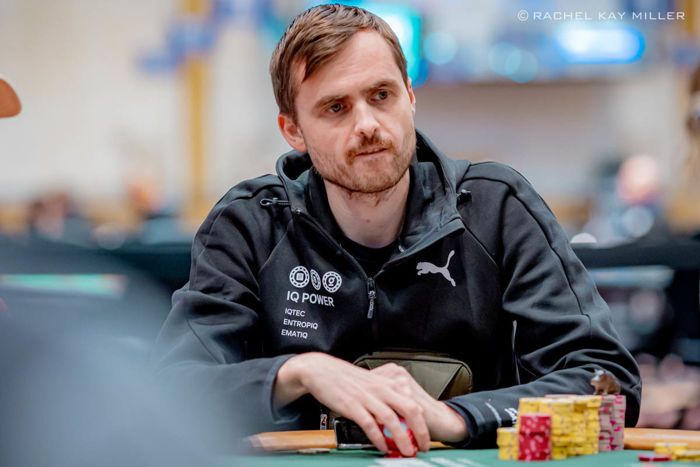 Day 1 saw plenty of notables enter the field, most of which hopped in after busting the Main Event. Martin Kabrhel caused a few headaches throughout the day but ultimately fell well outside the money despite snagging multiple bounties. The bubble burst towards the end of the day in the 14th and final level of the day. Hall of Famer, Erik Seidel, made it deep into the day to cash but fell short of bag and tag; the same was true of Felipe Ramos.
Some of those who did battle through to Day 2 included bracelet winners Nacho Barbero, Daniel Negreanu and Dash Dudley; all falling one by one. Negreanu busted in a three-way pot deep on Day 2, and Dudley went on to bust the final hand of the evening just moments before players bagged and tagged.
Day 3 Action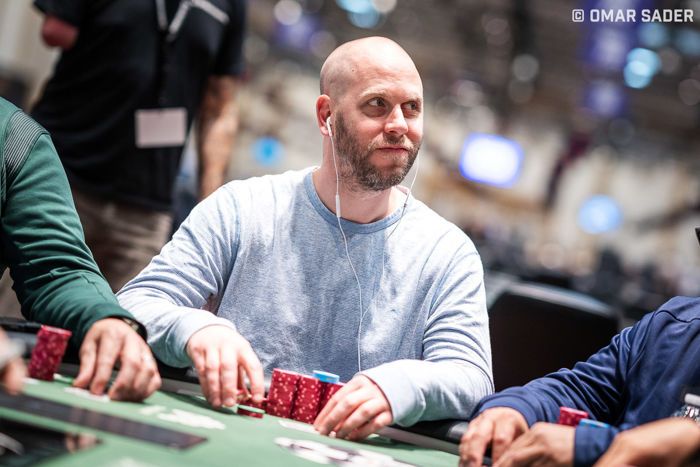 Of the 140 entrants who made it to Day 2 only 15 made it through to Day 3. Of those that remained, only one repeat bracelet winner remained in the field in the form of Jeff Madsen, who was well in contention until his luck ran out in 12th place.
Action slowed after the elimination of Giuseppe Maggisano, who bubbled the unofficial final table when Skaggs made a full house against him. From there, the remaining nine played for nearly two full levels before the were moved to one of the feature tables in the Horseshoe Main Event Center.
Final Table Action
Sergio Martinez fell in ninth place shortly after the move when he got short in chips and was bested by the better rundown of Yusuke Tanaka.
Noah Schwartz was the only bracelet winner left in the field and had maintained a medium-sized stack the entire day of play. At one point, Schwartz misread his hand, thinking he lost, then told his opponents he was getting too old for this game when his tablemates informed him he won the pot. Eventually, Schwartz reached a moment where he inquired if it was his time to die and ultimately fell in eighth place.
Paul Spitzberg quietly ground his way through the field, maintaining his stack throughout the day by stealing the blinds with late-positioned, pot-sized raised. Finally, the blinds got too high for him to keep the momentum, and he was eliminated in seventh place in a blind versus blind confrontation.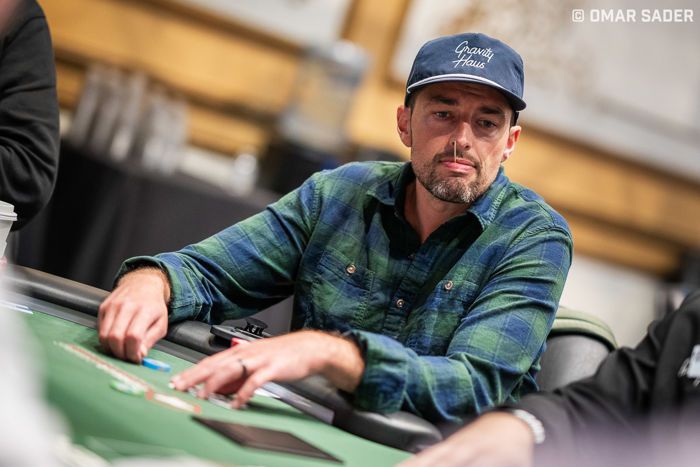 Vincent Moscati made a tremendous fold after committing half his stack in a pot that saw Paul DeGiulio triple up but if Hu had won that pot Moscati would have laddered for about $25,000. Despite doubling up shortly after that, Moscati met his demise in sixth place when Hu caught a king on the river.
Japanese player Tanaka had a dynamic day that saw him above starting stack often but struggling to be amongst the chip leaders. In the end, it took his kings being cracked to send him on his way in fifth place.
DeGiulio was well in contention when he won the hand previously mentioned, but after Satar Al-Sadoun pulled off a big bluff on him, his stack curtailed and he was never able to build traction again. In the end, Al-Sadoun caught a flush on the river against DeGiulio to bring the field down to only three.
Al-Sadoun bagged amongst the chip leaders on Day 1 and on Day 2 he managed to bag the biggest stack by far. Once three-handed play got under way, though, Hu began to run away with the lead. The momentum shifted dramatically when Skaggs doubled through Al-Sadoun. Only just a few hands after, Skaggs doubled through Hu to become massive chip leader. Now nursing a short stack, Al-Sadoun's jacks were dominated by the kings of Skaggs to send Al-Sadoun out in third place.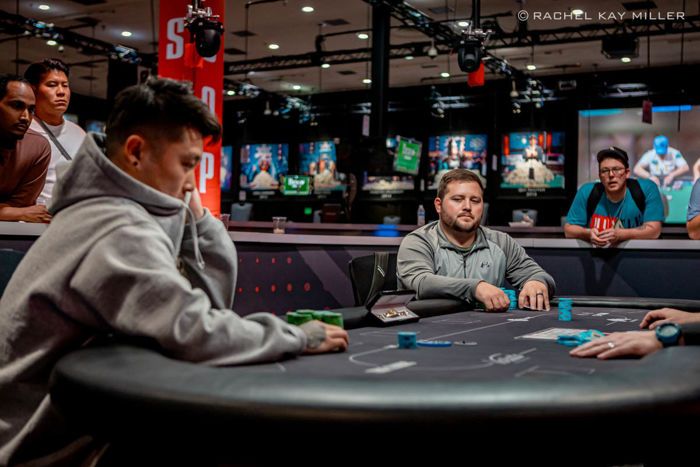 Heads Up Play
Hu didn't make things easy for the champion, and he found an ideal spot to double right at the start of heads up play. Hu continued to tip the scales in his favor by chipping away with a series of small pots going his way. Things may have turned out differently if Hu had been able to find a double with his aces in the final hand but it wasn't his day. Hu did let PokerNews know that he was very happy; this is his 2nd highest tournament cash.
Skaggs ended up attributing his win to a massive pot he scooped off of Al-Sadoun about halfway through Day 3 to push him into the chip lead. He had a hard time for the three levels after that pot, but if it weren't for that mass of chips, he wouldn't have been able to survive as long as he did. Skaggs used the cards from that hand in his winner's photos as opposed the cards he won his final hand with.
The WSOP isn't over yet, so make sure you stay tuned on PokerNews for all of the action from the live bracelet-awarding events.